12'6 Elite MSL Inflatable Paddle Board Package
Designed for competitive types racing in the 12'6" class
Sale price

£1,349.00

Regular price

Out of Stock

Our retailers are getting frequent deliveries so please contact your local Red stockist as they'll be able to advise on delivery dates.
Tax included.
Shipping
calculated at checkout.
translation missing: en-GB.products.product.in_stock
translation missing: en-GB.products.product.out_of_stock
| | | |
| --- | --- | --- |
| | Max Rider Weight | 110Kgs |
| | Rider Style | Racing |
| | Min Experience | Intermediate |
These inflatable SUPs are long and narrow, which means they are lightning-quick through the water but also very easy to manoeuvre, control, glide and ride. Being inflatable they pack-down and can be easily transported to races all over the world. Despite its practicality, there's no compromise on performance. NEW! Rail Foot Holds Raised rails allow the rider to dig their feet into the board. This will give a grounded stance meaning more energy can be channelled into each paddle stroke. All Elite boards feature unique innovations which can be found on Red Paddle Co boards: The patented Rocker Stiffening System or...
These inflatable SUPs are long and narrow, which means they are lightning-quick through the water but also very easy to manoeuvre, control, glide and ride. Being inflatable they pack-down and can be easily transported to races all over the world. Despite its practicality, there's no compromise on performance.
NEW! Rail Foot Holds
Raised rails allow the rider to dig their feet into the board. This will give a grounded stance meaning more energy can be channelled into each paddle stroke.
All Elite boards feature unique innovations which can be found on Red Paddle Co boards: The patented Rocker Stiffening System or RSS for short, counters flex with two stiffening battens that are inserted into pockets on the side of the board; Forward Flex Control System (FFC) then stiffens the front section of the board using a carbon compression strut to remove flex that can be created in a race and channels this towards the back of the board increasing overall board speed.
The two combined work together to create the fastest inflatable SUP's currently available on the market. The board also features double nose fins to aid tracking and displacing water from the deck of the board. The glass fibre centre fin supplied as standard gives the right amount of grip without adding drag, whilst the angled design prevents any debris from getting stuck on the fin.
Multiple carry handles are included to provide fast entry and exit of the water and have been designed not to get in the way during racing. The diamond cut, Red embossed deck pad provides ultimate grip in control in all stages of a race.
The 28'' wide Elite is the perfect entry board to racing or those over 110kgs/240lbs, also if the majority of your racing is done on the open ocean then the stability offered by the 28'' Elite allows you to focus more on putting the power down than staying balanced.
NEW! ATB Transformer Bag
Introducing a total redesign of our all terrain backpack that offers a bagless carry system. This skeleton system means you can access more remote waterways without the need for a bulky bag and just take the straps and your pump. When using the bag, large all terrain wheels make handling rugged terrain a breeze and considered anthropometric design is able to be fully customised to your height so you can take maximum care of your body while under load.
Large exterior pockets can fit any quick to grab essentials and velcro interior pocket means your paddle blade is safe and secure. The interior material has a stylish Red repeater pattern and its water resistance will minimise any intrusive damp. Additional internal storage for small items and keeping your service kit on hand.
Read less

5 Year Warranty
All our 2022 boards come with a 5 year warranty, activated when you register your board.

Free Delivery
For any orders over £75 in value, you'll receive free next working day delivery.
If you place your order before 2pm Monday-Thursday, you can expect to receive your parcel the next day (excluding remote areas). Orders placed before 2pm Friday will be delivered on the Monday. Orders placed after 2pm on a Friday or over the weekend will be dispatched on the Monday and delivered on the Tuesday (assuming no bank holidays or remote areas).

Free and easy returns*
You can return your items within 30 days of placing your order. Returns are free is the order total is over £75.
Equipment should be un-used and with its original packaging and / or labelling intact and attached to the product. Items which don't have the labelling attached to the product will incur a 10% reconditioning charge which we will notify you after inspection of your return. If we do not hear back from you within 4 days of contact we will return the items to you.
All items are inspected before a refund is processed. Items deemed to be in a poor condition will be returned to you. If any item returned breaches any of the terms outlined in this policy, we reserve the right to return the item back to you in the same condition it was received in.
EVERYTHING YOU NEED TO GET STARTED
Backpack
Pump
Leash
Paddles
Fins
ATB Transformer Board Bag
Introducing a complete redesign of our bestselling inflatable SUP backpack. Highly engineered adjustable ergonomic support means that the ATB Bag now offers exceptional levels of support for your shoulders and back. Exterior straps mean that the bag can be compressed making it more comfortable and a pleasure to carry. It's now easier to pack away your paddle with an interior paddle blade pocket and a velcro securing system so your paddle is safe and secure while on the move. A large outer zip pocket means any essentials can be packed securely away and easily accessible.
Our revolutionary bag-less carry system has been designed with all paddleboarders in mind. For the adventurers, you can now go further and access more remote waterways without the need of a heavy bulky bag. Perfect for families, it's now easier, quicker and more convenient to pack up your kit after a long day at the beach.
More Information
Titan II SUP Pump
The Titan II Pump is the world's first purpose-built, double chamber SUP pump. It's designed to cut the amount of time and effort it takes to inflate your board by half. Constant innovation has led to us testing the absolute boundaries of inflation technology and as such, we're confident that there's nothing quite like the Titan II pump on the market.

The Dual Cylinder system, combined with the Hi Flo handle means you are in complete control of the energy used to inflate your board. It puts the volume into your board faster and reduces the effort required to reach a higher pressure.
More Information
8ft Coiled SUP Leash
Designed for flat water paddlers and racers, for no excess drag from their safety leash. 
The leash features an ankle cuff with a quick release loop and integrated key pouch. It has a 7mm dual cord coiled leash which prevents the leash from dragging in the water plus dual pivot points to reduce twist. The leash is supplied with a length of rope so you can use with tradition leash points or can attach directly to our leash points which you can find at the back of any Red Paddle Co board.

More Information
Paddle Choice
Once you add your chosen board to your basket, you'll be offered a choice of paddles to complete your perfect package.
The Hybrid Tough Paddles (carbon and glass fibre with nylon blades) are perfect for any paddlers looking for a lighter shaft to increase power output and save energy but still have a durable blade. Our Prime paddles are the lightest, stiffest and fastest paddles available in two different colours.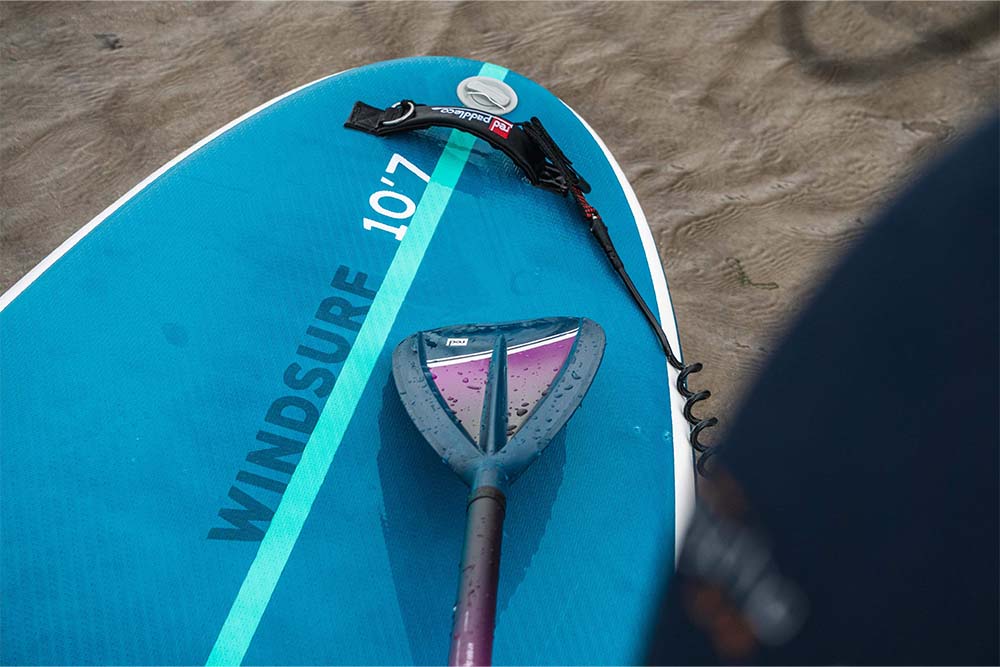 US Box Fin
US Box Fins originated in the surfing world where they are widely trusted to do a great job.
These fins are inserted after inflation and simply attach using a simple nut and bolt system. The fins are specially engineered to slice through the water and the Race fins have a 45% rake on them to ensure no weeds get caught which could slow you down.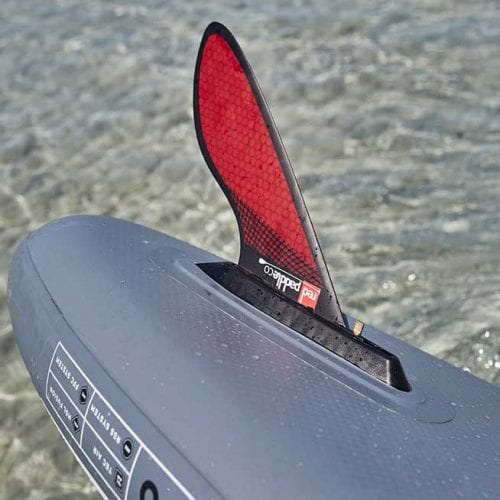 Board Technology
Tec Air: Pioneering Paddle Board Design
At Red Paddle Co, we sweat the small stuff. We're dedicated to providing you with quality, and that's why we're the only inflatable SUP brand that makes boards in its own private facility. We use innovative materials and manufacturing techniques to produce superior-quality products you won't find anywhere else.
Unlike other paddle board companies out there, we never compromise on quality and innovation. We've taken standard inflatable technology and redesigned almost every aspect of it to deliver a truly outstanding board.
Our products are of the highest quality, offering safety and durability that you simply won't find elsewhere. Before any of our board designs go into production, we carry out extensive research and testing to make sure your board performs when you need it to most (we even ran over one of our boards with a tractor…it was fine.) It then takes us 72 hours to make each individual board – that's ten times longer than the industry average. This whole process is know as Tec Air and is how we refine and develop our boards at every stage of production. By focussing in on the key areas of the production process we have been able to identify ways we can improve the end result. Whether it be detailing exactly where and how the layers are bonded or how the rocker curve is applied to the board, no area of the design process is ignored.
It's worth knowing that the key areas of construction are inside the board, two while any two boards might look the same…they can be world's apart in how they're constructed. Our attention to detail on the inside ensures the best experience on the outside.
More Information
Forward Flex Control (FFC)
The revolutionary Forward Flex Control (FFC) is a patented system designed to make Red Paddle Co's 12'6 and 14'0 Elite the most rigid available ensuring the paddler a competitive edge.
Our Forward Flex Control or FFC for short, works by controlling flex from above the top forward section of the iSUP. The all-new FFC stiffens the front section of the paddleboard to remove flex created in sprinting phases of a race. The Forward Flex Control system consists of a two part carbon rod that is inserted before fully inflating the board completely by clipping it into the mounting base on the nose and locking it into the standing area EVA deck base with a lever that puts it under load. The rod then stabilises and therefore stiffens the forward section of the board and eliminates almost all the flex in the nose. When combined with the RSS battens as well as inflation of 20PSI, the result is seriously impressive.
The new FFC system is part of Red Paddle Co's commitment to producing the fast inflatable paddleboards in the world. The Forward Flex Control system features on the Red Paddle Co 12'6 Elite and 14'0 Elite paddleboards.
MSL: The Difference Is In The Detail
Our exclusively-owned MSL Fusion technology provides unrivalled stiffness, weight-saving stability and a superb cosmetic finish. Together, with our patented RSS stiffening system, we make the most durable inflatable boards on the market.
MSL is recognised as the industry's leading construction process and is exclusive to Red Paddle Co, here's why…
A SUPERB COSMETIC FINISH – All Red Paddle Co boards have an industry-leading cosmetic finish. No wrinkles or blemishes. The boards look cleaner and smoother and even feel better to the touch.
WEIGHT-SAVING BUT STABLE – All Red Paddle Co boards are up to 2kgs lighter than our previous double layer construction. But very importantly they are not too light. If a board is ultra-light it is more affected by wind and current while on the water. MSL boards have a reassuring lightweight feel.
STIFF AT LOWER PRESSURES – Due to the Torsion Stiffness effect all Red Paddle Co boards are stiffer at lower pressures compared to other products on the market. We recommend a pressure of between 16-22psi. Less pumping and more paddling.
ENHANCED DURABILITY – The multiple-layer coating of Red Paddle Co boards is tough and durable. With our third generation of MSL material now in use, our boards are more durable than ever.
More Information
12'6 Elite MSL Inflatable Paddle Board Package
Size Chart
Calculate My Size
Please select your height