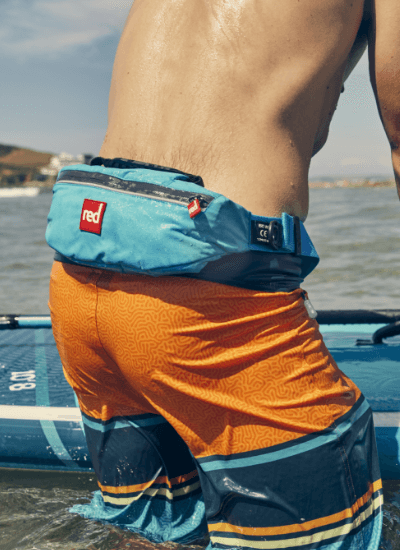 Waistbelt PFDs
.
A personal flotation device (PFD) is the absolute minimum safety requirement that any water sports enthusiast requires. Our Airbelt PFD belt keeps users safe, without getting in the way of your fun.
Safety should always be the number 1 priority in any watersport. As an absolute bare minimum, you should be wearing an airbelt PFD (Personal Flotation Device). An airbelt PFD is an essential piece of safety equipment for paddle boarders and other watersports enthusiasts, that is worn around the waist like a belt, and can be inflated when pulled.
Our compact PFD belts feature a quick release mechanism that enables you to deploy the ISO certified 50n SUP PFD quickly and easily in an emergency situation. A reflective strip located at the front of the airbelt PFD ensures you stay visible in lowlight conditions, whilst additional small storage pocket are perfect for bringinh key vaulables such as keys on your adventures with you.