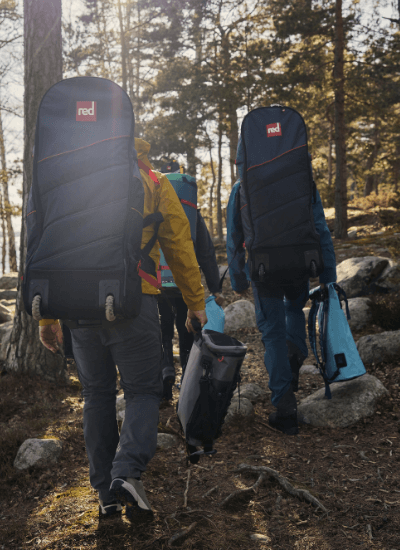 Paddle Board Bags and Backpacks
.
With unrivalled support and adjustability, our paddle board bags will help you start your next adventure with ease. Comfortably carry your SUP on your back with the Compact paddle board backpack, or discover a handy All Terrain Backpack paddle board bag with wheels.
Say goodbye to an uncomfortable load and hello to ultimate portability with the Red Paddle Co range of paddle board bags and backpacks. Our top-selling ATB Transformer paddle board bag with wheels is designed to provide you with ultimate adjustability and comfort. Complete with ergonomic support, total customisation and a unique bag-less carry system, it has never been easier to transport your inflatable paddleboard between land and water.
No matter what type and size paddler you are, you can find the perfectly versatile paddle board bag in the Red Paddle Co collection. Our range of paddle board bags also includes the innovative Compact paddle board backpack, meticulously designed to keep your carrying to a minimum and perfect for smaller riders. The unique and compact design reduces downforce on the lower back, without you having to leave any of your SUP essentials behind.