Return to blog
From Paddle To Plate: Meet The Seafood Foraging Adventurers
Outdoors
Paddle Boarding
Posted by Lydia Burdett
When the supermarket shelves grew shockingly sparse as a result of panic buying during the global pandemic, many of us were forced to look at alternative means of putting food on the table. For some that meant stripping things right back to basics and returning to our hunter-gatherer roots by swapping the weekly shop for food foraged from our own gardens. Fast forward to 2023 and while normality has for the most part returned, the concept of foraging for ingredients from the local landcape has well and truly stuck, so much so that it's become the viral food trend of the moment.
But while lockdowns once confined the search for foraged foods to our doorstep, the world is now, quite literally, our oyster, and so foraging has become an adventure sport in its own right. And nowhere is this truer than on the South West coast where paddleboarders are putting a modern twist on the caveman-esque tradition by voyaging to secluded coves and freediving for seafood fresh from the ocean's well-stocked larder.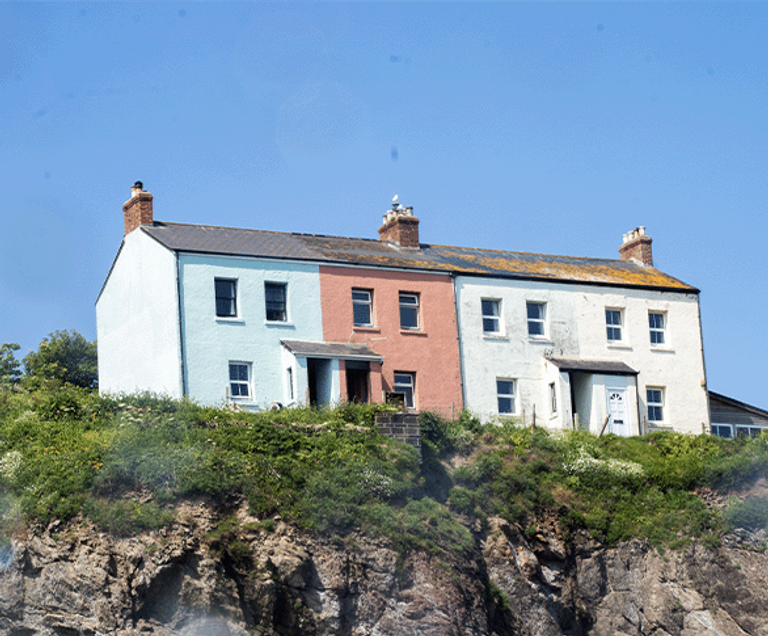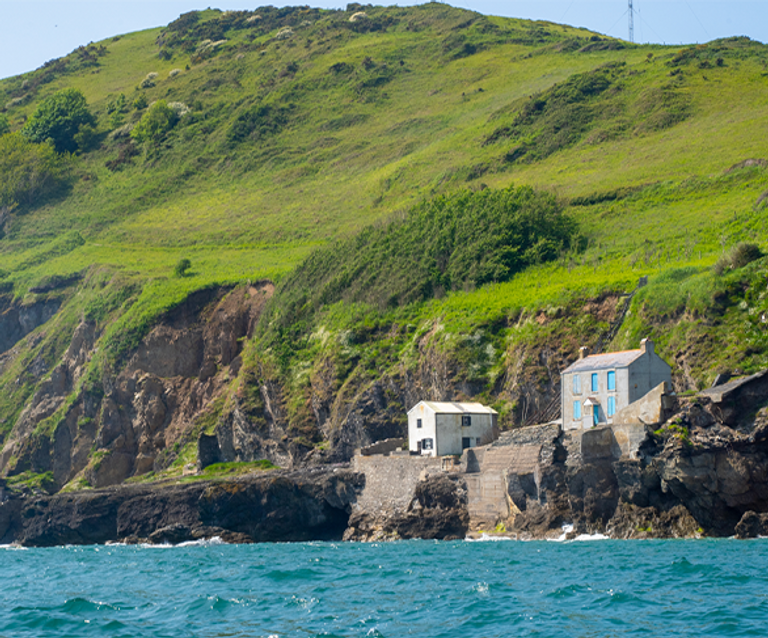 Take the pretty setting of Hallsands for example - a stretch of shingle beach in the stunning South Hams which is a favourite foraging spot of Barcley and Joe from Start Point Spearfishing. The ocean-loving duo make regular trips to the location freediving for seafood to feed to their families, as well as organising charted trips from their outlet in Plymouth.
"We're so fortunate here in South Devon, the coast is incredibly diverse and we have the most amazing spots when it comes to freediving for seafood. Depending on the time of year, you'll find everything from scallops, lobster, razor clams and spider crabs, to sea bass, pollock and plaice."
But putting its abundant sea life aside, there's another reason why Hallsands makes for a fitting foraging setting. Known as 'the lost village', the once thriving fishing community serves as a haunting reminder of what happens when you mess too much with mother nature when heavy dredging caused it to collapse into the sea one fateful night in 1917. All that remains of the South Hams village today is the skeleton-like ruins of a chapel that perches precariously on its cliffs – a symbol of the importance of only taking the bare minimum of what you need from the sea.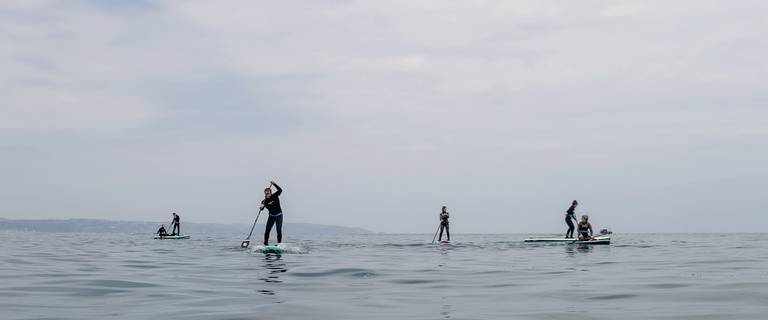 Similarly, paddleboarding for foraged seafood works on the same principle. It pairs a low-impact leisure pursuit with a sustainable form of food gathering that promotes zero waste and, best of all, there's not a piece of pesky plastic packaging in sight. "It's 100% about sustainability," explains Joe whose spearfishing YouTube Channel has struck a chord with thousands of foraging followers.
"I've always tried to show the truth of spearfishing, which isn't about shooting every fish in the sea. It's about learning about the ocean, getting in there, exploring it and taking something home for dinner which hasn't been trolled or netted. It's the most selective form of fishing there is."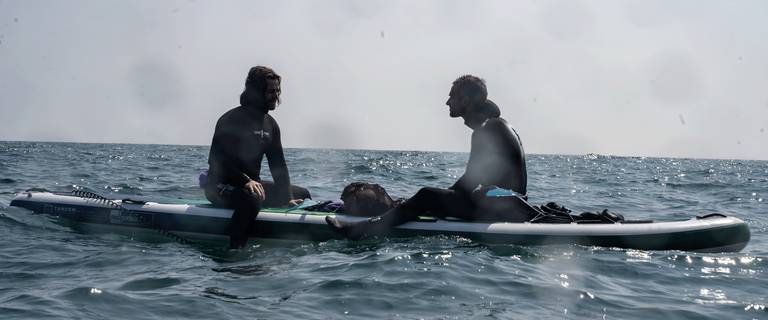 Even better, while the concept of freediving for seafood off a paddleboard may sound like something only the Bear Grylls among us could recreate, it's actually remarkably easy to do. All you need aside from the obvious board and wetsuit, is a sense of adventure to get off the beaten path and tap into secluded coves where an abundance of sea life awaits.
According to Barcley "For those just getting started, all you really need is a mask, snorkel, some wetsuit gloves and socks. It's really important to stay warm and conserve your energy so you can put all your effort into your free dive so a thick freediving suit is ideal but a normal one will do. Then, if you want to take it to the next level, ideally you'll need a hood, weight belt and dive knife, and that really is the basics."
When it comes to finding a seafood foraging spot, a reliable paddleboard from the pioneering Red Paddle Co will get you to unspoilt bays where calm shores and shallow underwater caverns hide a plentiful stock of unsuspecting crustaceans. Ensuring you have the best board for the job will not only help you get the most out of your freediving adventure, but you can't beat Red's Compact SUP range for its all-round durability. Not only can it handle a multitude of water conditions with ease, but it's the most transportable board in the business, and provides unrivalled stability and manoeuvrability when navigating miles of coast.
"People aren't aware that we have the most beautiful reefs and amazing stretches of coastline," says Barcley who is Devon born and bred.
"My advice to beginners is to find a bay that's local to you and practice there until you feel ready to push yourself a bit further and dive down a little deeper. You'll feel more comfortable in your own backyard so stick to somewhere you know until you feel ready to have fun exploring and finding new spots."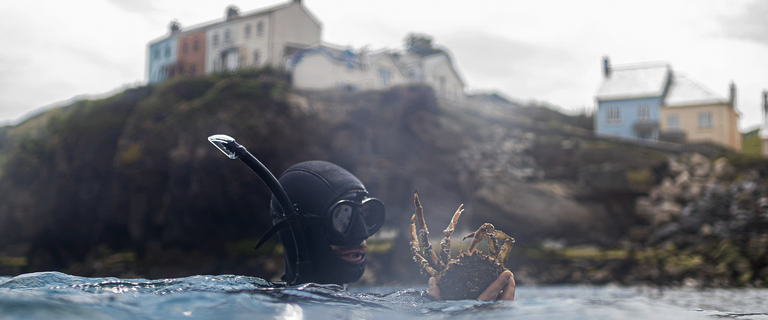 Once you've perfected your freediving technique and you're ready to take your paddleboarding adventure a step further, it's also important to read up on any legislation that might be in place to protect the local sea life.
"There's a minimum landing size for most sea species based on its length and size," says Joe.
"Even with scallops, they have to be a certain diameter or width, and that can vary from region to region. It's always worth checking your local fisheries website which will give you a steer on the local bylaws, and also if the beach is protected, in which case no one's allowed to fish full stop. Otherwise, you can practically forage fish anywhere in the UK."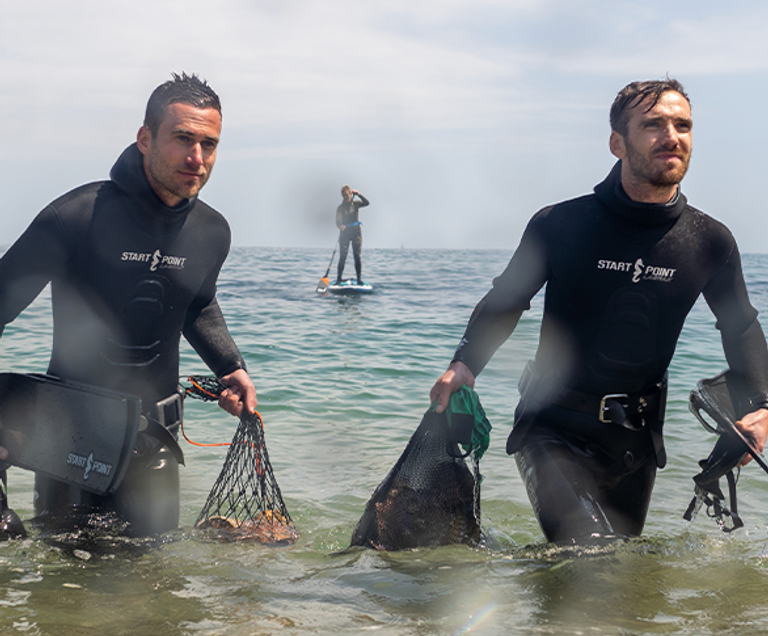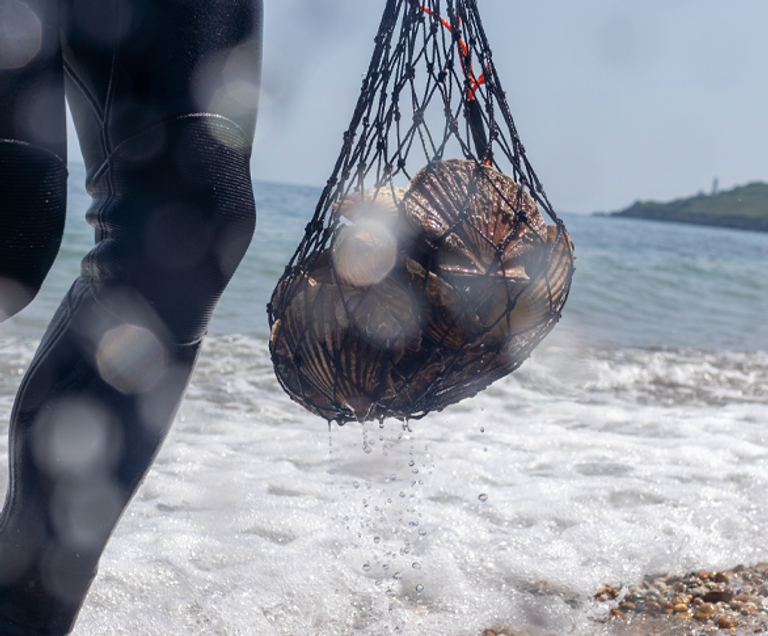 Dive beneath the surface of the South West's shores and it won't be long before you find the kind of seafood usually reserved for Michelin-starred chefs, except it comes without the hefty price tag and can be cooked up on the BBQ from fresh. According to chef Luke Mackay who runs an outdoor cookery school called High Grange in East Devon, nothing beats the simplicity of cooking food that's been foraged.
"The best thing to forage for a beach BBQ is scallops, they come in their own handy little frying pan as you can cook them in the shell - which saves on the washing up and gives it an extra bit of flavour".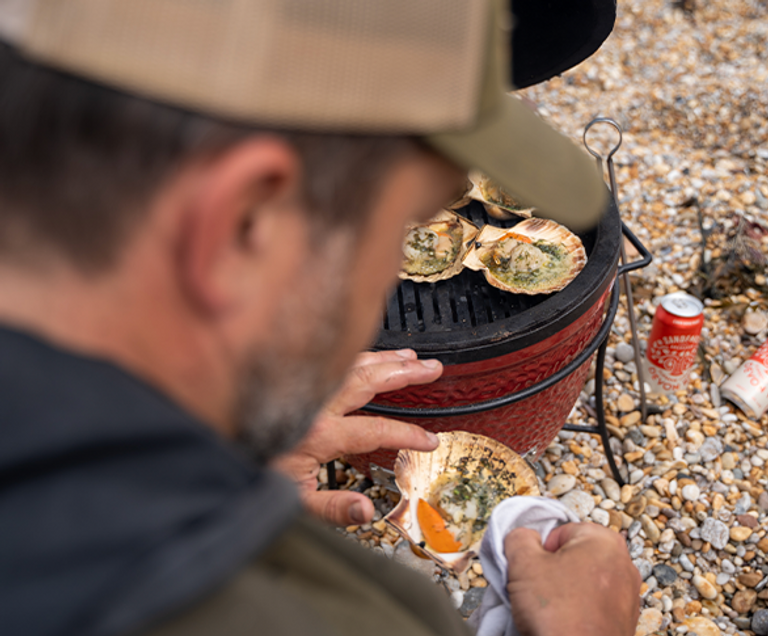 When it comes to getting tips on how to BBQ the best-foraged feast, Luke is the man to grill. Not only has he taught at The London Barbecue School, but he's an ambassador for Masterbuilt, a sustainable barbecue brand that provides the perfect al fresco kitchen for cooking up your foraged finds.
"I think when it comes to barbecuing, generally people have gotten too obsessed with all the gizmos and gadgets. I quite like paring it back with a good quality barbecue, a short, stubby knife that's really useful for opening shells and a delicate filleting knife. You'll also need a set of tongs – but that's pretty much it – it takes it back to the whole idea of getting back to basics".