Return to blog
Red Paddle Co FAQ: Everything You Need To Know About SUP Yoga
Paddle Boarding
Wellness
Yoga
Posted by Lydia Burdett
As we settle into Summer, a lot of us turn our attention to how we can spend more time on the water. The popularity of paddleboarding has continued to grow over recent years and with that comes people keen to try new ways to make the most of their paddleboard. That's why SUP yoga has become one of the most-loved activities amongst those wanting to unwind and connect with nature.
If you're new to SUP yoga, make sure you read on! We have shared our answers to some of the most common questions we receive from beginners, from 'What is SUP yoga?' to 'What are the benefits?'.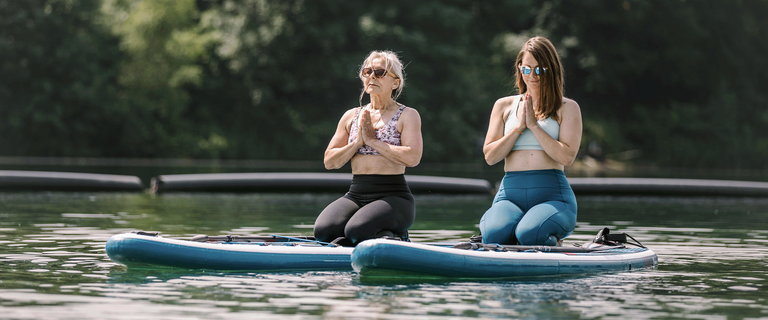 What is SUP yoga?
SUP yoga is exactly what it sounds like: yoga on a paddle board. Though this might not be the first way you think of using your SUP, the balance required to maintain stability on a paddle board offers one of the most challenging yet enriching ways to practise yoga. SUP yoga is all about enhancing the benefits of yoga with the presence of being on the water and in nature – the focus on the moment, connecting the body to the breath and enjoying moving the body in a way that offers unique benefits, beyond simply fitness.
What are the benefits of SUP yoga?
Modern life is so focused on connection, yet in ways it completely disconnects us from ourselves. Technology surrounds us and everywhere we look there's something ready to distract us from the present. However when we are on the water and away from devices, notifications, and distractions, we can simply tune into the moment and align with ourselves.
SUP yoga has many health benefits and encourages us to notice our breath, the sounds of nature, and the feeling of moving our body with the focus of being on a paddleboard to hold our attention.
SUP yoga is not so much about specific 'fitness goals'. Of course, we can move through movements that provide strength, flexibility and stability, but taking time to connect the body and mind with the humbling presence of being on the water, can support our overall wellbeing, leading to healthier life choices such as how we move and what we eat for the rest of the day.
How does SUP yoga differ from more traditional forms of yoga?
SUP yoga focuses on how we can adapt our movement and awareness to the water rather than specific yoga postures or flows.This means that guiding a SUP yoga class isn't about trying to get people to be in positions where they're fearful of falling in, more so it's about providing an experience that helps hold their presence, enabling them to soak up their unique surroundings, to recharge their wellbeing and batteries through being on the water. Often the flow of SUP yoga is slower than traditional yoga, with less transitions. Instead, there is more focus on breathing into the position and feeling the body adjust to the movement of the water, providing a much-needed pause from our busy lives.
How hard is SUP yoga?
SUP yoga doesn't need to be hard as it is about creating a unique experience that everyone can enjoy rather than a challenge. The class can be adapted to suit even the most nervous of people by offering slow transitions, time to soak in being on the board and breathe a little deeper. It's about letting go of expectations of having to feel like you have 'done something' and embracing the opportunity to nourish the body and mind through movement, nature and breathing. The more difficult the yoga, the more of a distraction from soaking in the experience.
Is SUP yoga good for your mental health?
There is a huge volume of evidence around how yoga, mindfulness and being in nature can support mental health. By combining these three elements, SUP yoga is an amazing way to support your wellbeing.
A lot of the literature is focused on the neuroplasticity of the brain, with studies suggesting that yoga can affect the anatomy of the brain. Equally, when we talk about nervous system regulation, we are learning more and more about the power and benefits of meditation, breathwork and being in nature. Incorporating these into SUP yoga offers a special opportunity to offer something beyond the yoga mat.
Katie has been guiding SUP yoga classes for 10 years and has worked as a Red Ambassador from the beginning. As a Chartered Physiotherapist and owner of Flow Studio in Torquay, Devon, she has had over 15 years of experience working with people to help them access well-being in a fun, inclusive way through paddleboarding, yoga and Pilates classes.
SUP yoga was a natural addition to Flow Studio alongside teaching Ready to Ride and Flow's on Paddle Club, working with Red to design their specialised Activ boards which provide the perfect option for guiding the classes. Katie is passionate about creating opportunities for people to get out and make the most of the beautiful scenery South Devon has to offer, whether through paddleboarding or outdoor classes. During lockdown, she worked with Red Paddle Co to create a video to help with Paddle Fitness, and you can enjoy more of Flow Studio's online offerings with their on-demand studio, Flow Connectedd (including a free 14-day trial). So if you aren't local to South Devon, you can enjoy taking a yoga class, Pilates or fitness class from the comfort of your own home until you can create the opportunity to join a SUP yoga class in person.
You can find Katie & Flow Studio here: