Return to blog
What To Look For When Comparing Outdoor Changing Robes
Red Original
Posted by Ross Montandon
Changing robes are now a familiar sight amongst most outdoor sports crowds especially for those wanting to get changed and stay warm before, in between and after their chosen activity. Thanks to their increasing prominence, there are now a few players in the market offering
Depending on the option you pick, change robes can have a wide number of additional features too, making them ideal for budding adventure lovers who want to maximise their time outdoors and avoid the risk of getting cold before the main event.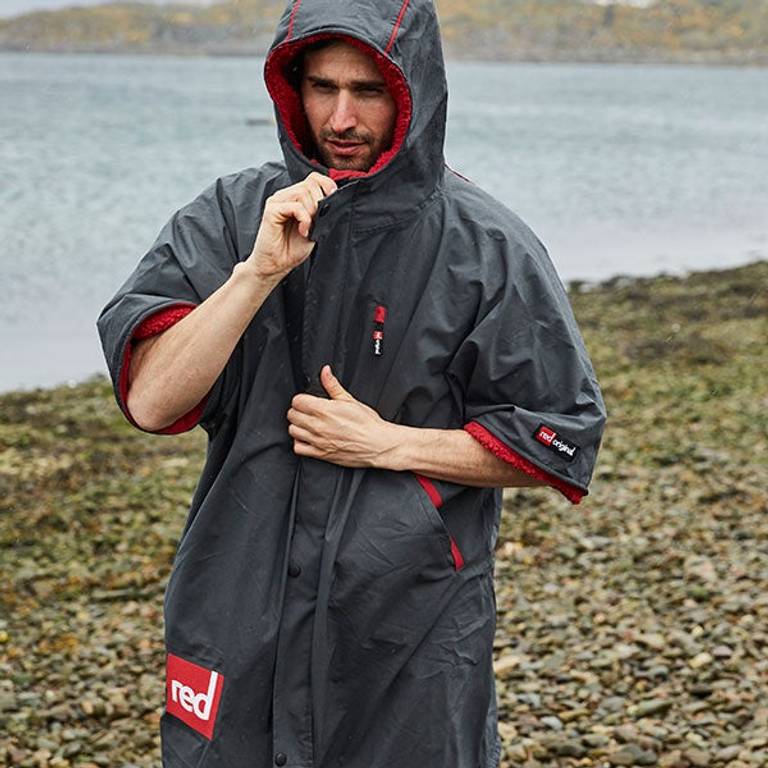 In this article, we're going to take a look at the features of the Red Original Pro Change Robe and look at the advantages of this over other products at a similar price. We're also going to look at how these features can and will affect which option is best suited to your prefered activities and requirements.
Why a Changing Robe
Like most innovative products, it's hard to imagine a time before change robes were a part of our lives. That said, changing robes serve a 100% practical purpose. They do offer a warm welcome hug after a winter watersport session that makes being active and outdoors during the winter months much more bearable knowing you don't have to freeze to death in the car park when getting changed as you would with a traditional beach towel.
The go-anywhere features of changing robes allow us to hop in the car while wearing wet gear, get changed on wet and windy wild days, or simply throw on over everything in order to keep us warm while hanging around.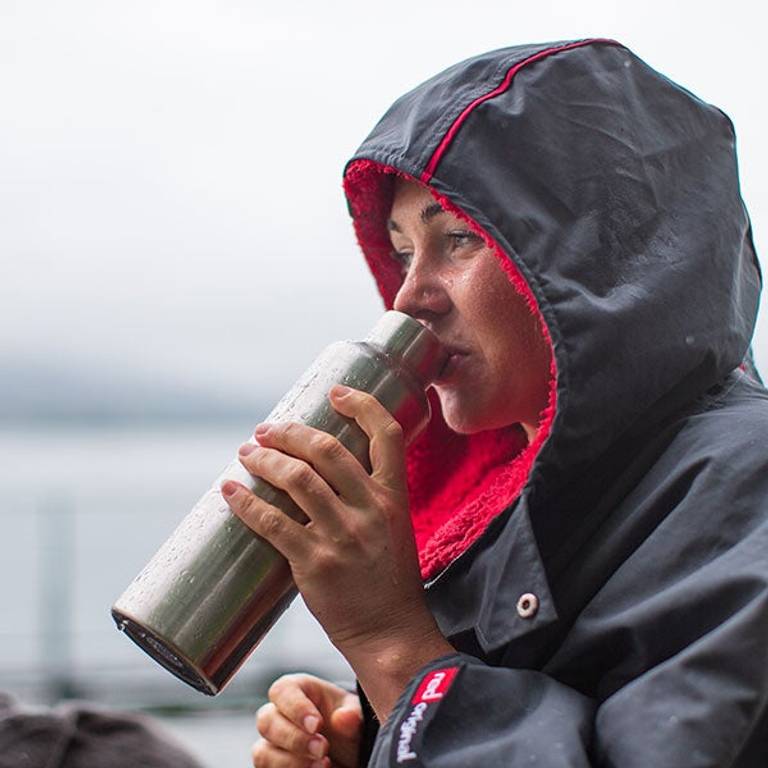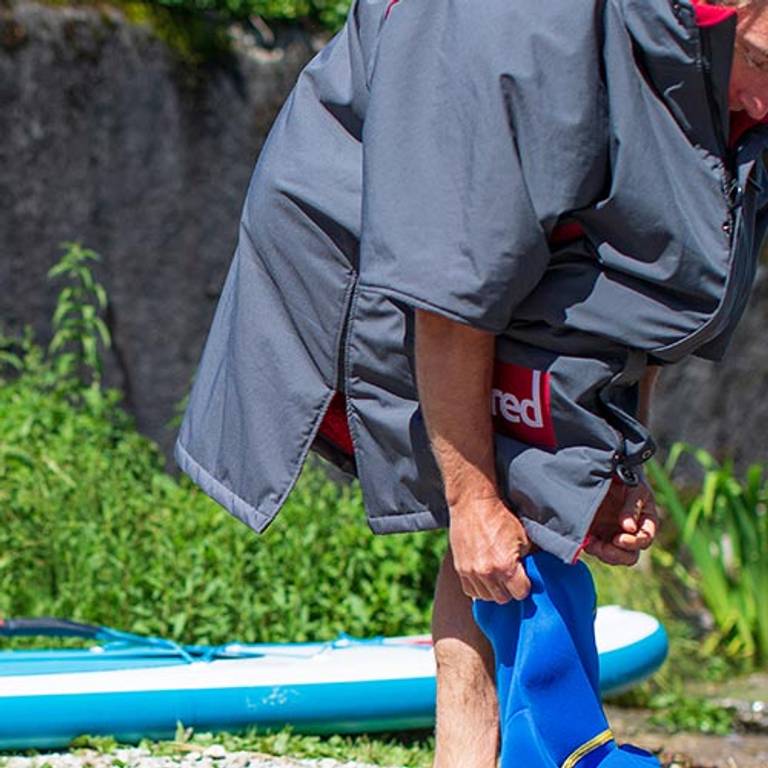 Key features
Just like any bit of outdoor clothing, there are a few key ingredients that make your life easier and certainly well worth considering.
Stretch Panels
It goes without saying that having robes with stretch panels are essential for all the wiggling and shimmying that goes on whilst getting undressed. The side panels allow for the robe to be able to conceal warmth and comfort yet when needed can stretch so you can either lift the leg out of your wetsuit or bend over when taking footwear off. Some more budget brands offer a v-cut in the side of the robe, however this exposes the side of the jacket which can be less discrete when changing especially in windy conditions.
Breathability
You may wonder why a changing robe needs to be breathable. Yet as we know air flow is crucial to any drying process, if we leave our wet clothes in a bundle on the floor they most certainly won't dry that quickly. If we hang them up to allow air to flow through the fibres then our clothes can dry in moments. Our skin works in the same way, if our skin can't breath we simply perspirate more, causing more moisture. This quickly has a cooling effect which is never a good thing!
Double Baffle
We've all experienced a ripping wind whilst outdoors and know all too well that protection from the wind can be a blessing. Most changing robes choose to opt for a simple zip front with no additional protection from the wind. The Pro Change Robe doubles up with both a two way zip (with finger pulls for when you have cold hands) as well as a wind stopper flap with popper buttons to ensure you have that extra layer of protection when the wind is really blowing. The two way zip allows you to zip from inside the jacket even in the coldest conditions.
External Water Proof Pocket
It almost seems ironic that some changing robes have a waterproof shell yet fail to have a waterproof external pocket for your phone and valuables. With the arrival of high quality camera phones, mapping and tracking apps like strava, it's now essential that we have somewhere safe to store them to prevent damage from the elements. An exterior pocket prevents rummaging around layers of clothing to locate your phone and means you don't have to open up the jacket to access them, keeping you nice and warm.
Weight / Feel
When tired and cold from an active session the last thing you want to do is put on a jacket that is going to feel heavy and scratchy against your skin, especially when as you get colder you become more sensitive to other fabrics. This is why we chose to use a lightweight breathable outer shell fabric and super soft fleece lining to help reduce weight but also bump up the comfort factor when getting changed so it feels like you are wrapping yourself in your softest blanket. The most common remark we receive when a consumer try's a pro change robe on for the first time is how soft and light it feels compared to anything they have tried before.
Portability
Space is limited in the back of a car so having a changing Robe that packs down small and can be easily transported is a must. Luckily enough the soft, flexible outer shell and fluffy fleece lined interior mean that you can get our pro change robe in to a 10ltr dry bag which is a third of the size of it's closest competitor. Our 10 ltr dry bags also come with the added feature of an internal waterproof pocket to help keep your valuables safe when you are on the water.
Red Original Pro Change Robe
£119.95
The Red Original Pro Change robe is designed to make getting changed as comfortable as possible and actively avoids that scratchy plastic feel. This alone makes it a robe that you may just want to hang out in during a rainy day at the rugby pitch or beach. Unlike others, the Pro Change Robe has an outside waterproof pocket so you can access you valuables without having to open the jacket and a baffle to conceal the zip and prevent wind from getting through. It also features chunky poppers that can be done up quickly and are easy to use even with cold, wet hands.
Our design team placed usability and premium comfort at the forefront when designing the Pro Change robe. They chose to remove the unnecessary zips from pockets to allow for optimum comfort and also to help avoid your wrists catching on the zip-teeth. This just goes to show that sometimes, it's not about what you add it's also what you remove from an item which can make all the difference! Another handy feature is the packability of the Pro Change robe, as it packs down comfortably into a 10-litre dry bag.
Whilst harder to measure the Pro Change Robe has a super soft fur lining, avoiding that scratchy plastic feeling which is noticeable on with other brands. The Pro Change Robe also weighs 10% lighter than the Dry Robe thanks to the flexible outer shell. Making it the lightest, softest, waterproof changing robes available which is also packed full of additional features (all for the same price).
"I've never been so grateful to see something in my life. It also stood out amongst the DryRobes, always nice to have something different! Can't recommend highly enough, get this ordered!"
Becky D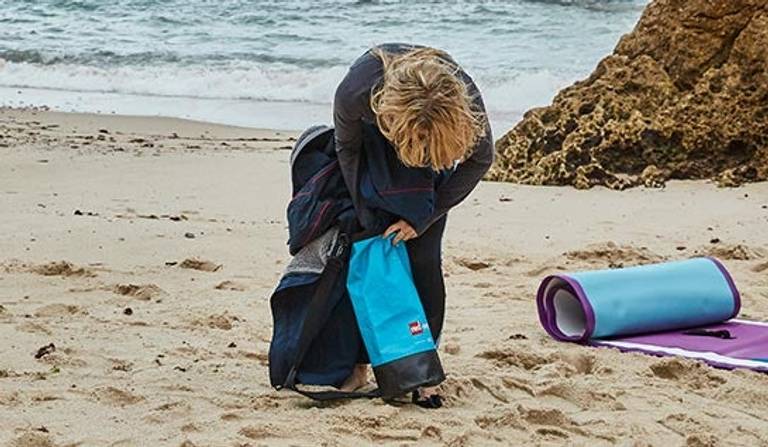 The Best Changing Robe
Understandably we all want value for money when making an investment on any product. When it comes for more bang for your buck the pro change robe out strips any other on the market. With a front wind baffle, external waterproof pocket and stretch panels, not to mention it feels softer to the touch packs down smaller and is lighter!
Winter Clothing to keep you warm
If you're on the hunt for any equipment to keep you wrapped up this winter then check out our Performance Clothing and other Changing options such as the Luxury Towelling Robe.