Return to blog
RED ADVENTURE SERIES | Luke Fletcher | Rewild
Red Adventure Series
Stories
Posted by Luke Green
Nothing beats a long day outdoors kicking back and sharing stories with your friends around a campfire. The need to connect, converse and share our experiences has never been greater and idle chat with your comrades can be all you need to re-engage and reconnect with what matters. Here at Red, we want to channel this thinking, so this year we're ditching Instagram and hitting the road in pursuit of the everyday adventurer, the interesting, the unusual and the straight-up inspiring.
We continued with our Adventure Series up to Poole to get set for some fitness action with Luke Fletcher, aka Commando Luke. A former Royal Marines Commando, who is motivating and restoring confidence to those who need it, Rewilding people's movements to get outdoors and connect with nature.
_____________________________________________
Luke Fletcher - ReWild


''Everyone needs a little bit of challenge, a little bit of hardship to bring out the best in them and when that gets removed or that gets taken away you suddenly realise that you are missing it ''
Poole is reputed to be the 'largest natural harbour in Europe', so there is no wonder that when we arrived it was surrounded by water sport enthusiasts, amplified by healthy living stores, cafes, and good food. There is no doubt we felt the need to explore the outdoors as soon as we arrived, which created anticipation about what our day with Luke was going to entail! We caught an early morning sunrise, and took a jog through the sand dunes, near Lukes's home, where we knew this was only the beginning of what was to come.
''Rewilding for me is getting your body moving the way it is meant to move, getting outside, and celebrating everything we can achieve.''
We spent a day with Luke, where we absorbed all the expert advice of fitness by sharing his stories of his military days, his outdoor coaching, and his drive to improve others' physical and mental health. We quickly learned how integral Lukes's understanding of how he wants the fitness world to be represented and where is passions lie with a strong community of clients involving in his methods and understanding.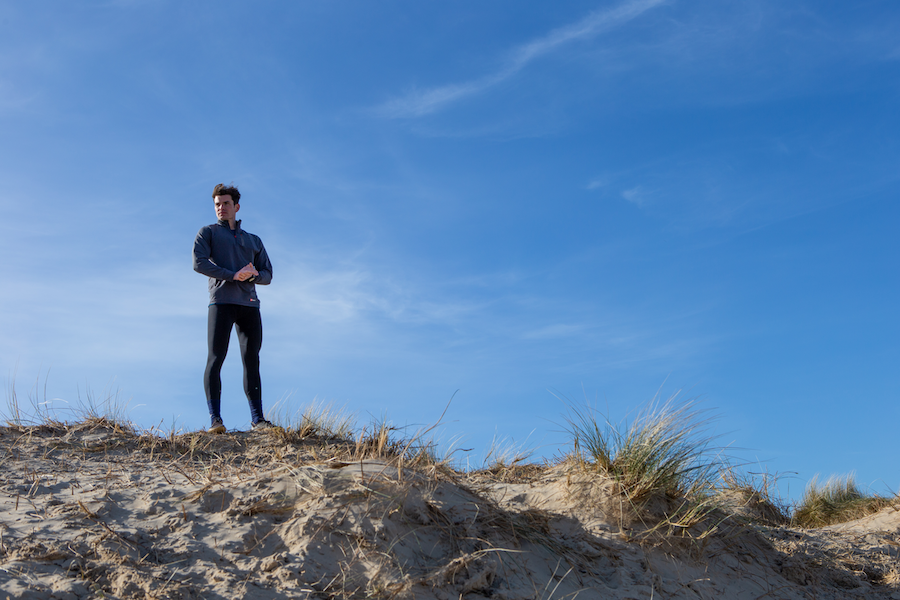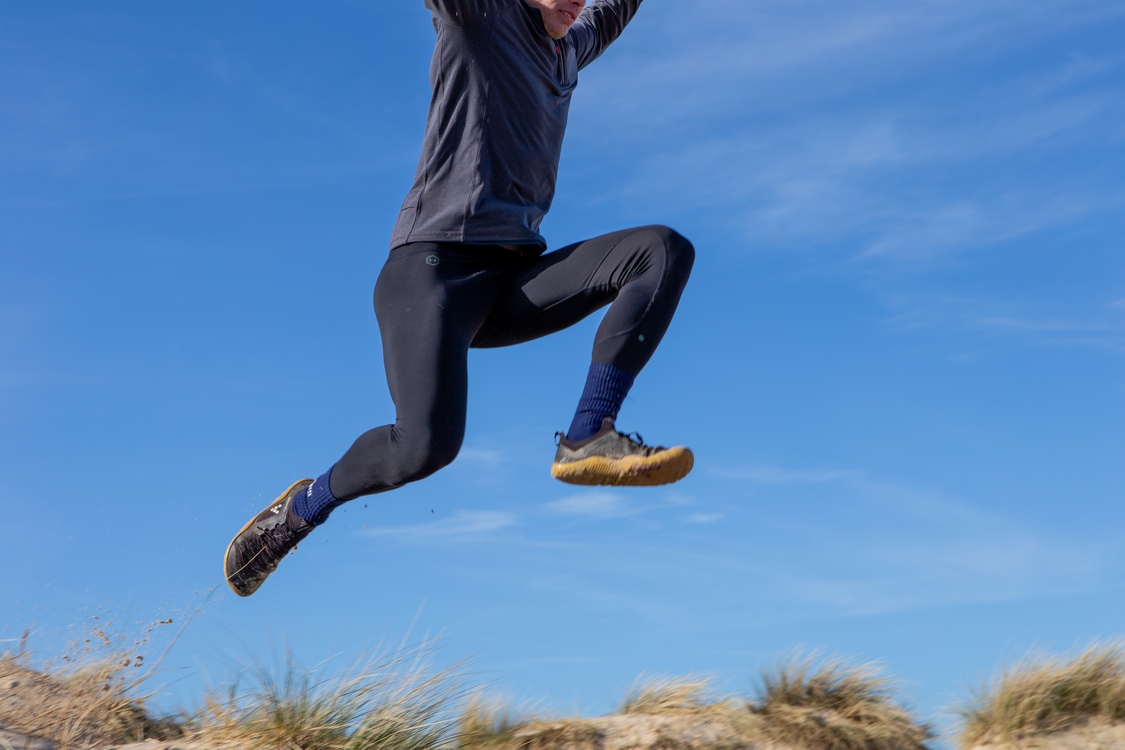 We took a dive into 'Commando Luke' and nestled in a sand June where we took the time to understand his knowledge and how he got involved into fitness; from his time spent in the Military to his journey to help and inspire others. Luke explains how important it is to be outside and to reconnect with the world around you, how to respect the body and how it moves, how the body is meant to do things, and how gyms in fact do not represent that mentality.
With fitness inspiration from his Dad, Luke joined the marines when he was 19 in 2018, the physical training on a day-to-day basis for military was a huge part of his journey to create Commando Conditioned Fitness and going through a Commando training centre, he really grew a custom to those hard challenges and loved that kind of addiction on how good the training feels. Having been deployed in 2010 & 2012, what Luke took away from this experience was that he learnt that everyone needs a little bit of challenge and hardship to really bring out the best in them, and he did not realise he needed that until it got taken away and so he took it for granted. Alongside this, adapting and coping with different kind of elements in the marines also impacted his experience and journey – with this mantra of helping others to achieve and setting challenges, he released Commando Conditioned Fitness.
''It is important for people to challenge themselves, and have some desire to take some small steps to make a positive change''
Luke explains that exercise is one of the healthiest ways to make a positive change, a physical challenge is an awesome vessel to help people understand their body and respect the way it moves. Combine that with getting out in nature and moving the body is a huge release that gives people a purpose and something to really drive towards.
Luke is always up before his little lad to make the necessary 'me time' to incorporate balance and time for fitness into his life. His training consists of 3x full body sessions with a push pull or lower focus alongside a long run, one hill or interval run and a short sea swim each week. Luke is currently training towards his next ultra-marathon, which is in Scotland in September, the Sky Running Scotland which is a 52km run with inclusion of 4000m hill runs. Lukes's analogy of training for these marathons is that you really do not need to be putting in the typical '100-mile training weeks' for these kinds of challenges. If you want to go out, enjoy an event, and get involved you can fit the training into your everyday life and take the pressure off.
Throughout the full day we were joined by Lukes running and training partner, Freda. The most energetic Collie with absolute admiration for Luke (and her ball). Freda has already completed a 15-mile run and is helping with Lukes's training to complete a few more Ultras marathons, being his biggest cheerleader.
What really resonates with the team on how important it is to fuel your brain with a goal, the brain likes to achieve and complete challenges. Once you have completed your first goal, however minor that might be, you can let the successes keep on coming throughout the day. Below is a straightforward process to help make goals whatever that may be of something personal to you to get you feeling excited. Firstly, think what it is you want to do and why you are wanting to do it:
Grab yourself a pen and paper
Decide what your long-term goal I.e., Run a 5km in 25 minutes
Jot down why you want to do it?
Break the goals down into simple steps I.e., run for 5 minutes tomorrow and then slowly build
Make the breakdown goals achievable
Make the goals SMART so you can measure and build each goal per week gradually to achieve your long-term goal.
As the morning passed, we got set for one of Lukes's PT group sessions out on the beach, battle ropes, hammer throw, and sprints to name a few exercises finished by a cold dip in the ocean left you feeling revigorated and fresh! You can really see the raw passion to inspire others and encourage others to push themselves comes so naturally to Luke, no doubt he is highly respected as a coach. It even showed in everyone's enthusiasm for a cold-water dip!
''It gives me a release and it gives me a purpose and something to be really driving towards for me that is my me time, time to think and reflect and just enjoy being and enjoy moving''
The fitness world is a minefield across social media with lots of opinions from influencers and people within that space portraying misinformation or potential detrimental information to people's mental and physical health. Spending time with Luke, his opinion on this is that there is no right or wrong in the way people do it, and people should have the desire and focus to do what feels right to them, whilst he expresses how vital it is to encourage the fitness industry to be more accessible on his social channels.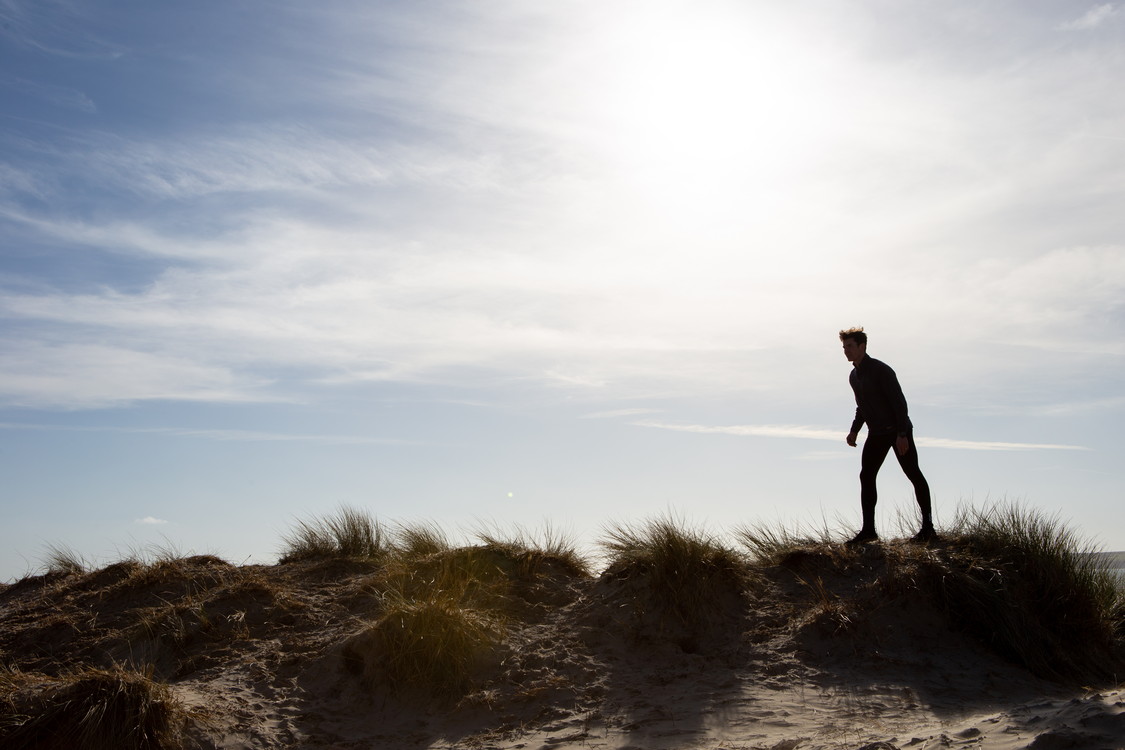 With all this, Luke is studying to be a physiotherapist and is also a dad to his little lad Rowan, who Luke is teaching him the values of being outside and connecting with nature.
Quick fire questions with Luke Fletcher:
1. What is your favourite Adventure?
Long distance mountain trail
2. What is your go to meal after a long day outdoors?
Pie and a Pint
3. What Sport do you want to introduce your son into?
Sea Swimming
4. What is your favourite equipment?
Minimalist running shoes & Red Pro Change Robe
5. What is your favourite time of year?
Winter!