Return to blog
Red Adventure Series | Corrine Hough | Outside The Hustle
Community
Outdoor
Red Adventure Series
Stories
Posted by Luke Green
Nothing beats a long day outdoors kicking back and sharing stories with your friends around a campfire. The need to connect, converse and share our experiences has never been greater; idle chat with your comrades can be all you need to re-engage and reconnect with what matters. Here at Red, we are taking time away from our screens and hitting the road in pursuit of the everyday adventurer, the interesting, the unusual and the straight-up inspiring.
In this installment of the Red Adventure Series, our team journey North to the thriving city of Manchester and meet up with outdoor enthusiast and trail runner Corrine Hough. Amongst other things, they have a great chat about the contrast of city life and the joy of getting out into our National Parks
Corrine's Instagram posts are all about her outdoorsy life, exploring in her van, adventuring around the UK. She inspires others to escape from their comfort zone, challenge themselves & celebrate those big (or small wins) but to not take life to seriously. She is a trail runner, who loves hitting the hills for her long-distance runs. From hitting a low point in her life, to successfully entering SAS Who Dares Wins, Corrine's fitness journey has rebuilt who she is today.
Corrine prides herself in being brave and real and inspires anyone just to 'give it a go' and to not be scared to fail. You can't help but feel inspired when spending time with Corrine, from intense workouts in the city, to sunrise trial runs in the Peak District, it's inspirational to see how the urban and country life complement each other, moving & adventuring through the chaos to reach the calm.
''You just need to be brave enough to take that first step''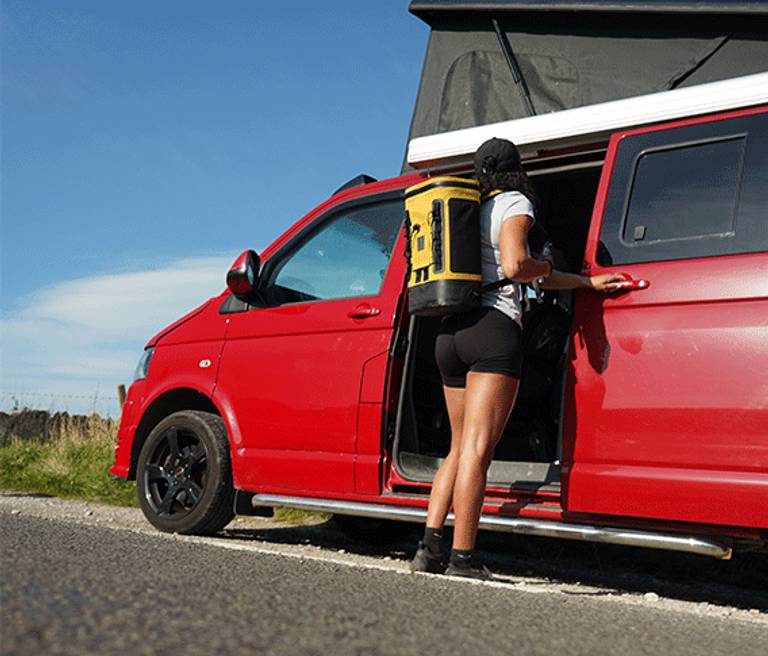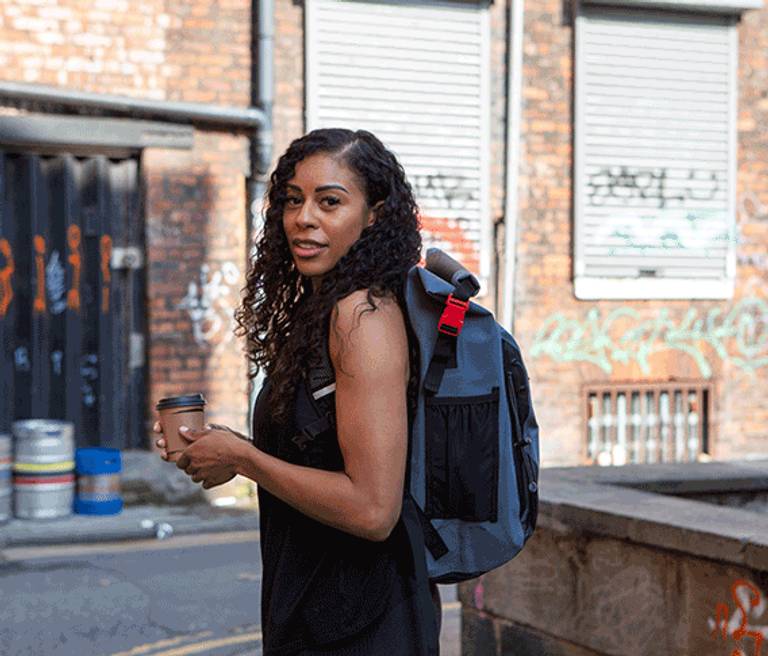 As the major city in the northwest, Manchester has transformed its industrial colourful heritage into a vibrant hub of activity. What was once a thriving powerhouse for textiles, Manchester now fames itself on allowing its residents to showcase their personality and creative flair. Sunshine and coffee shops lined the streets, florists' delis and bars from the night before flooded with sunlight. One flat white in, and we could totally see the attraction as to why Corrine calls Manchester her home. While being taken back by the pulse of the beating city, we only knew that the peaceful neighbouring national parks were just a stone's throw away ready for us to explore.
Off the side to a bustling street Corrine greeted us through the intercom to her apartment building. It felt a far cry from the great outdoors we would experience only a few hours later.
We weaved through the side streets and across pedestrian crossings as Corrine shared with us her story. Originally from Manchester her family decided to explore life outside of the city in North Wales, what may seem worlds away in contrast to her now urban home. For Corrine however it was the contrast which she loved most about Manchester.
"I love the chaos of the city and the calm of the outdoors."
Possessed with a love of the outdoors from her enthusiastic Mum who led the way on all camping and hiking trips as a youngster. Corrine's love for the outdoors never wavered as she grew up and moved back to Manchester. The thrall and excitement of a big city is an exciting pull for any of us seeking a different kind of adventure. It certainly seems a misconception that all lovers of the outdoors live with these green spaces directly on their doorstep. If there's one thing, we learnt from Corrine it's that balance is everything.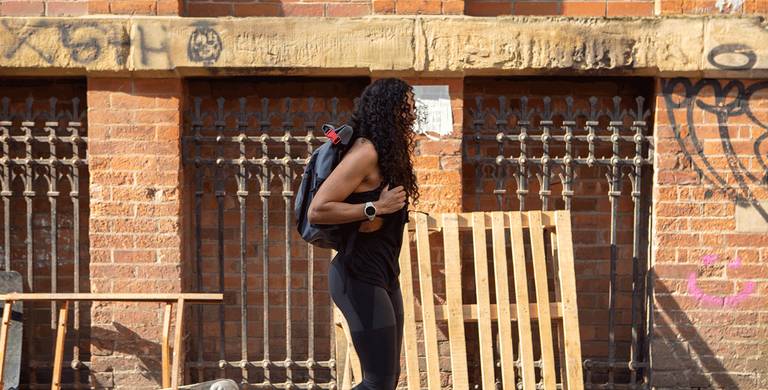 Like all of us who rely on the outdoors as a form of comfort, Corrine enjoys the challenges, movement and fitness as part of her daily routine. A yoga instructor, a business owner and adventurer to the Lake District and North Wales for regular doses of the good stuff we come to know as the great outdoors.
We decided to join her for a training session up at Rural Fitness a fully outdoor gym or 'playground' for those who like to flip tyres, climb ropes, and scale wooden walls located just outside of the Lancashire town of Chorley. It's here where Corrine sharpens her craft as her weekly tonic for those big mountain days. Corrine relishes the challenge of physical activity and stepping outside her comfort zone. Becoming uncomfortable has allowed her to express and push herself to new levels something that I think all of us can relate to when we have spent any time outdoors.
"I think it's really important in life to have challenges to break through."
When Corrine isn't busy teaching yoga at a local studio or running her business. She takes off to the Mountains and Fells of the Lake District, Peak District or Snowdonia national parks, transferring from the busy vibrant city life to the twists and turns of trail running. It's in these places Corrine can step outside her comfort zone and test herself. It is here on a sunrise run along the Great Ridge of Mam Tor she shares with us her thoughts on being brave and how it varies from person to person. "When I did my first trail running race, I knew when I would finish, I may be slow, but I would get there. It was then, I had to rack my brains back to the last time I had stepped outside my comfort zone."
Back at the van watching a new day unfold over the Hope Valley into what set out to be a beautiful day here in the Peak District, it certainly felt like a million miles away from the sights and sounds of Mancunian street-life.
"I wanted to be as scared as I had ever been… if I could do that, I could do anything."