Return to blog
Ice Dip Social with CBK Adventures
Camping
Community
Swimming
Posted by Lydia Burdett
A Taste of The Nordics at 55 Degrees North
Situated on the Northeast coast of the United Kingdom, Red Paddle Co SUP School and Adventure company, CBK Adventures, have been hosting outdoor experiences for almost 10 years. The small team of water lovers are busy all year-round hosting Kayaking, Paddle Boarding and Swimming tours. And unlike some water sports companies who pack their boards away as the nights draw in, CBK embrace those winter months and they have even developed a Nordic-style experience right on their doorstep.
The Ice Dip Social is a concept shaped by Simon Laing, Founder and Managing Director of CBK Adventures, who was inspired by the Scandinavian traditions of ice swimming and embracing the water in throughout the winter…
"As a nation, we often limit our outdoor activities during the winter months. However, there are so many places in the world where they take full advantage of the colder conditions and the associated health benefits. When coming up with the concept for this experience, we looked to our neighbours in Scandinavia, who don't think twice about ice swimming and using outdoor saunas in the snow. It is perfect for groups of friends who may want to try something a little different and take on a unique challenge."
Cycles of cold-water immersion and heat therapy are proven to boost overall well-being – reducing inflammation and lifting mood. Cold water is classed as anything below 5° Celsius and research from Portsmouth University has found that it takes around six episodes of immersion before the body starts to acclimatise and the cold-water shock response reduces
The experience invites avid winter warriors to take on the chilly waters of either Cullercoats Bay right on next to their HQ, or on the discreet Northumberland beach called Sugar Sands. Groups of up to 10 will immerse themselves in the bracing cold waters of the North Sea followed by the warmth of a traditional Savotta Finnish Army tent equipped with a log-burning stove. This relaxing space is used so the group can come together and connect on their experience as well as tuck into delicious local food cooked over an open flame.
Throughout the day you will be challenged to go to and from the cosy comfort of the Finnish tent as you take on up to 8 cycles of cold-water immersion and feel your body slowly acclimatise to cold temperatures on the water. All participants are also provided with one of our Pro Change EVO robes - the must-have piece of kit following any cold-water immersion. This gives the brave swimmers increased protection from the elements and more warmth and concealment when changing and getting in and out of the water.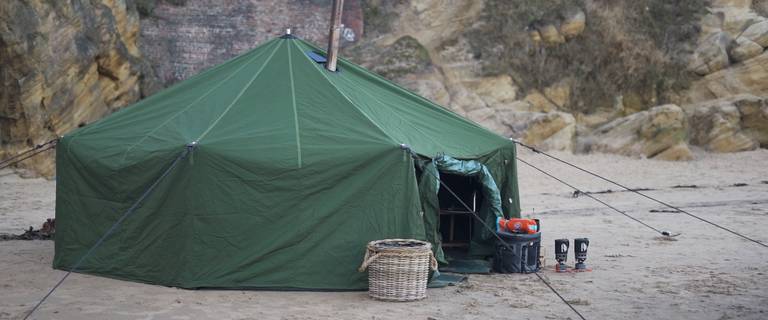 The Ice Dip Social has everything we love about being outdoors so why not give it a try? The experience costs £69 per person at the Cullercoats location or £99 per person if in Northumberland. This price includes all equipment, food, a camp chef, and a professional lifeguard. Accommodation can also be added to the package for those travelling from further afield.
To book yourself on this or any of CBK's tours or adventures visit:
https://cbkadventures.co.uk/tours/ice-dip | https://cbkadventures.co.uk/tours