Return to blog
Red Paddle Co FAQ: Which Type Of SUP Leash Is Right For Me?
Posted by Luke Green
Waistbelt, Ankle, Coiled or Straight? Read on to find out which leash is best for you. A SUP leash is one of the most important pieces of safety equipment that you need to have when stand up paddle boarding. If you fall into the water, the leash keeps you attached safely to your board, preventing it from drifting off, and ensuring you therefore have your board, acting as a large float to hold onto in the event of an emergency. A SUP leash is also essential for the safety of other water users - It prevents your board drifting off and becoming a potential hazard.
In short, a SUP leash is essential for every paddle boarding session, but it's important to choose the right one. The type of paddle board leash that you require will depend on the type of paddling you are doing and the water conditions in which you are paddling. There are two main types of SUP leash that you'll need to choose from. These are a waistbelt leash or an ankle leash. Let's take a closer look at which of these is most suitable for your requirements.
Quick Release Waistbelt SUP Leash
A Quick Release Waistbelt leash is an essential piece of equipment if you are paddling in any form of flowing water such as a river or tidal estuary. Any standard ankle leash (see below) attaches to a loop on the waistbelt. If you fall off in flowing water, there is a risk that your board can become entangled around boats or other objects in the water. Detaching yourself from the board in this instance is often the safest thing to do but it is almost impossible to reach your ankle in these circumstances and this can lead to a much more serious situation. Wearing a Quick Release waistbelt leash allows you to easily disconnect from your board in these situations. When paddling in flowing water we also recommend you wear a Buoyancy aid with at least 50 Newtons of buoyancy. The other time a quick release waist belt leash is a good idea is in windy conditions when the force of the wind can act in a similar way to flowing water. Quick Release Waist belt leashes are not suitable for use in surfing conditions.
Red Paddle Co's Quick Release Waistbelt SUP leash works in partnership with a Red Paddle Co coiled SUP leash. It is quick and easy to set up and the large red toggle on the front allows you to easily detach yourself from the board in an emergency.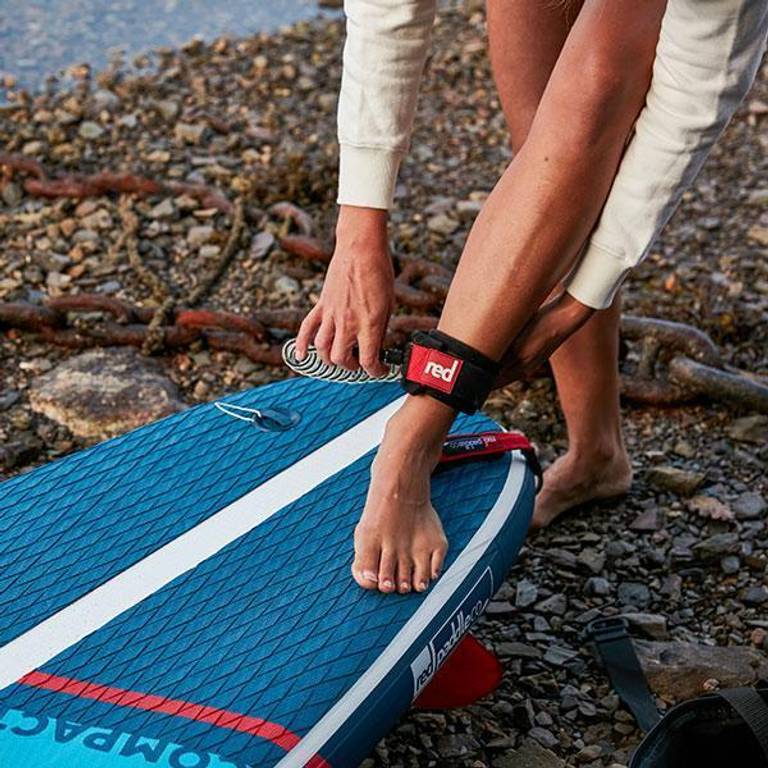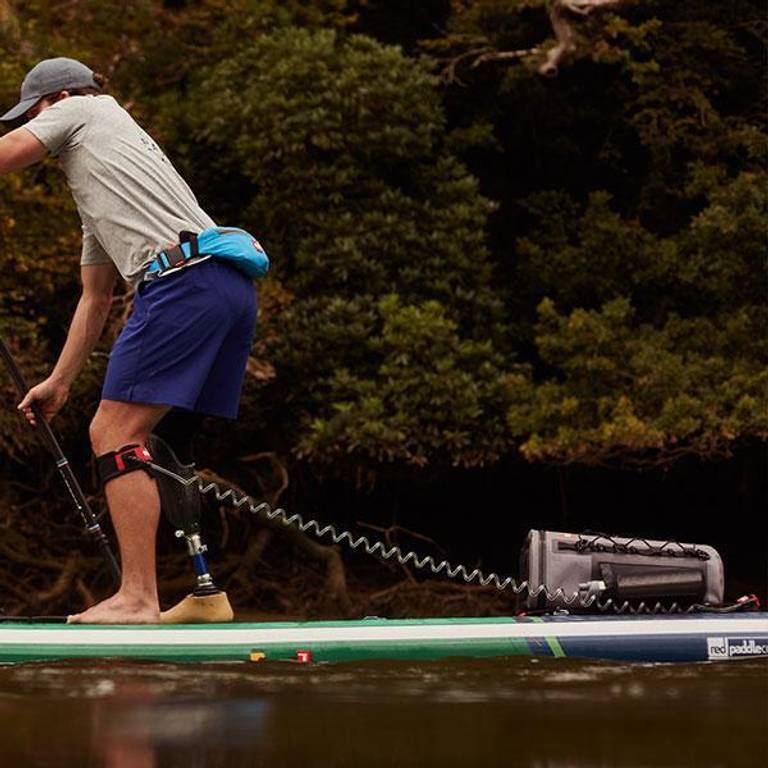 Ankle SUP Leash
When you are paddling in still, calm water such as a lake or in the sea or if you are surfing with your board, an ankle leash is the best type of leash. It has a padded cuff with a Velcro strip on it that is worn around your ankle. Some ankle leash cuffs are long enough to allow the leash to be attached just below your Knee.


Red Paddle Co's Ankle SUP leashes are designed for comfort and durability, featuring a durable neoprene cuff that can be used on the ankle or calf. The cuff also has an integrated key pouch. Red Paddle Co ankle leashes benefit from two stainless steel Swivels to prevent tangling of the leash. This swivel also allows either end of the leash to be removed for service or replacement. The leash has a Velcro section that is easily attached to the D-ring at the back of the board.
There are 2 types of Ankle leash you can choose from. Coiled or straight.
Coiled SUP Leash
A coiled SUP leash is the most suitable choice for most types of paddle boarding. This type of SUP leash is designed for people paddling in flat water conditions, such as lakes, canals and calm seas, and is also the best choice for racers. The coil in the leash prevents it from dragging in the water so it doesn't collect leaves, seaweed or other debris, and this is what distinguishes it from a straight leash. In general, a coiled SUP leash is suitable for most paddle boarders except for Surf paddle boarding, when a straight leash is the best option both in terms of safety and usability. When using a Coiled leash on flat, non-moving water we would recommend partnering it with a Personal Floatation device such as the Red Airbelt PFD. This allows you to have a discreet buoyancy solution to hand if you need it. When using a coiled leash in moving water or windy conditions it should be attached to a Quick Release Waistbelt Leash.
Straight SUP Leash
If you're planning on taking your SUP out in the surf, then you'll need a straight SUP leash. It is longer in length than the coiled leash. The extra length is important for keeping the board away from you when in whitewater of a wave and by being straight the leash has less chance of getting tangled and shortening when on the water, ensuring your board doesn't hit you.


If you have any further queries about which is the right SUP leash for you, please don't hesitate to get in touch with the team who will be able to talk you through your best options.