Return to blog
Ocean Vs Lake Paddle Boarding: Red's Ultimate Guide
Posted by Luke Green
One of the great things about paddle boarding is that it provides an abundance of opportunities to travel and explore new places. You can paddle board pretty much anywhere in the world, and oceans and lakes are some of the most popular spots for SUPing. So, if you're thinking of SUPing in lakes or oceans, take a look at these key differences and how to prepare.
What's The Difference Between Ocean & Lake Paddle Boarding?
The main difference between paddle boarding in the ocean and paddle boarding on the lake is the water conditions. When paddling on open water in the ocean, you have currents and tides to contend with that make conditions more unpredictable. Lakes on the other hand present flat, calm water conditions that are more suited to relaxed paddling and are better for beginners. The calm conditions for lake paddle boarding mean that it's often a popular choice for SUP yoga. Ocean paddle boarding offers equally spectacular scenery, however the more challenging conditions make it suitable for experienced paddle boarders.
Key Tips For Paddle Boarding In The Ocean
As conditions are more unpredictable in the ocean, it's crucial to be prepared.
Check the weather and tides in detail, and avoid going out in strong wind or heavy rainfall
Choose a location where you have easy access points, and are visible from the shore. You should also assess hazards like boat traffic and rocks
Wear a 50N buoyancy aid as a minimum safety requirement, alongside a coiled SUP leash
It's a good idea to wear a wetsuit when SUPing in the ocean, as this will keep you warm in case you fall in
Never paddle alone and always bring a phone in a waterproof pouch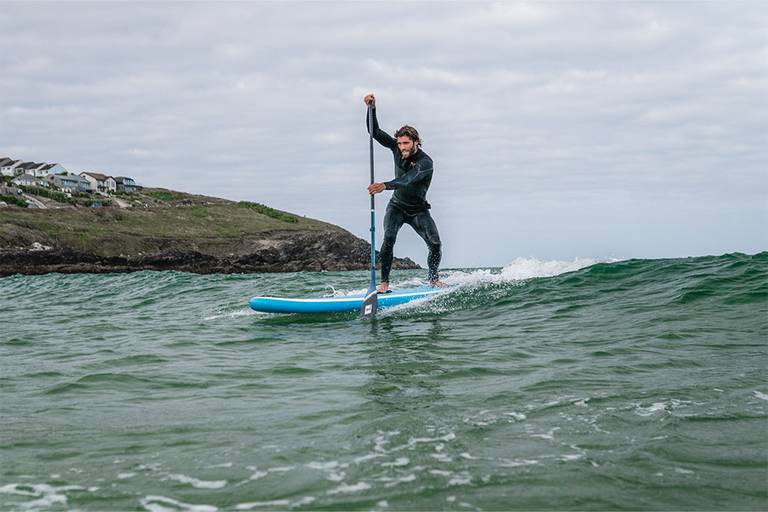 Key Tips For Lake Paddle Boarding
Knowing how to prepare for lake paddle boarding and avoid hidden hazards is important for remaining safe and enjoying your time out on the lakes.
Check the weather to avoid heading out during strong winds or before, during or after heavy rainfall
Check lake information to ensure that they allow SUPs, and note that some larger lakes do actually have tides which it's important to be aware of
Be aware of boat traffic
Bring a buddy and a mobile phone which you can store in a dry pouch
Wear an Airbelt PFD as a minimum safety requirement, or a buoyancy aid, alongside a coiled SUP leash
What Type Of SUP Do I Need For Ocean Vs Lake Paddle Boarding?
For paddle boarding in the ocean, touring boards are the best option. These are slightly longer and narrower than all-round boards, providing you with greater speed and glide through choppy water. For lake paddle boarding, a general all-round paddle board is the best option.This will provide you with the stability and versatility that you need for paddling through the lakes. Our bestselling 10'6" Ride MSL paddle board features a 32" width and round nose profile to enhance stability on the water, while our exclusive MSL technology significantly enhances the durability of our inflatable paddle boards.