Return to blog
UK Artist Turns Old Paddle Board Fins Into Art
Posted by Luke Green
To reduce our impact on the environment, we are constantly looking at how we can increase the lifespan of our products and repurpose them wherever possible. So when we were approached by Rhys Phillips from Paddle Out Creations to see if we had any old paddle board fins he could use for his custom designs, we were more than happy to have a dig around the samples box and see what he could come up with.
We caught up with Rhys recently to find out more about how he got into Custom Fin art, the process he goes through and see what he had been able to design with the paddle board fins we had given him.
Hi Rhys, great to meet you, first off can you tell us a little about yourself?
Growing up between living in the South West and Wales I've been very fortunate to be exposed to some incredible landscapes and have always been drawn to them whether it's the coast or the mountains. Over the years my influences and artistic heroes may have varied but the core of my work always comes back to my travels, music and those landscapes that surround me.
I've been teaching Art, Media & Photography for 14 years working in a range of disciplines and with a real range of students and most importantly still enjoy giving back some of those skills to our younger generation. But, never one to be a fraud and not 'practice what I preach' I have ensured that I kept my own artistic practice going in the moments I have spare, producing work for private commissions along with work being shown in local gallery spaces.
I work with a variety of materials always trying to experiment where possible with my style and technique. Experimentation is key within all my artwork, and sometimes making a mistake is the best thing for a piece to develop in the right way, mark making and expression is at the heart of my work.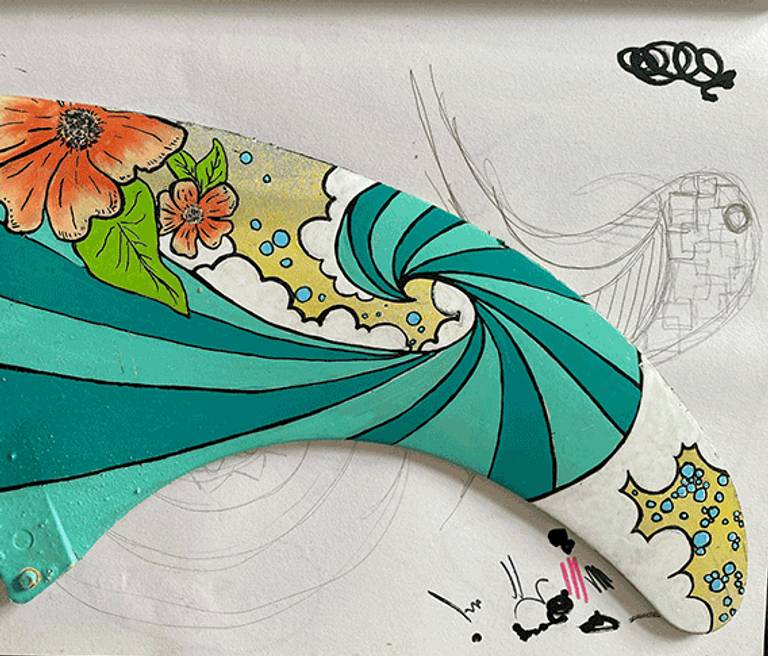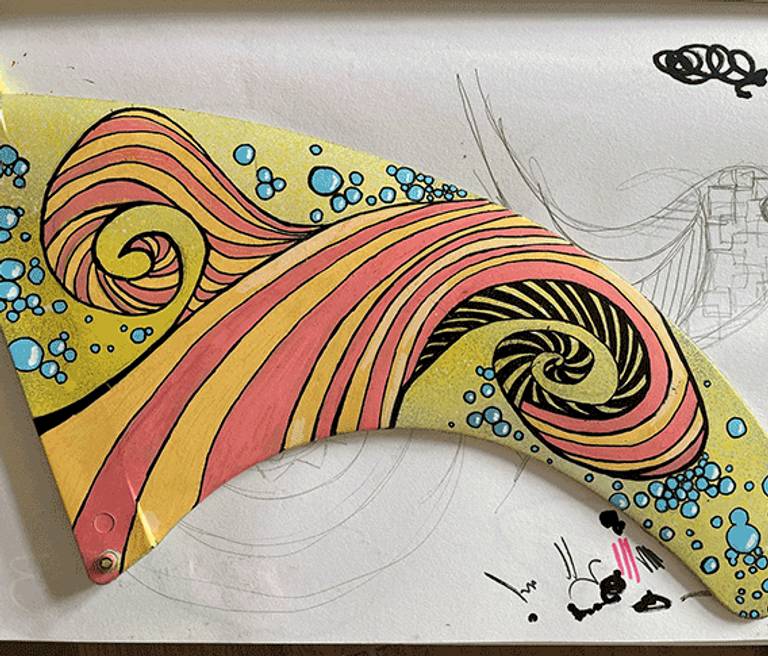 What made you start paddle out creations and decide on using old Paddle Board fins as your canvas?
I have always found surfboard art and skateboard art diverse and inspirational so I suppose through my love of illustration and street art started thinking about how I could do something different to painting boards initially. This led me to a fair bit of Instagram research and saw there were a lot of artists, surfers, and paddle boarders mainly in the US decorating their SUP fins, but not so much of it going on in the UK. So I started to play around with some designs sketching them out first and then transferring them onto small FCS surfboard fins.
Initially, I was paying for Paddle Board fins in order to have a canvas to work on but then got thinking about how sustainable that actually was and that using old or donated fins might be a way forward. Looking at Surfers against sewage and all their work with Plastic free they had done, I wondered how ethical the paddleboarding and surf industries actually were with the recycling of kit, given their obligation to keep the seas clean. So that's where Red Paddle Co came in after asking if there were any old SUP fins popping about to put some of my designs on. This has led to me being kindly donated a number of pre-used paddle board fins with scratches, dings, dents on from Red Paddle Co which meant I had a variety of fins as my canvas.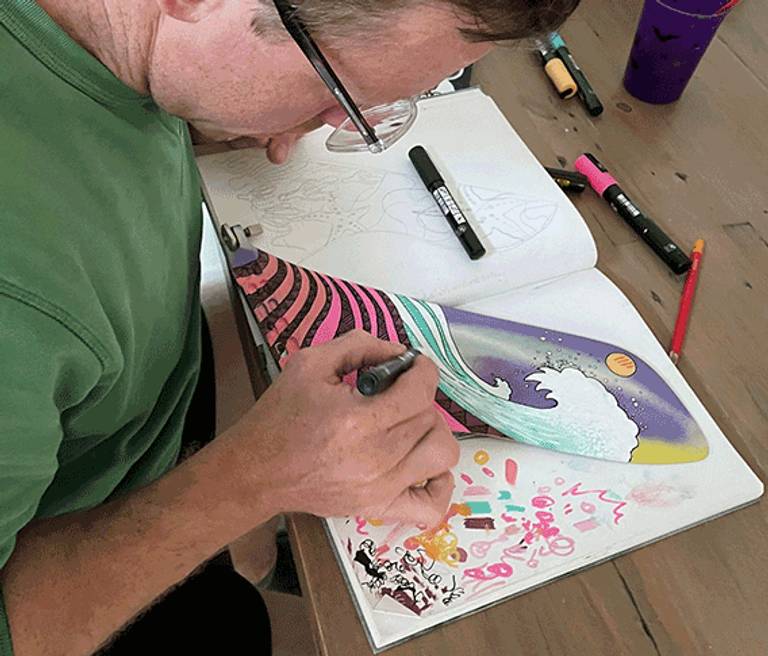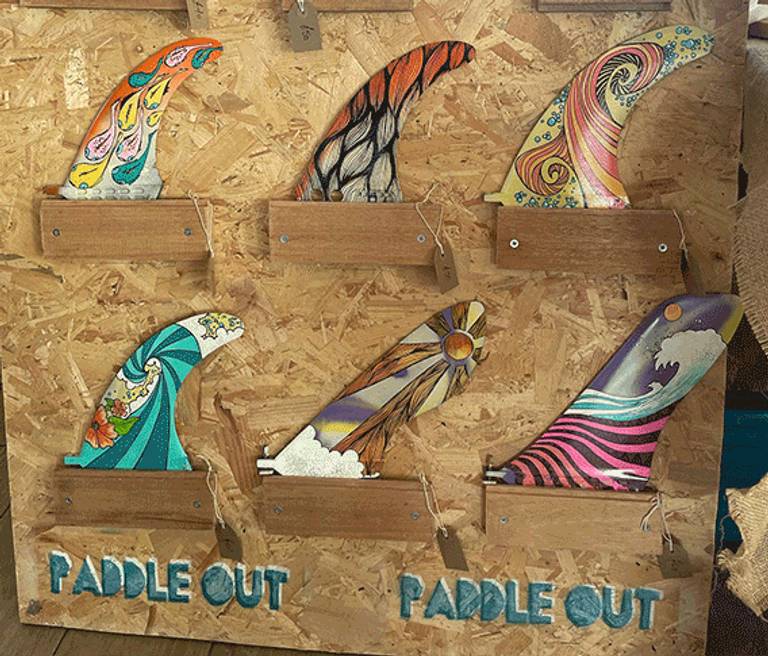 What's the process that you go through to create our custom fin art
So they clean up quite well. I start by applying acetone to the fin to strip off any grease & dirt, then using a fine piece of sandpaper, lightly sand them down in order to provide a rougher surface which tends to take the paint pens and spray paint a bit better. I usually spray paint the fins to provide a base coat and then go about sketching my designs onto the fins in pencil. I have drawn straight onto the fins previously and although I like the outcomes, my work has always boasted bold colours so I tend to use spray paint more often than not.
Once the prepping is done it's down to careful application of designs using POSCA pens and acrylics. Once the designs have been laid out I always check for any colour that isn't vibrant enough and sometimes apply a second layer. Finally, I spray a layer of transparent sealant over the fins in order to make them and it's new design pretty robust, saving the colours from fading or scratches.
Then it's up to the customer whether they want their customised fin framed, put on a wooden block or if they're going to attach it to their board??
Are these just for display or are they practical pieces as well that can be used?
The paddle board fins are for all purposes, they can be re-used practically yes of course. However, I really do think they look great either framed or most recently I've mounted them on a wooden block. I've been using reclaimed/repurposed wood too, in order to make my products as ethically driven as possible regarding their carbon footprint.
Do you do commissions if someone was after a particular design/style that was meaningful for them?
100%. I've done a number of commissions now on various size SUP fins, some of which the client has actually given me the fin they want me to work on. This gives the piece even more of a personal touch as it came from one of their own boards. Currently I'm working on two designs that are totally bespoke, one in a more tattoo style and the other more like my own style. So if people do want to get a specific design applied then I can sort that for them, usually doing a couple of sketches first to really pinpoint what it is they want. After all, this is art and art is personal so the more I can understand the clients' ideas the better.
Where would you like to take Paddle Out Creations in the future?


Obviously the more designs and more custom fins out there the better, each one is completely bespoke and numbered so there are never two the same. I would love to get hold of some big wooden longboard fins or actually shape some wooden fins and get some work on them, who knows what that would like?? But I imagine it looking epic on a wall

There are other ventures that I'm looking at in order to grow paddleoutcreations namely designing customised paddles for SUPs.
Initially, all artwork would be done by hand, with the view to eventually printing onto the paddle, in order to reduce production time and have an established set of designs that would be available for people to buy on SUP paddles. So the next step is to see if anyone can donate old paddles!!???

Lastly, am looking to build the capacity to screen print and get some of the fin designs onto t-shirts, I think some of the simpler contour line designs would look great on a shirt.
All being said though I Mainly just want to grow the ethical side of the brand and look at how to get more people involved with re-purposing used SUP and surf gear by putting some fresh designs on them to give them a new lease of life!
To get your hands on a unique Red Paddle Co paddle board fin, check out the Red Paddle Co Collection on the Paddle Out Creations website: https://paddle-out-creations.square.site/