Return to blog
The Time is Now - Bike Packing on the Isle of Wight
Biking
Posted by Luke Green
Jay and Bethany wanted to see what adventures they could have closer to home. We caught up with them after a recent bike packing adventure to see what they found straight out the front door.
Both Jay and I have always loved biking and in the last few years have mainly been riding on our road bikes around the Isle of Wight or mountain bikes in the forest and across the downs. We love camping and adventures and therefore loved the idea of being able to strap everything we needed to our bikes and set off for more of a spontaneous cruise both on the roads and cutting off road along gravel tracks and through the forests.
In the past we have done a lot of camping adventures on our paddleboards both on the island and further afield but really liked the idea of doing it on our bikes too! The more we researched other people's bikepacking adventures all over the world the more excited we became about the idea and started planning trips closer to home and dreaming of trips straight away! We decided for our first trip we would go on a mini adventure closer to home on the Isle of Wight and then work up to longer trips and bigger adventures! Bikepacking through Portugal being next on our list!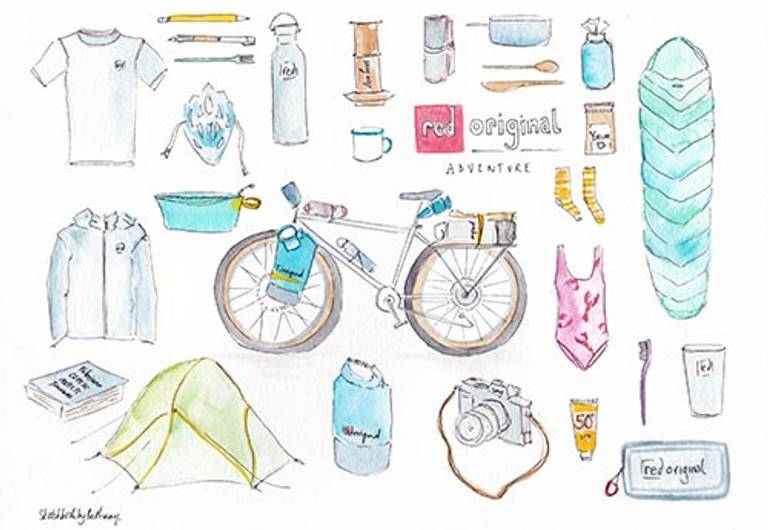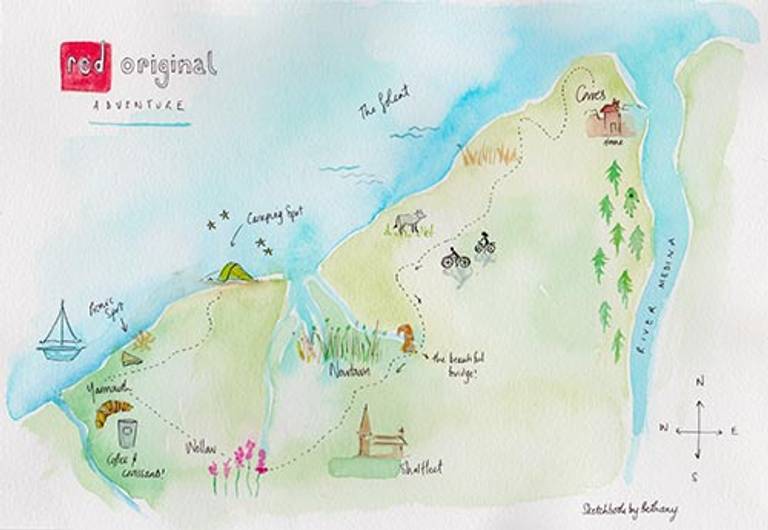 KIT LIST
2 x bikes, 2 x helmets, 2 x10L dry bags, 2 x dry pouches strapped to the handle bars and fork of bike filled with phones and energy bars! 2 x Red Original water bottles which we refilled on route, 2 x waterproof active jackets (came in handy for the evening and a slightly wetter second day on the bikes!) and a couple of travel cups to keep the coffee warm on route. We also took a small tent, inflatable roll mats, sleeping bags, a little camping stove to make tea, teabags! Snacks, energy bars, toothbrush, swimming cozzie and a couple of Red Original micro fibre towels.
We also packed our small Sony camera to document the journey and I took my journal and pencil case to do a few illustrations and scribbles on route!
DIARY: 24 hours. 1 night. 50km.
Day 1: We set off from our home in Cowes around 2pm, bags loaded, water bottles full, factor 50 applied all over! We cycled out of Cowes and headed towards the West of the island through Gurnard and out along the gravel tracks that weave through the farmland and towards Thorness Beach. It was the most magical afternoon; really warm and not a breath of wind, passing the fields full of grazing cows and hedgerows alive with the sound of crickets - we could have been in the South of France.
We carried on towards the beautiful nature reserve that is Newtown Creek now owned by the National Trust. We stopped for a banana and and drink at the little stone bridge watching the wild birds busy away and the tide rush in. Now back on the road we were heading to Yarmouth through the beautiful villages of Shalfleet, Wellow, Ningwood - passing llama farms, sweet pea sellers, 'help yourself' to tomato plant stalls, all framed by walls lined with sunflowers just in bloom.
We reached Yarmouth in time for dinner and thought we would treat ourselves to some chips from the best fish and chip shop in town to accompany our homemade picnic! We found the most picturesque spot for a picnic, down a little stony alley which just looked straight out to sea. We enjoyed our chips and cheese and biscuits with our legs dangled over the side and with views across the bluest solent out towards Lymington. We could have sat there for hours as the sun was going down but realised we should head to our planned camping spot and get the tent up!
We cycled back off road and through the forest which leads down to a little 'secret beach' - secret meaning not many people know about this spot! When the tide is at its highest it leaves the perfect amount of room for a tent and a campfire! We put the tent up quickly, collected wood for a fire and enjoyed a cuppa and a toasted marshmallow whilst the sun set. It was beautiful, no one around and the only sounds being the lapping sea and the sounds of the birds in the forest behind!
Day 2: I woke up to Jay already up and awake relighting the fire! Jay slept perfectly, me a little more broken so I thought a dip would wake me up! The sea that morning looked misty and slightly eerie but the water was mirror flat and so tempting for a morning swim! I grabbed my micro fibre towel and plunged in off a raised sea wall. It was magic! I suddenly felt a lot more awake and alive! After an aero press coffee and banana each we packed up and headed back to Yarmouth to grab an Almond croissant from our favourite coffee shop!
We then headed back through the winding country roads to another part of Newtown Creek, the boat yard full of the most beautiful little wooden boats. I sat and painted the bright blue hulls and wooden masts. It then started to drizzle so we whipped on our Waterproof Active Jackets and made our way back up the creek and towards Cowes. The perfect little overnight adventure. Picnics, sea swims, camp fires, marshmallows and painting. When we got home it felt like we had been away for days.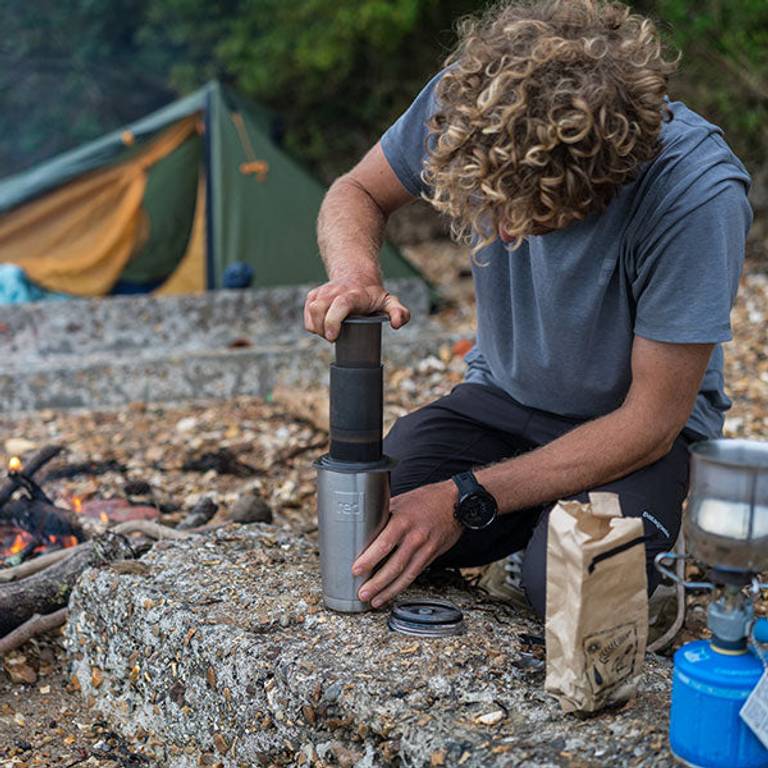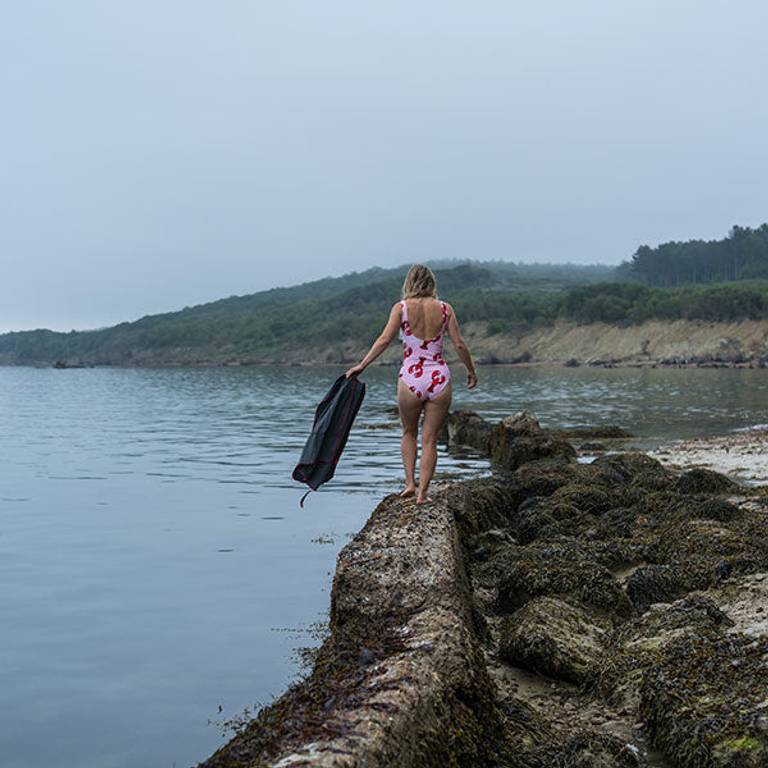 TOP TIPS:
Pack minimum kit - it's easy to overload your bike but the more stripped back you can go the better as it will make riding easier. This also gives you space if you do want to pick things up along the way! Also let your bike take all the weight rather than having anything on your back!
Invest in a small tent or bivvy bag!
Get a lightweight stove - super handy for cooking and making hot drinks but you don't want to be lugging anything big. You can buy super compact stoves now!
Swap your foam sleeping mat for an inflatable one!
Repair kit is a must - be ready for punctures and also great to carry extra straps for tying luggage down!