Return to blog
Next Level Challenge: Red Sponsors The Trent100
Community
Paddle Boarding
Posted by Lydia Burdett
Ahead of the seventh edition of this endurance classic in July next year, traversing 100 kilometres through the heart of England down the mighty River Trent, Red Paddle Co are thrilled to announce that we're the official sponsor of the Trent100 Challenge for 2024. Much more than just another SUP event – the Trent100 Challenge is testament to tenacity, teamwork, and a spirit of adventure that flows as strong as the river itself. We're stoked to be supporting such an inspiring event…
Trent100 Stories
For a preview of next year's Trent100, let's rewind to the 2023 edition. Watch the blend of endurance, grit, and camaraderie that coursed through the heart of England earlier this year. Our mini-documentary captures some of the strokes that wrote stories on the River Trent.
What is the Trent100?
In case you didn't know already, the Trent100 Challenge invites teams of between three and eight to stand-up paddleboard 100km through the Midlands from Great Hayward in Staffordshire to Nottingham. Teams must complete the course together, within 20 hours over two days. Taking on the elements and paddling as a team, against the clock, the Trent100 Challenge is an epic event.
Go with the flow
The UK's third longest river, the River Trent is said to be named after a Celtic word meaning 'strongly flooding'. So paddleboarding downstream on a free-flowing river, hazards include strainers, shallows and even a few short sections of lightly-graded rapids. Plus there are portages around weirs and locks and the notoriously unreliable English summer weather to contend with. It's a real test of endurance. But at its heart, it's all about the paddlers...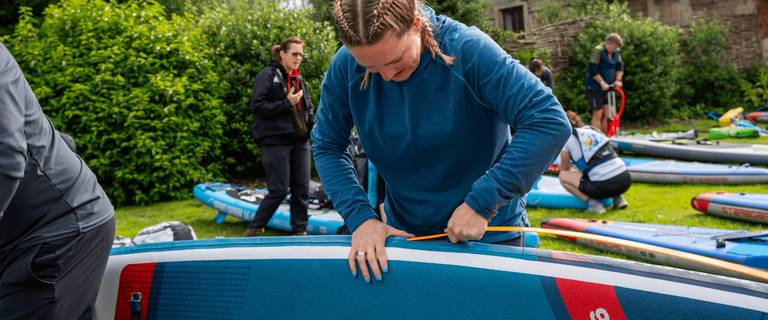 Why the Trent100?
The essence of the Trent100 Challenge mirrors everything we love about paddleboarding. It's a great adventure, a call to stretch beyond comfort zones, to do something amazing, paddling together for a common goal. As we move towards 2024, our ambition is to inspire capable paddlers to upgrade their adventure and join in this remarkable challenge. We invite you to be a part of an iconic endurance paddleboarding event that has rightfully earnt its place as a British SUP classic.
Inspiring Adventure
Dave Mistry Pain, Trent100 event organiser, shares our enthusiasm:
"We're super excited to announce a new partnership with Red Paddle Co who will be the official sponsors of the 2024 Trent100. Since 2008 Red have been producing quality paddleboarding equipment. They're now a world leading adventure paddleboarding brand, with a special focus on quality and sustainability. Red's brand and products fit well with both the needs of our paddlers competing in the Trent100 and the general ethos of our event – to inspire and enable adventure. Roll on 2024!"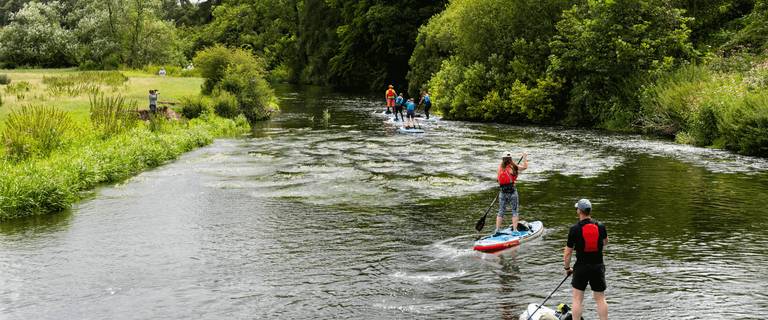 Setting The Scene
As official sponsors, Red will be supplying flags, buoys, event shelters and plenty of enthusiasm to help bring a Red-hot atmosphere to the riverbanks. We'll be capturing the essence of Trent100 too – documenting the event with photography and videography, to be shared through Red channels and help Trent100 spread the word. Plus we're providing waterproof Pro Change Robe EVO for the marshals and event team, ensuring these amazing volunteers stay warm, dry and comfortable throughout the event.
More Than Merch…
In the spirit of this partnership, we'll be producing exclusive Trent100 co-branded Pro Change Robes. Available for pre-sale and collection at the event, a portion of the proceeds will be channelled back into the Trent100, supporting the continuation of this fantastic event. Our dedicated retail tent will showcase premium Red products, offering participants and spectators the chance to buy robes, bags, boards and accessories – open during registration, then Friday and Saturday evenings.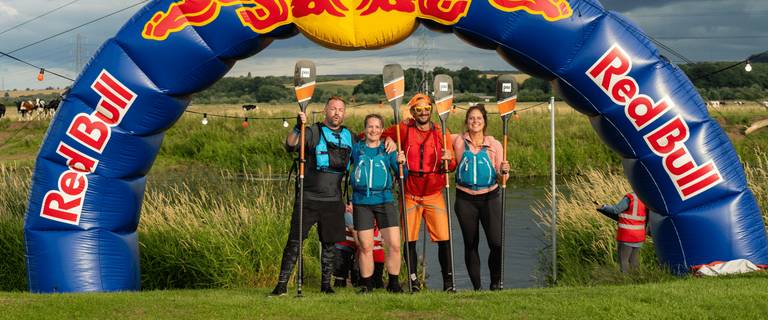 Red Friday
But we're not just about paddle kit; we're about the paddlers too. On Friday night, midway through the challenge, we're planning a special on-site activation. Full details to be announced, but let's just say we're hoping to get participants suitably chilled after their first 57km and taking deep breaths to get into the right headspace for a second day's paddling.
Join The Adventure
Feeling the flow of anticipation? Up to the challenge? Does the spirit of camaraderie appeal? Will you be amongst the adventurers at Trent100 in 2024? We invite you to join us, creating memories to last a lifetime, from the first stroke to the last. Register now via the Trent100 website for the Trent100 Challenge – Friday 19th to Saturday 20th July 2024.