Return to blog
Red Paddle Co FAQ: Is Paddle Boarding Difficult To Learn?
Posted by Alex Clasper
One of the questions we get asked regularly by people who are considering trying paddle boarding is, how difficult is it? When you're thinking about trying any new activity, it's natural to have reservations, however we're pleased to say that this doesn't need to be the case with paddle boarding. Whilst it may look a little daunting at first, with the right training and equipment, paddle boarding is one of the easiest water sports to learn. Here's why:
Paddle boarding is suitable for people of all ages and fitness levels, and can be made as challenging or as easy as you choose once you've nailed the basics
High quality inflatable paddle boards are designed for stability, making them a lot easier to stand up on than they look
Paddle boarding is an incredibly popular sport and so you'll find plenty of experienced paddle boarders who are more than happy to help show you the ropes
Paddle boarding is a relaxing sport that many people use as a method for de-stressing. This means there's no rush to be the best
Still not convinced? These are just a few of the reasons you need to give it a go.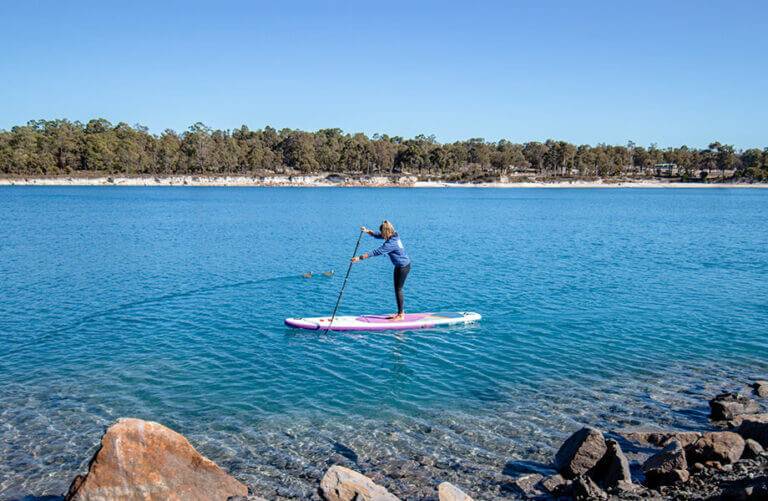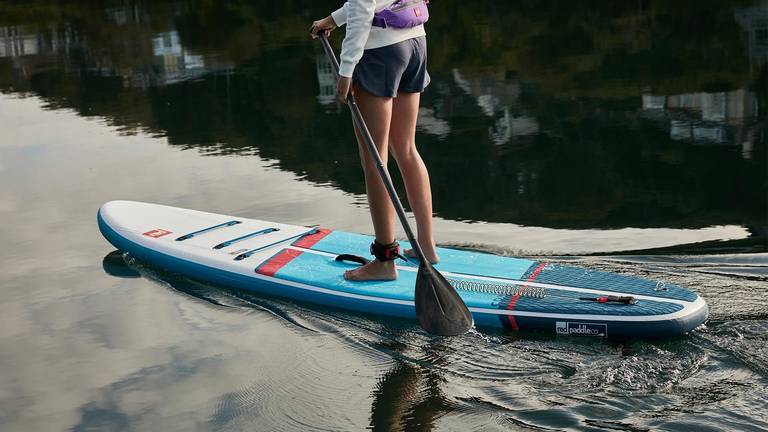 Why Is Paddle Boarding So Popular?
It's a fun form of exercise. Paddle boarding is a great workout for your whole body, however it doesn't feel like it at all. If there's a choice between working out surrounded by beautiful scenery vs inside a gym, we know which option we'd rather take!
Not only is paddle boarding a fun form of exercise, it's also low impact. Many land activities such as running, put huge pressure on your joints that can cause long term health problems. As paddle boarding is on the water it is low impact on your joints and muscles
Paddle boarding is relaxing. Water is known to have a calming effect on the mind, and this combined with the repetitive motion of paddling and exposure to nature, makes it a great way to destress
It's a sociable sport. Paddle boarding with friends and family is a really fun way to catch up whilst getting some fresh air and exercise. You can even go out on a multi-person paddle board as a group
Finally, paddle boarding is a versatile sport that you can make your own. Many people use it as a relaxing form of exercise to destress after work, whilst others use it to have new adventures. As you become an experienced paddler you may even consider the likes of SUP surfing or racing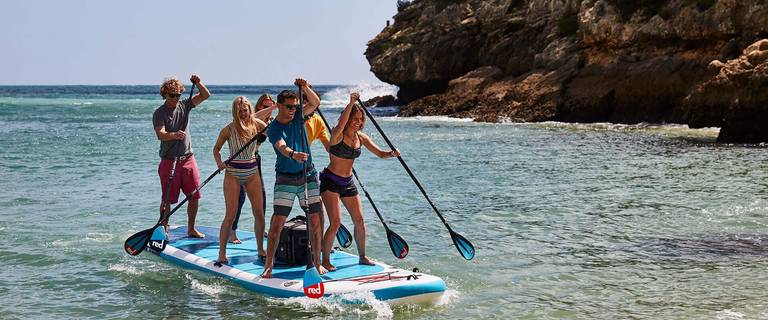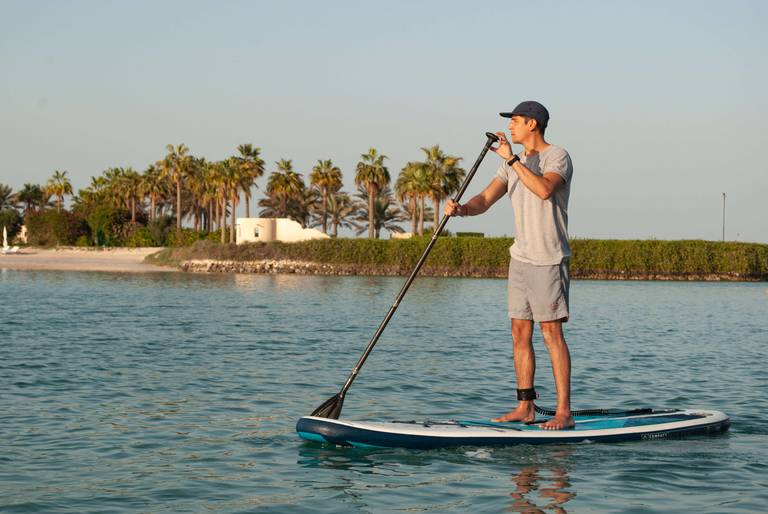 How Do I Get Started?
So you want to give paddle boarding a go - fantastic news! The even greater news is that it's really easy to get started. We always recommend learning how to stand up paddle board with a qualified instructor. This is the safest way to learn how to stand up paddle board, and will mean you learn the best technique from the start.
The easiest way to find places that offer paddle board training near you is by searching learn2paddleboard.com. This is the world's largest platform for finding the best SUP schools, that Red Paddle Co are proud supporters of. Simply type in your location and you'll be provided with all the options that are available in your local area. The website also includes plenty of information about what to expect from your first session, and details on what to wear and what to bring with you.
Finding a SUP school is the first step in starting your paddle boarding adventure. If you have any more questions about getting started please don't hesitate to get in touch with us today.