Return to blog
Red Original's 8 Best Picnic Ideas For The Beach
Outdoor
Posted by Luke Green
Packing for a beach picnic is a little different to packing for a picnic anywhere else. When you're eating on the beach, you've got a few more factors to contend with, the biggest one being sand and heat. No one wants to be eating lukewarm sandwiches seasoned with sand, which is why it's worth doing a little extra prep in advance.
The best picnic ideas for the beach aren't complicated but they are practical and perfectly suited to a day spent by the sea. In order to offer you some inspiration for your next beach picnic, we've put together our best picnic ideas for the beach, including all of our picnic essentials.
Let's start with the most important part of any picnic. The food.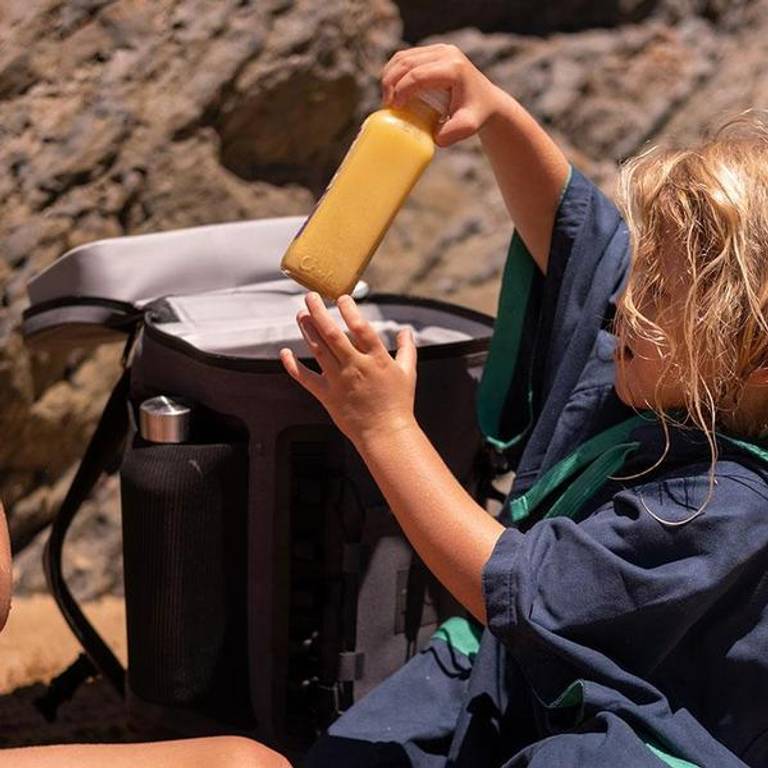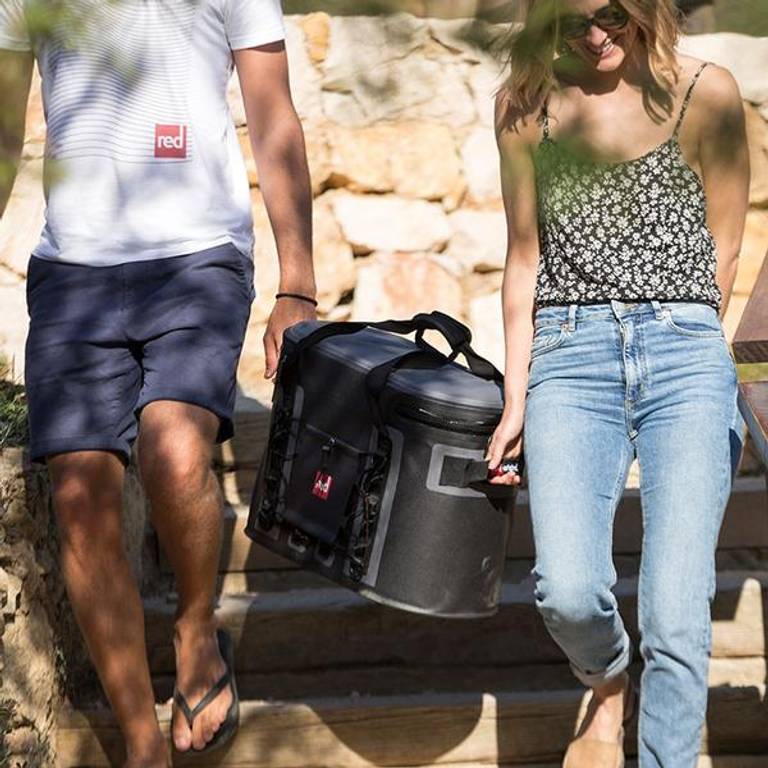 Kebabs (not the 2am kind)
When you're eating on the beach, you don't want to be bothering with cutlery or plates. When you're hot, sweaty and hungry, the last thing you want to be doing is trying to balance a plate on your lap to keep it away from the sand. That's why kebabs are one of our best picnic ideas for the beach. Fun and easy to eat when you've got sandy fingers, you can make both sweet and savoury kebabs that taste delicious. Chicken satay is a tasty choice, and for an easy veggie option, halloumi and roasted veg always make a delicious combination. You could also make skewers of fruit for a sweet and refreshing snack.
Wraps
Sand has a funny way of getting into sandwiches even before you've left the beach car park it seems. Wraps on the other hand have a protective outer layer that helps keep sand out and away from the filling. You can also wrap them in foil before packing them in your cooler so that you can eat them with sandy hands without spoiling the actual wrap itself. You can put pretty much any filling in a wrap, however, our favourite recipes include spicy chicken and black bean or falafel and hummus. Delicious and practical, wraps are definitely one of our best picnic ideas for the beach.
Hard-boiled eggs
No beach picnic is complete without hard-boiled eggs. Easy to boil and peel in advance, boiled eggs are a tasty fuss-free snack that's easy to pack. A classic choice, boiled eggs have to take a place among our best picnic ideas for the beach. You can even rinse them off if they do make an unfortunate encounter with the sand when you're on the beach.
Granola bars
Our list of the best picnic ideas for the beach wouldn't be complete without high energy snacks. Something about being on the coast makes you extra hungry particularly if you're in and out of the sea, surfing and swimming. That's why snacks should be on any picnic essentials checklist. Granola bars are a top pick for us due to the energy they provide and the fact that they're super tasty. If you're making your own, it might be best to avoid chocolate to prevent any melty messes once they leave the cool bag, and you can still give them a sweet kick with dried fruits.
Iced water...
When you're enjoying a hot, sunny day on the beach, it's important to keep hydrated, so make sure to pack plenty of reusable water bottles to drink throughout the day. One of our best picnic ideas for the beach is to fill a couple of water bottles with ice. This will act as an extra ice block in your cooler, keeping the contents colder for longer, but will also provide you with a refreshing, icy cold drink to enjoy as it starts to melt.
…And other beverages
There's nothing like watching the sun go down with your feet in the sand and an ice-cold beer or cocktail in hand. Pimms, mojitos and daiquiris are all easy to make in advance and can be transported in a reusable water bottle. You can also make slushies for the whole family to enjoy by combining frozen fruit and ice together in a blender.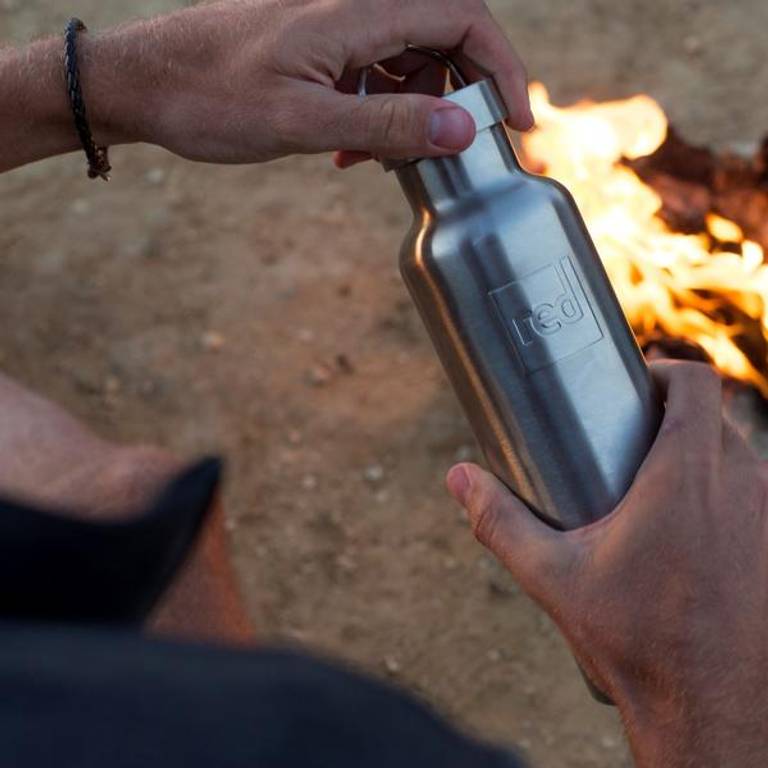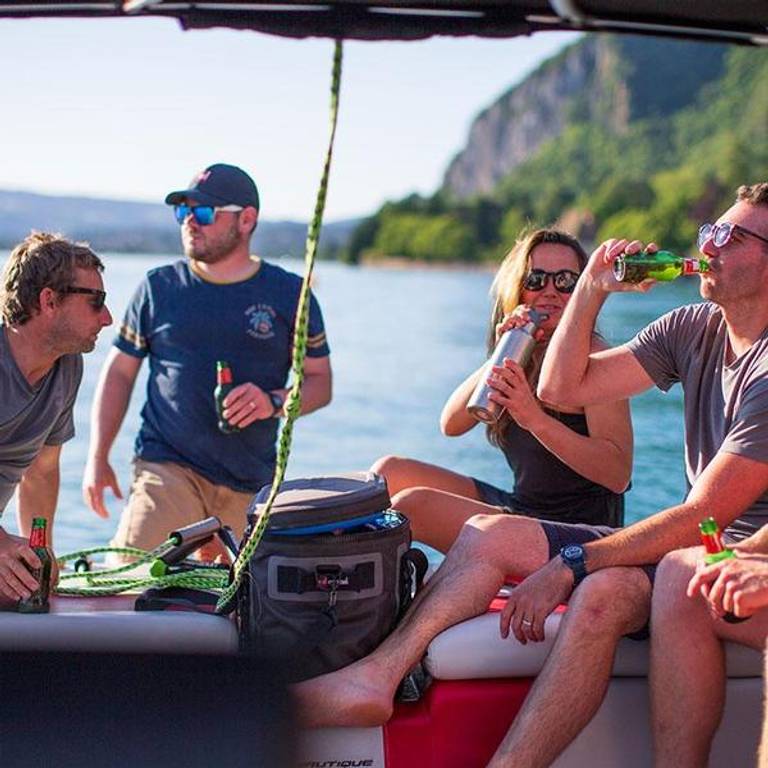 Waterproof cooler bag
You need something to carry all this delicious food and drink in and keep it fresh. When it comes to picnicking by the sea, you always want a cooler bag that is waterproof. Red Original waterproof cooler bags are available in 18L or 30L capacity, both fitted with ThermalLock Insulation and a food-grade BPA-free lining. For an even more lightweight alternative, our waterproof cooler backpack is perfect for transporting your favourite snacks hands-free and in comfort with a padded back panel and airflow straps. Just like our other waterproof cooler bags, the insulated cooler backpack is fully watertight and leakproof.
Picnic blanket
When enjoying your beach picnic, you want to keep all this delicious food as far away from the sand as possible. You can, of course, sit on towels and boards, however, if there's a group of you it's often easier to be able to share the food out on one (sand-free) blanket. Super lightweight and easy to pack down, our microfibre towels don't collect any sand making them ideal for use as a multifunctional picnic blanket that you can use after eating to dry yourself off from a dip in the sea. If you're using our cooler backpack, you'll have plenty of capacity to carry handy additional items like this.