Return to blog
Meet The Individuals Of The Recovered Pro Change Robe Collection | Bobby and Courtney
Posted by Lydia Burdett
As we continue to celebrate the launch of our colourful new Recovered Pro Change Robe Collection, we caught up with two individuals whose zest for life made the perfect match for our vibrant robes. Taking their turn on the studio floor, Courtney Williams and Bobby Cray took a moment to talk van life and finding individuality in the great outdoors – something our limited-edition robes celebrate with their bold colour-clash look…
Match Made In Outdoor Heaven
Courtney – I've always loved being outside and in nature. I grew up in Wellingborough in Northamptonshire, surrounded by open fields with horses, wildlife and a nearby stream. I spent all my childhood building swings and being outside in the fresh air.
I love my plants so it's heaven when I wake up to greenery instead of grey noise. It's fresh, it's quiet, it's what I need to settle my mind. When I am in the outdoors, I feel unapologetically myself, in the sense of not caring about who's around, what other people think of me or what I look like.
Bobby – I'm London-born and bred but my family are originally from Cumbria so I grew up around country villages. There's always been a need to get back to the quiet. When there's constant noise, it's nice to be able to get out and switch off. And when you are outside everything is telling you to slow down, which for me, mentally, is really important. That's where my love of van life came from.
Living The Van Life Dream
Courtney – I never knew about van life until I met my partner, Bobby. We went to Ashdown Forest for our first trip together and it's just stunning there. There were sheep and cows roaming around and at night you could hear owls in the trees. The skies are so clear and free of light pollution so you can get totally lost star gazing in the peace of it all.
My mind is always running through ideas or playing scenarios in my head. You don't get time to shut that out when you're at home. So, when I get to go outside and be among nature with no distractions, I can finally decompress and shut off. I can enjoy breathing, living! Enjoying this world for what it has given us.
Bobby – One of the main draws of van life for me is the freedom and independence it brings. Heading out on the road with your van, you have everything you need. You can drive to these truly beautiful places and wake up somewhere to a view that would cost you thousands normally. You pull the curtains back and you're in it, surrounded by nature.
I really like to go to remote places and, as a result of that, you have no phone signal so you are forced to have less screen time which is really nice. I don't like to get too sucked into the whole social media thing - I'm of a generation. I remember life before it and I much prefer that. I feel calmer when I'm out and about. But aside from the freedom, I also love designing the vans - that's the really fun part. It's the challenge of working out what you can put into this tiny little space to make full use of it and ensure everything has a function.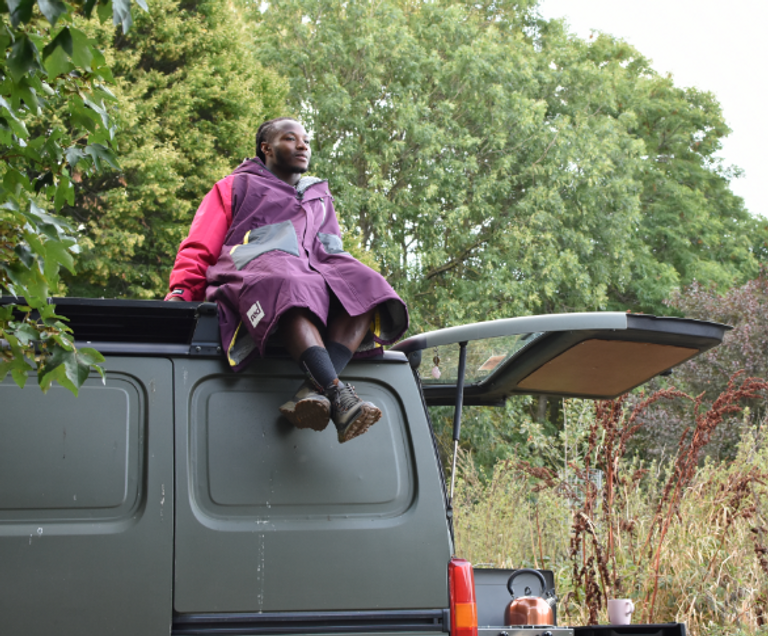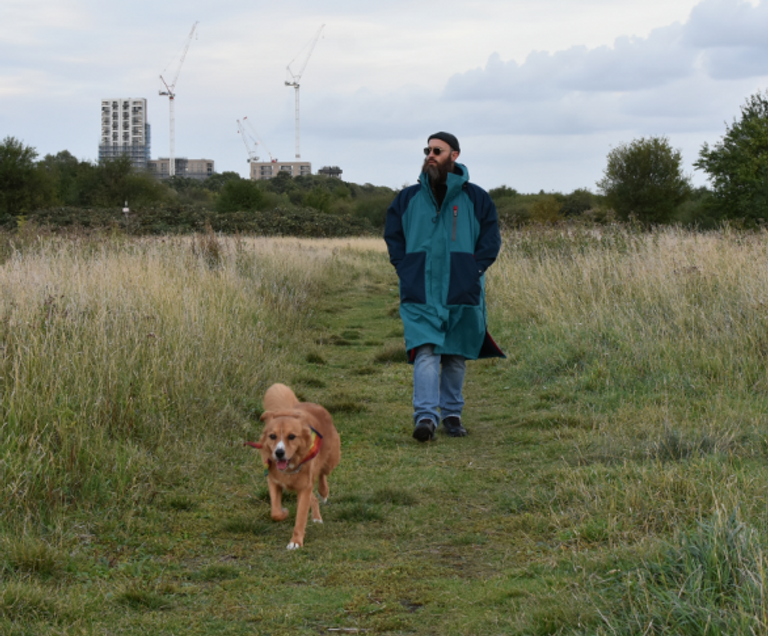 Discovering Diversity In The Outdoors
Courtney – When I first ventured out with the van, it came as a bit of a shock - leaving the diversity of London behind and arriving in the countryside. It was beautiful but there was hardly anyone that looked like me. I didn't really know how to go about it at first, but then we found a community called Diversify Vanlife UK. The name speaks for itself, and that is when I realized that I wasn't the only one out there who looks the way I do and enjoys being outside and living the van life. And that's when I started to feel more comfortable with being in the outdoors.
Bobby – We've met so many nice people along the way and made so many connections - a lot of good friends and a lot of bonds. This Summer, we got involved with Camp Quirky, a festival that celebrates and brings together like-minded people who love the craftmanship of van conversion. But it's much more that than that. In its own words 'Camp Quirky isn't just an event; it's a testament to the spirit of independence and the joy of life on the road'.
The first time we attended we loved it but did find it too busy for our liking so we took ourselves off to the quietest possible corner. It meant we could still dip in and out of the festival but have our own space. We put a massive Pride flag up and it was this that drew a lot of people towards us. We got talking and, in the end, we had about four or five vans come and camp with us - like us, they wanted to enjoy the festival on their terms.
A Community Coming Together
Bobby – Since then, the idea has grown and this year the organisers gave us a massive field for us to host 25 vehicles. We set up a community kitchen with our spare vehicles, and a marquee so people could cook, have a hot wash or fill a hot water bottle. A lot of people didn't have vans and were staying in cars, tents or empty vans that had not yet been converted so we wanted to offer them some of the luxuries we had.
Courtney – We arranged it so that all of our van entrances were facing each other, ensuring that everyone had a neighbour - it actually ended up looking heart-shaped! We decorated the space with solar lights and it was very much a safe space by the queer community, for the queer community.
Bobby – But by the end, as much as it was necessary to have a space where people felt safe, welcome and able to deal with the festival on their own terms, there were other people who weren't from the queer community who needed it too - neurodiverse people and solo female travellers, for example. And so, next year it's going to be a safe space hosted by the queer community for whoever needs it. We didn't plan for it to be this big queer thing, but I suppose now it's more a big queer thing with open arms. And that's really nice.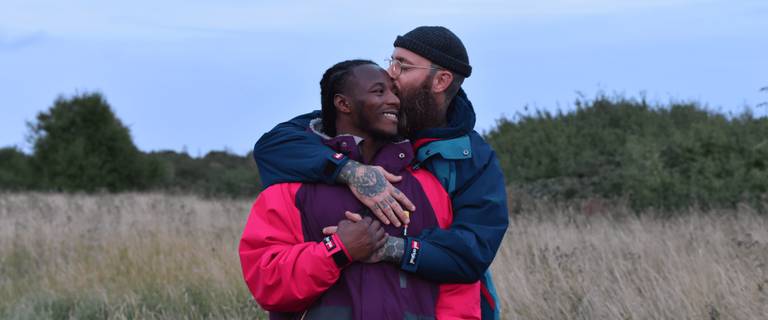 About Red's Recovered Change Robe EVO Collection
While the production process used to make our range of Pro Change Robe EVO and Revolution Robes was designed to produce as few offcuts as possible, there is always an element of leftover fabric. Needless to say, this doesn't sit right with us, so we put our heads together and started coming up with ways to reduce our waste even further. Our Recovered Pro Change Robe Collection was the result…
Made up of 3 vibrant colour combinations, these waterproof changing robes are made to the same award-winning technical specifications as Red's original changing robe. So if you're all about standing out from the crowd but would like to remain warm and dry while you're at it, our limited edition Recovered Collection was practically made for you.