Return to blog
Kev Brady takes on Sri Lanka - Day 4
Brand
Posted by Jess Davies
Is Kev still awaiting the permission he needs to continue his expedition?!
Find out all as he tells you about his 4th day in Colombo...
DAY 4: COLOMBO - Good Bad Conscience - December 10, 2016
I tried chasing people in the irrigation departments and wildlife conservation for a few hours in the morning. Painless phone call and pointless emails later, I needed I break. One of the most exciting things about this adventure is that I need a machete. There will be times when I have to make my way through very dense jungle and without one, I'd have no chance.
While walking down to the hardware store, I decided to call Dom Mee to update him on my progress. I was put in touch with Dom by my friend Ben, they are old Royal Marine buddies. Dom is now living in Sri Lanka and, as he knows the culture and coast, had been a great source of help via while planning. I explained to him on over the phone about waiting around for letters and permits. He suddenly verbalised what the bad conscience on my shoulder was saying "Just go for it, mate." He enthusiastically said "You never know how long you're gonna be waiting around for pieces of paper. People out here are on island time." That was all I needed to hear. Tomorrow I would head to Kandy to meet Lakshman, he'd know where to buy a machete, too!
When I got back to the hostel I received a message from another hostel owner who had heard of my plans. He offered me a free bed for the night in exchange for stories. I packed up and headed out to find a tuk-tuk. I loaded my two big bags into the back of the first one that arrived and hopped in. The driver turned around to me and said "1500 rupees". I knew it should be no more than 300-400 so I didn't even haggle. Without hesitations, I got straight out and grabbed my bags much to his "no no no no no no, 1000, 1000!" I understand that people rely on tourism to make a living, but I have zero tolerance for rip-off merchants. Without a word, I walked down the street with my bags to hail another tuk-tuk. The same driver chased me down shouting "800, 800!", I just looked at him and shook my head. An elderly driver picked me up and took me on a lovely detour along the coastal road. The metre read 350 upon arrival and I paid him 400.
As soon as I walked into the very cool Colombo City Hostel, I was transported back to previous backpacking trips. Lots of Australians and Brits sat around drinking beer, smoking and laughing. On another trip a place like this would get me very excited and I'd be out on the town until the early hours with new found friends, but I wasn't feeling in that mode. I mingled with people and went out for dinner. I had a couple beers and we played a hilarious game of scrabble where everyone is given 6 letters, you have to make a word out of all of them regardless if it's an actual word or not. You then have to say it five times without laughing and get extra points if people laugh. Finally, you have to use it in a sentence. I'm not going to say what my word was...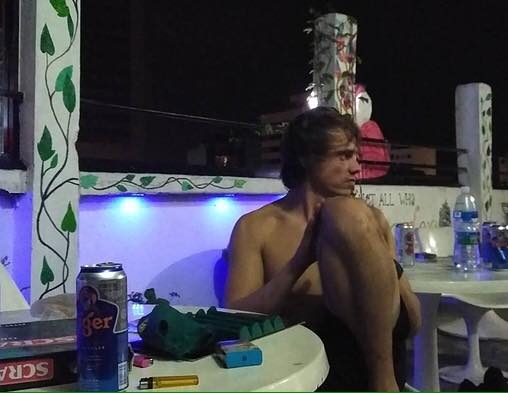 Until next time!