Return to blog
Is Summer A Good Time To Learn To Paddle Board?
Posted by Luke Green
As the summer holidays beckon, you might be looking for ways to embrace the warmer temperatures and explore the great outdoors. Watersports are a fantastic way of enjoying some time out in the open, particularly paddleboarding, which allows you to relax surrounded by water in the summer.
Whether you've considered taking to the water for some time or have only just contemplated becoming a beginner, you may be wondering if summer is a good time to learn to paddle board. We have created this handy guide to help you explore the advantages and disadvantages of taking up paddleboarding in summer so that you can decide if you'd like to take the plunge.
Reasons To Learn To Paddleboard In The Summer
Whether you want to pick up paddleboarding as a lifelong hobby or simply enjoy it on your holidays, there are many reasons why the summer can be the perfect time to learn to paddle board. Let's take a closer look at them:
Warmer Conditions
While nothing is stopping you from hitting the water all year round, paddleboarding is best enjoyed in the glorious sunshine. There will inevitably be some rain throughout the summer months, but most paddlers prefer to get out in the summer months when the temperatures are warmer and the views are clearer. Better weather conditions are generally preferable if you want to learn to paddle board, making summer a great time to get started. Gentle water is the perfect starting point for assessing and improving your balance and with the water temperature at its highest, you need not worry about falling in after an inevitable wobble.
Longer Days
Finding the time to learn to paddle board can be a challenge. Inflatable paddleboards make it easy to set up your SUP quickly, but even when you factor in the time you will spend on the water and packing your board away, you are looking at an hour or two minimum. Summer is a great time to learn to paddle board if you lead a busy life. Daylight saving hours mean that it is light enough in the evenings to get out after work or even after dinner without losing the sunshine. It's worth making the most of this opportunity to learn to paddle board as autumn always rolls around quicker than expected and the window for hitting the water slowly shrinks!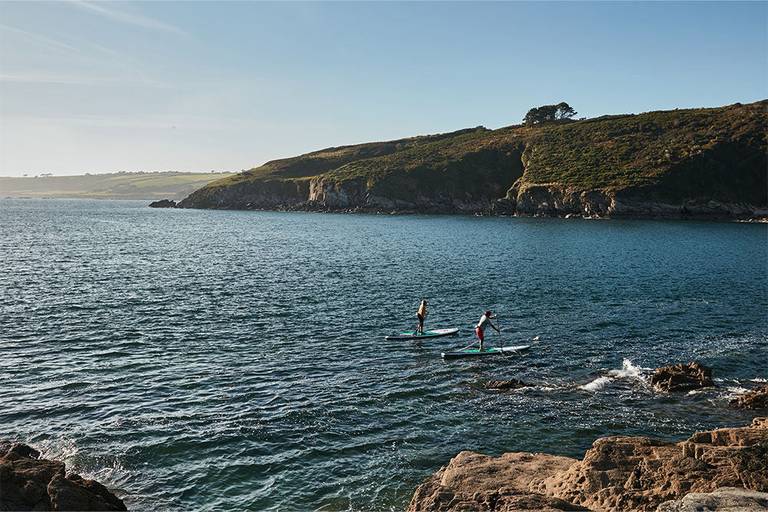 Lessons & Events
As paddle board season gets going in the summer, lots of exciting paddle board events start to take place. Many of these offer a great introduction to the activity to beginners, with the chance to learn from seasoned SUP fanatics and discover more about the glorious culture that goes alongside paddleboarding. It tends to be easier to find paddle board lessons in summer too, as providers increase their offering to meet the demands of holidaymakers and seasonal paddlers. Learning from an expert is a great way to get started, so booking a lesson and learning to paddle board in summer is well worth it.
Things To Consider
With so many reasons to learn to paddle board in the summer, it's not surprising that the warmer months are popular amongst those looking to dip their toes in the water. While the popularity of paddleboarding in summer has many benefits for beginners, there are some downsides to be aware of.
Particularly if you want to learn to paddle board in a popular location, remember that it will be busy. You might want to start off learning to paddle board outside of peak times, like first thing in the morning or later in the day so that you can get comfortable without being surrounded by crowds.
If you don't own your own SUP, equipment hire and rental also tends to be busier in the summer. Make sure you plan ahead and book in advance if you can to avoid disappointment should you arrive at your destination and find that you've been pipped to the post.
Where To Start
If you're keen to get on the water and learn to paddle board this summer, there are lots of different ways to start. It can be a great idea to see if you have any friends and family that are happy to take you out and show you the ropes, or encourage a loved one to join you for a lesson.
Before you venture out, read up on paddling tips and remember that it will take time to feel comfortable standing up. Try not to rush and concentrate on getting to grips with proper paddling technique before you venture far from the shore.
The expert team at Red can also provide guidance if you want to know where you can learn to paddle board in your local area. Simply get in touch with the team if you would like to learn to paddle board this summer and we will help you get started.