Return to blog
Finding Balance for the Everyday Adventure: Learning from the experts in Sweden
Brand
Outdoor
Swimming
Posted by Jess Davies
Frida Benedikt grew up in Borlänge (Region of Dalarna) in Sweden, a small multicultural city with lots on offer in terms of sports activities for after school and at the weekends. Nowadays she lives in Dala-Floda, about 40 minutes from where she grew up. Frida moved to Dala-Floda while she was studying Tour Design at Scandinavian College of Travel and Tourism, just before she started to work as a tour leader and wilderness guide around the world. Among other things she guided Swedes to Everest Base Camp in the Himalayas in Nepal and showed tourists the Northern Lights at The Icehotel in the north of Sweden.
Frida now lives in a house next to the river and works in the village at Kajaktiv - a kayaking and outdoor shop who distribute Red gear across Sweden. Frida works in sales, logistics and is also one of the white water kayaking instructors for the centre.
We first met Frida during a trip to Sweden in March 2022, setting off on a weeklong adventure starting in Stockholm and then into the mountains in the Dalarna region to test out our Red Original gear. Specifically, our range of waterproof bags, our Evo changing robes and the new Revolution 3 in 1 Parka.
While we spent time out in the snow with Frida, we wanted to find out where her love of the outdoors comes from and how she manages to get some excitement and adventure into her everyday life.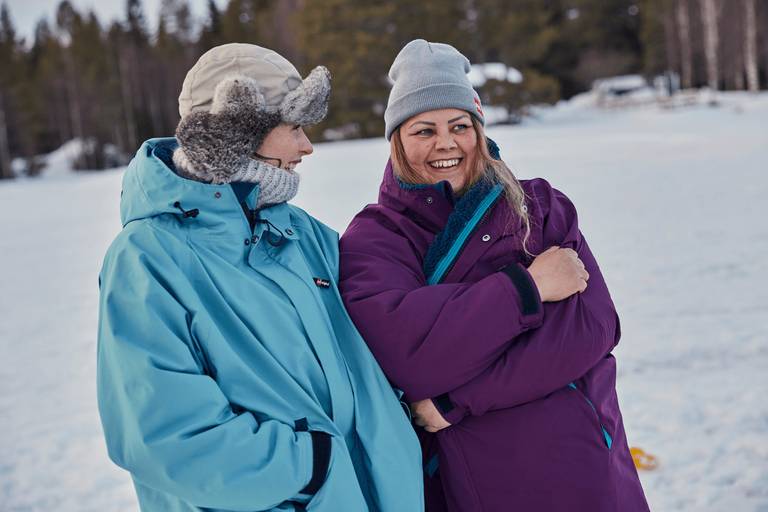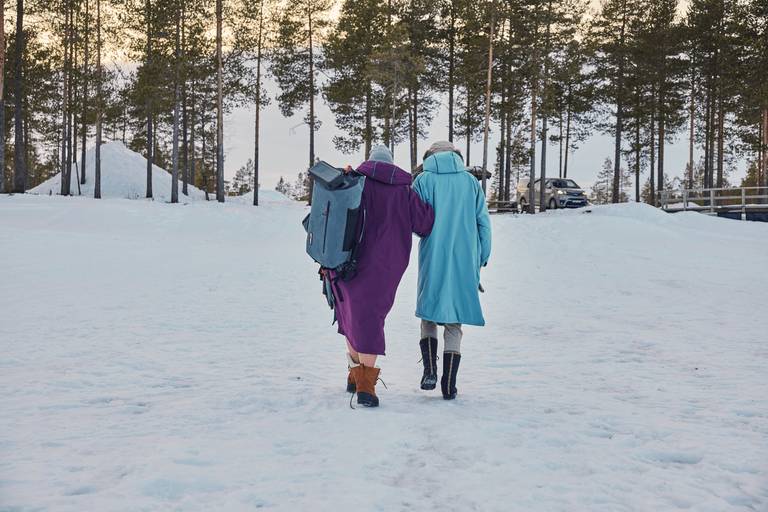 "I love to get outside as it's where I feel good and feel healthy. Mentally and physically. Moving my body is really important but also just being in the outdoors makes a difference. Now I'm sat inside so much more in front of the computer it makes me really think about it. When you're inside at your desk, your focus and distance is always the same, so when you get outside this really changes and helps. It helps to look at the wider outdoors and further afield. Just for the eyes even, when you're outside it's completely different."
"When we're growing up in Sweden, being outdoors is a natural part of our everyday lives. We're always skiing and ice skating in the Winter, but it depends where you live of course and what your parents are interested in. My mum always took me downhill skiing and cross-country skiing as we had a track right outside our house."
" In the winter, it can be difficult to get a balance between being in doors and working and being outside, but it all depends on the type of winter we have. If we have plenty of snow then I will be out skiing at the weekends, and it's also possible to ski in the evenings as some of the tracks are lit or we just use our head torches. And if there's not a lot of snow, we can always go out ice skating on the lake."
"I much prefer to go on adventures and get outside with friends. A couple of years ago I went through the whole of Sweden from North to South mostly by myself - cycling, trekking, white water kayaking, paddle boarding my way across the country. I had some friends join me for some parts but mostly I was alone. I think this made me realise that I much preferred the time when I was with other people."
"This adventure through Sweden confirmed I want to have a life with more small adventures in my everyday. I didn't actually really enjoy all the new things and all the pretty extreme activities on this trip. One time I was out sea kayaking, and a storm came in. And it was pretty bad. I didn't feel scared though and I think that's the worrying thing. You still need to have the respect for nature and I had become complacent and took all these awesome things for granted. I didn't get the excitement during the trip I thought I would. Once I was home, I wanted to slow down a bit and really enjoy those things again. Really appreciate the outdoors."
"It really made me realise I needed to have the 'ah ha' moments and experiences in my life again. Now when I can now get out there again in the mountains, escaping from my regular everyday life, I really appreciate it and I get the 'ah ha' feeling again."
"I've had so many amazing experiences in my life and I know I am very lucky. I travelled to Nepal several times across a 4 year period and spent a lot of time there leading treks and I met so many amazing people. I led people up to Everest Base camp and it was incredible to see regular people wanting to push themselves and overcome a challenge during their trip. My time there really was life changing. I think about it every day. I think about what I'm possibly missing out on but I know I can't do it all the time. I need to find the balance between a regular job but also still having some kind of adventure."
"Personally, I've not had any obstacles in my way stopping me doing what I want to do based on my gender or where I come from. I've just done what I want to do. I just do what makes me happy. I'm lucky in Sweden there is equality between men and women and being a Swede travelling also is really easy, you are welcome everywhere. I feel very fortunate with that, and it should be the same for everyone."
"In Sweden there is the perception that getting outside and being part of nature is just part of everyday lives but actually we look to Norway and think they're really outdoorsy compared to us! It looks like they go out all the time and go out trekking and this is how we grow up thinking about the Norwegians. But we have that on our doorstep as well. Maybe we take it for granted, some of the adventures we have. For example, we love swimming in lakes all the time but some people who come and visit from other countries like the UK think it's a bit strange! They think as there are fish in the lake you can't swim in it! Maybe we just don't realise how we live our lives and what we have on offer in Sweden."