Return to blog
Coast to Coast with Gee Jackson: The Challenge Finale
Posted by Lydia Burdett
by Gee Jackson @geeadventurous
Day 4: The end of the longest canal in the country! 209/257km

91 locks and crossing the Pennines in just 4 days, I had made it to the end of the Leeds and Liverpool canal. The end was in sight, and I felt ready to finish. I felt ready to go home.
After passing through Skipton at rush hour with all the canal boats and having two swans fly at the back of me as scare tactics (but I managed to keep my cool after the previous day's encounter), I was looking forward to joining the Aire and Calder Navigation. The thought of floating along with the flow down to the coast and giving me an extra boost in speed was a bit of a relief.
My shoulders had started to ache a while paddling, and I felt like I had triceps of steel. My hips were bruised, and I had pulled a muscle in my lower back from portaging all the locks. The scratches on my neck from my wildlife encounter combined with PFD rub were tender, the blisters on my hand had started to split, but my heart was full, and my mind was at ease.
I found myself saying something I never imagined I would say: I was ready for a fifth and final 50km day of stand up paddleboarding in a row.

Day 5: The Last Leg: 268/257km
My final day did not start well. Getting out of Leeds dock with a loaded paddleboard when you're barely 5ft1 is hard. There was lots of board 'throwing' and jumping onto it as a result of low-ish water levels and high canal basins. Initially it frustrated me as I had a goal I wanted to meet and it was just slowing me down, but after a while I began to enjoy the fresh challenge and see it as part of the journey again.
Joining the Aire and Calder navigation was distinct from the Leeds and Liverpool canal. Time stretched out as there were now very few landmarks on the horizon to judge movement by, and my expectation of riding the flow quickly disappeared as the water barely looked like it was moving at all. The navigation is a lot wider than the canal, and large sections look entirely the same. But I still had a blast and was truly savouring the last moments of my Coast to Coast adventure triathlon. I wanted nothing more than to just soak it all up and keep it in a box in my mind for whenever I might need that feeling in the future.

Caru and I had some last song and dance on the water together (I had spent a lot of time playing music from my phone through my headphones and singing as loud as I could when I thought no one was around) and we reached Goole marina in time for another fabulous sunset. I happened to meet a couple in a rowing boat enjoying the sky dance just as I was entering the marina. Without knowing what I had just done or where I had come from, they congratulated me and welcomed me 'home'. A gesture that they will likely never understand the significance of. I thanked them profusely and paddled until I could literally paddle no further. I had crossed the country on 3 separate occasions, via 3 different human powered means. And I was happy to be finished.
It's been a couple of months now since completing my English national trails coast to coast adventure triathlon. My numb fingertips from a likely compressed ulna nerve due to the pressure of paddling for 15 hours a day for 5 days straight needed some time to heal. The blisters on my hands disappeared. The bruises on my hips faded. The tightness in my shoulders receded. I still don't know where I'm going to live in the next two months and discussions with my ex about the progress of this are still difficult. My job negotiations are still ongoing. I have my driving test soon with a 50% pass rate and no private practice available to me. I've had countless fights in my own head about feeling guilty for prioritising my own wants and needs over things I felt I 'should' be doing (including writing this article!). But I'm still here. The lovely team at Red made a deal with me so that I am now the proud owner of Caru, the sample board they sent to support me on this challenge. I've just come home from a week of hiking and camping in Denmark and a day learning to paraglide with some beautiful important-to-me people, and two weeks volunteering at the Birmingham 2022 Commonwealth Games, including having the privilege of attending the opening ceremony. My brother and his young family have been incredibly supportive, as continues to be the outdoor community that I hold so dearly.

I have not yet thought about 'the next thing'. I do not need to.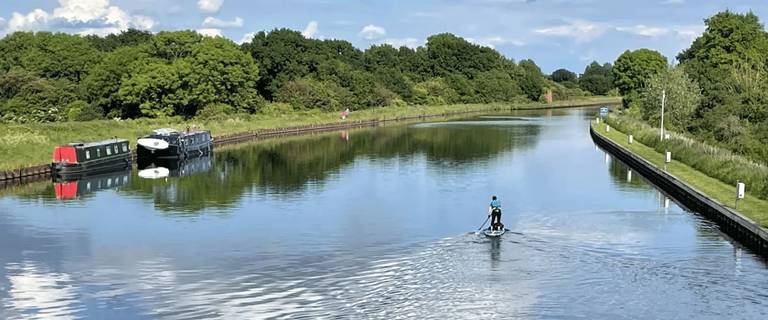 My time spent on those waterways, just me and my paddleboard, the good and the bad, will forever have an impact on my life. Adventure is what you make of it. You don't always have to go hard. You don't have to do what everyone else is doing. It doesn't have to be the first, the fastest, or the furthest. It just has to be enough to make a difference to you. To mean something to you. The peace, love and hope for the future that I found on those canals is invaluable, and that matters most. It never was about the destination. It was never about the act of making it to Goole. It was never about going until I could literally go no further. In all this has been a journey totally about love. Love for myself even if sometimes that's the hardest thing to do. Love for others even though they may have done you wrong. Love for the wildlife, the environment, and the diversity of this incredible country. The love for the challenge as a whole is so important and the growth that comes with that doesn't fade. It was about the little things. It was about all the moments in between. All the people, the kind words and gestures, the messages of support. It was about coming to terms with my situation and accepting all that has been, and all that might be. It was about finding my peace with where I've been, and where I'm at right now. It was about moving on. Because in the end it doesn't matter where I'm going. What matters is the journey along the way. And out there on the Desmond Family Canoe Trail, on a used and abused Red Compact 11' inflatable SUP - just one girl and her paddleboard - I finally felt like I was home.