Return to blog
City SUPing at its best - Nautic paddle in Paris
Responsibility
Posted by Maxine Smiles -Cooke
At the start of December 2018 in the heart of Paris, SUP enthusiasts from around the globe gathered together on the chilly banks of the River Seine to tackle the annual Nautic Paddle race which this year included the final leg of the APP World Tour.
The Nautic Paddle in Paris, now in its 9th year, is the world's largest participatory SUP race event. In 2018 it once again proved to be the ultimate celebration of the sport with hundreds of avid paddlers bringing their spirit and enthusiasm for paddle boarding to the French capital.
With over 2000 applicants for just 800 places, the excitement and passion of those chosen paddlers was palpable as they prepared their kit and warmed up for the race.
The event attracts participants from all over the world, this year we were lucky enough to chat to Mike and Ruth after their epic 16,000 km journey from Down Under to be there -- they couldn't wait for the chance to paddle in Paris!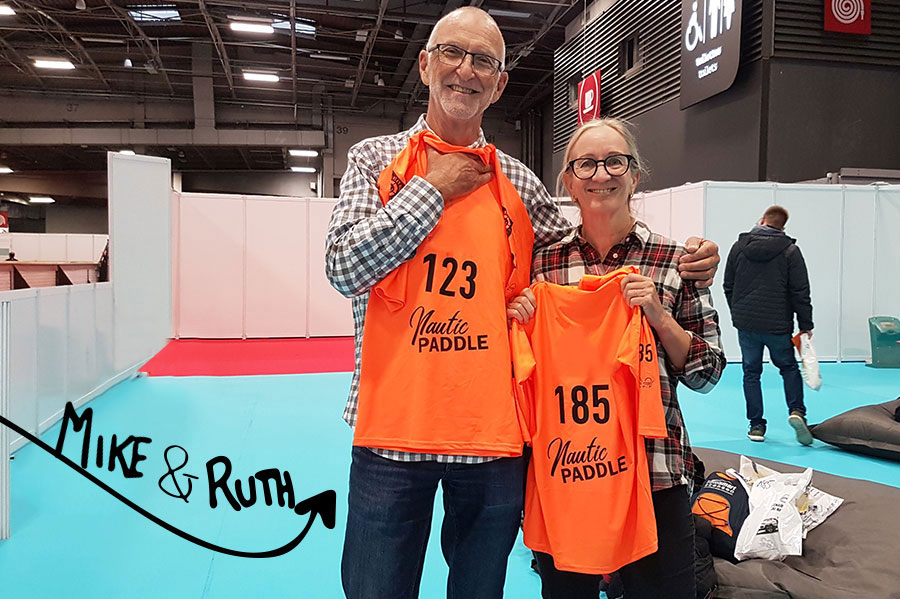 Mike and Ruth Goiny, from Surfers Paradise, Australia, are quite spoilt for choice when it comes to impressive paddling locations. So, with the beautiful and warm Gold Coast on their doorstep we were intrigued to learn what drove them to brave the cold, dark and choppy waters of the River Seine in Paris?
"Ruth had her eye on the Nautic paddle for a while. Since becoming paddle boarders, the idea of a paddle on the Seine has been at the back of our minds. We entered the lottery as a team and won a place. We were not concerned about it being winter, The Nautic Paddle in Paris is a truly unique experience as it gives paddlers from all walks of life the opportunity to interact and paddle behind some of the world's top SUP athletes".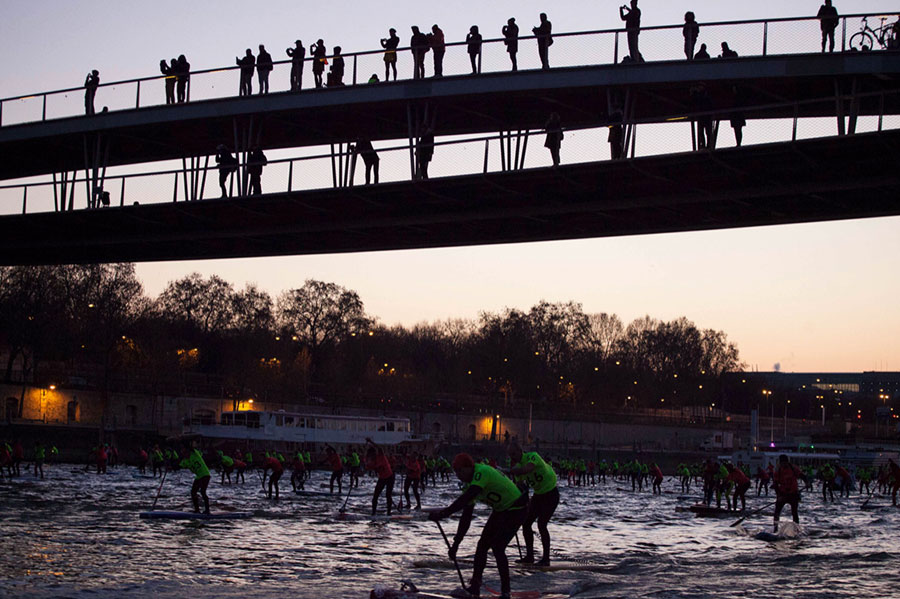 After being introduced to the sport during a dog surfing competition, Mike and Ruth had their first SUP lesson and became totally hooked. The couple have now been paddling together for over five years and enjoy the great health benefits that paddle boarding offers…
"We are both of retirement age and have found SUP to be really beneficial. It's a total body exercise, low-impact, great for wellbeing and very social. You can work very hard or take it easy. There are so many options, from recreational paddling (we call it coffee suping), downwinders, ocean paddles, sup surfing, and various races. We dabble in all of these and tend to use upcoming events and races as training and learning goals to aim for.
Having experienced back problems for many years, which eventually required corrective surgery, Mikes balance and core strength was poor. Once he started SUP his back problems improved dramatically, and he has never looked back. He's in better shape now than 20 years ago. We both added a weekly Pilates class to our fitness regime to support our paddle fitness."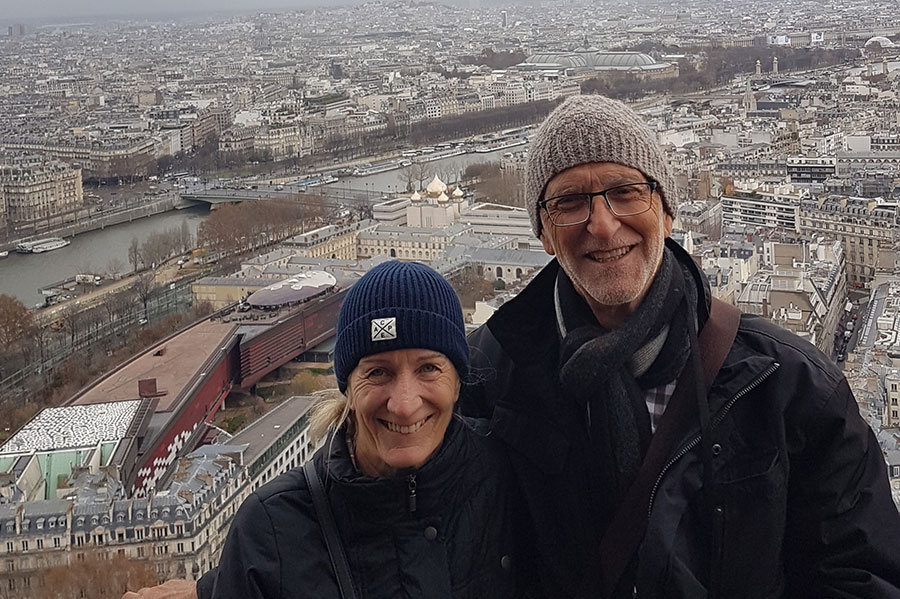 Participating in the Nautic Paddle offers an amazing opportunity for paddlers of all experiences to witness the historic landmarks of the iconic city in truly unique way. However, the route along the river Seine is not for the faint hearted and it is important to be prepared for the weather and some rather bumpy paddling conditions…
"We knew Paris was going to be dark, cold and crowded so we bought wet suit long johns, booties and gloves, plus a thermal top. In our winter we start many of our training sessions at 5.30 am, when it's dark and cold, so the Paris start in the dark wasn't a problem. Many of our regular paddles are in rough water, from waves, boat wash and other paddlers so the bumpy Seine wasn't so scary."
As everyday paddlers, (Mike and Ruth generally get out on the water three times a week) the 15 km distance wasn't much of a concern but as transporting their hardboards to Paris wasn't an option, they opted to try a couple of Red Paddle Co Elite inflatable SUPs for the task…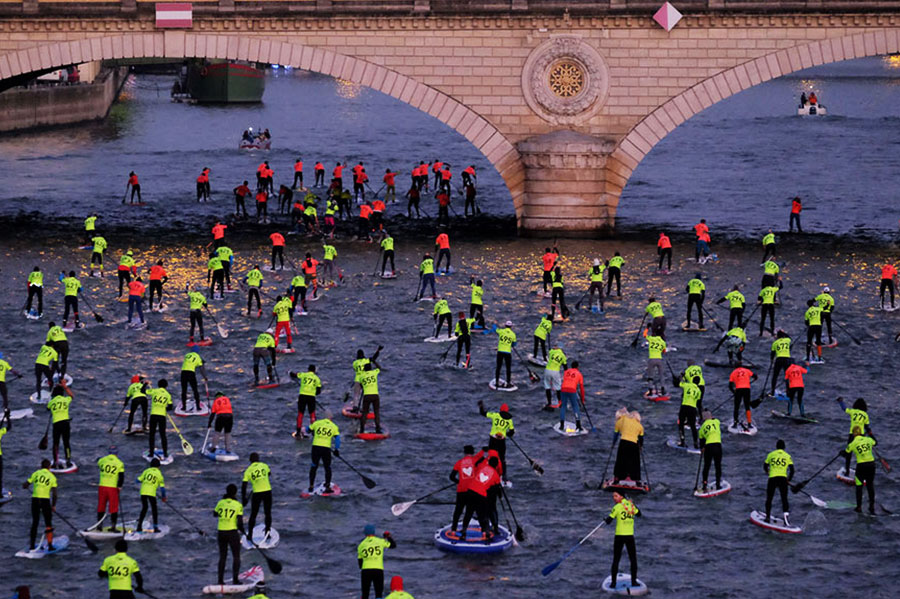 "For Paris we rented two Red Paddle Co 12'6 Elite inflatable SUPs. David Hackford, at Red Paddle Co Australia, very generously lent us a 12'6" x 26" Elites to practice on the Gold Coast waters so we could get used to an inflatable SUP. In Paris, we found the Red Paddle boards to be excellent. They were rigid, stable and fast. In general, the experience was about the same as a hard board and we had no concerns about the boards during the race."
FEATURED BOARD - 12'6 x 26" Elite MSL
One of the fastest inflatable SUP's currently available on the market, Mike and Ruth were in good hands with the 12'6 Elite board.





To prepare for their SUP challenges Mike and Ruth joined a training squad to improve their techniques and build up their endurance fitness for more challenging conditions. Having taken part in both flat water and ocean races we were keen to find out if they had any advice for people looking to step up their paddling and try a SUP event for the first time…
"We choose to enter into events not so much to seriously compete, but to paddle somewhere different and to challenge ourselves. Yet, to truly enjoy the challenge we would encourage you to build up your general fitness and work on improving your paddling technique. The key benefit of joining a training team is the support and encouragement you get from the group around you. You'll find you will push yourself harder. Sign yourself up to a competition and give it your best shot. We are usually at the back of the pack, but we don't mind, it's about taking part in the experience and enjoying ourselves."
A big thanks to Mike and Ruth for sharing their story with us. If you'd like to make the Paris Nautic Paddle your SUP goal for the year ahead then keep an eye on the Nautic Paddle website for updates on the 2019 dates and be sure to enter into the registration lottery to have a chance to get your spot.