Return to blog
Outdoor Changing Robes - What's All The Fuss About?
Red Original
Posted by Catherine Morris
We like to get wet all year round. Whether it's an early morning surf, keeping warm on the touchline during training, or wild swimming in a stunning loch, we don't want to be put off getting out there by cold or wet weather.
Towelling changing robes were originally thought up to help watersports fanatics get changed out of their wet gear, keeping their modesty intact and drying off in the process. But add a chilly wind, and perhaps a bit of rain and you'll be looking for something else to protect you from the elements.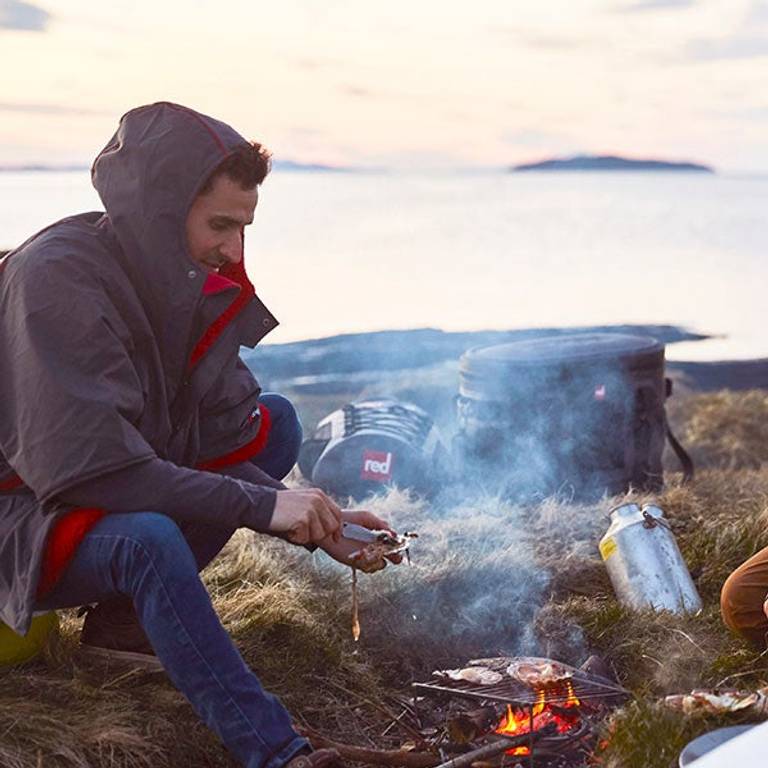 Waterproof changing robes such as our premium Pro-Change Robe take outdoor changing to the next level.
Drying off, getting warm, keeping dry as well as changing or even travelling home in your wet or dirty kit all becomes much more achievable and straightforward with a Pro-Change Robe. It will keep you covered in all weather conditions meaning you can keep it on for longer, and due to it's well thought out features such as technical fabric and water-resistant pocket you can use it as you would a regular waterproof outdoor jacket – apart from the fact it is even more practical.
Days at the Beach
Even on a sunny summer day, beach changing robes can be a brilliant accessory to have with you, it might mean you venture into the sea a bit more, or stay that bit longer to make the most of the day. Extra points if you are camping out in order to explore a stunning location; a changing robe will be your new best friend whether sitting out under the stars or walking back from a shower block.
The Original Surf Changing Robe
The surfing community were pioneers of surf robes as a way of protecting them from the elements when getting changed, but they're now loved by everyone from triathletes to mountain bikers and even hot tub enthusiasts. So don't be put off your adventure if the weather isn't perfect – there is no such thing as poor weather, only poor kit! Whether you just like to explore your world all year round or if you have a specific sport in mind, our high-quality outdoor changing robe is going to extend your season & make it a lot more fun in the process.
We think they are the best you can get, so check out our Lady's and Men's Pro-Change Robe and what makes them so popular now.
A Beach Changing Robe that's not just for the beach
Here are some of our favourite uses for our epic Pro-Change Robe:
Mountain Biking
Perfect for keeping you warm and dry before and after hitting the trails as you set or pack up. If you get muddy you can wear it on the way home to protect your car seats.
Swimming
The beauty of a change robe is that unlike a regular outdoor jacket, it is designed to be thrown on whilst you are wet. Wrap up as soon as you get out of the water and avoid that post swim chill setting in, our cosy fleece lining is super soft next to the skin, not scratchy like some other robes.
Outdoor Sports
With many outdoor sports such as athletics, rugby or soccer, there might be periods of waiting around in the cold. Avoid muscles getting cold & stay ready for your next session – it doesn't matter if you are muddy or wet. Our Pro Change Jacket waterproof fabric is breathable, so is the perfect solution even for serious performance athletes.
Walking the Dog
If it's raining hard, the pro change robe is the perfect way of keeping even your legs dry and warm as you head out with your four legged friend.
Outdoor Events
Often entail lots of standing around, if the weather is less than kind, whether you are competing or just spectating you will stay dry, warm and comfortable all day long.
"It's so cosy but light at the same time, easy to transport and folds up nice and small too.... used this at a triathlon at the weekend, I can honestly say I think it saved me from hypothermia!" Becky D
SUP, Surfing & Other Paddling sports
Never put off by a bit of bad weather in search of the perfect wave, or a pristine paddle spot, you can throw your change robe on over a wetsuit & it will keep you warm as you change. Our innovative stretch panels even make taking your wetsuit off underneath a breeze.
"It is of excellent quality material. Great design features and is super easy to wear. As an all year round canoeist, I would not want to be without this jacket now." Peter
A Changing Robe for All Weathers
The Red Original Pro-Change Robe has been designed to handle all the elements with its waterproof outer fabric and waterproof pocket for your valuables. It can join you in your love for the outdoors and can keep you warm and cosy whatever the weather and whatever the sport. Quite possibly one of the most versatile changing robes available!