Return to blog
Red Original's Top Camp Cooking Equipment & Hacks
Camping
Posted by Ross Montandon
Time spent camping and cooking under the stars is a summer favourite. Whether you're heading on a last minute weekend trip or planning a longer camping excursion to really escape the throngs of day to day life, camp cooking causes half the stress and takes up half of the space in your car! However cooking out in the elements can be one of the most rewarding and the most challenging aspects of camping. With so many gadgets available, it becomes a minefield as what suites our needs and makes it as easy and as fun as possible. In this blog we're going to share with you some of our top tips for camp cooking!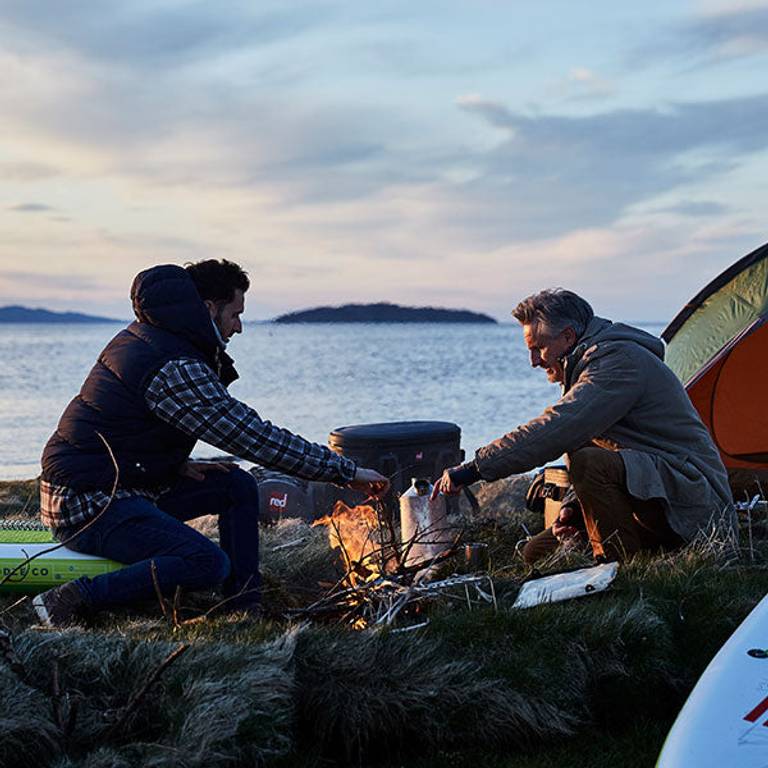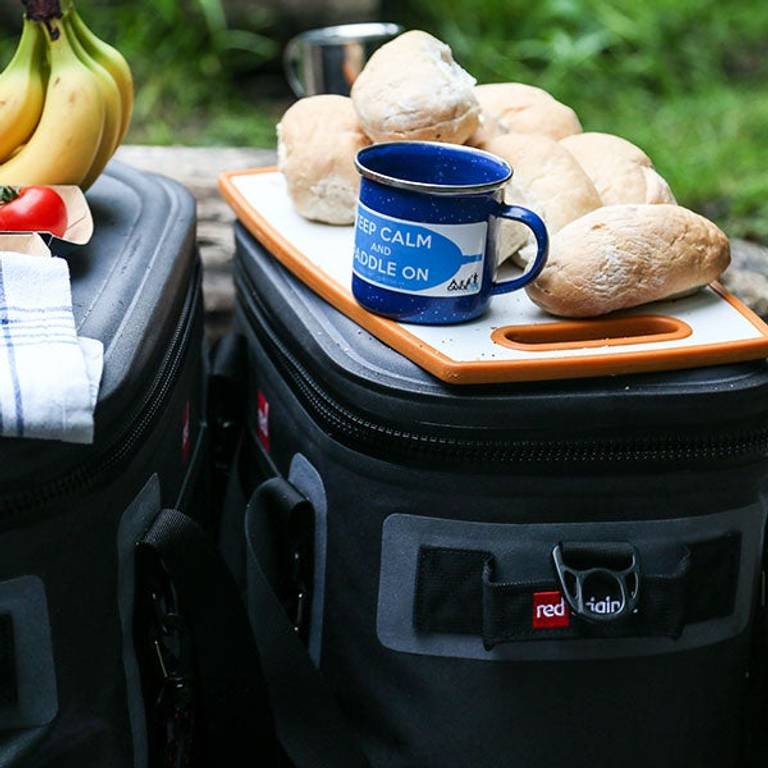 Camp Cooking Gear - Cool Bags, Drinks Bottles & Cookware
There is so much equipment to help us with cooking outdoors, it's almost a sport of its own. You've got portable BBQ grills, gas stoves, and even ultralight titanium cookware. It can be a little bit daunting if you're new to the world of camp cooking, but there are always those essential pieces of equipment that you simply just can't do without. To help you find out what those are, we're going to take a look at some essential items to make sure you get the best out of your camp cooking experience!
Camp Cooking Food Storage - Cool Bag
Regardless of what you decide to cook, transportation and storage of your food can be the hardest to solve. Depending on the length of your trip, keeping perishable food and drinks cool - such as milk, meat, and vegetables - can become frustrating. If you're going camping and intend to stay outdoors overnight or for longer, you should definitely invest in a high quality cool bag. The Red Original Cool Bag, for example, features super thick closed cell non-absorbent insulation to keep its contents hot or cold for longer, and YKK Aquaseal Zips ensure no water, air or any other liquids can get in or out (unless you want them to).
Here are a few top tips for getting the most out of your cool bag:
Pre Chill – The Cool Block Hack
Cool Bags work on the basis that the items should be cold before they go in, so make sure your veggies, meat and drinks are all pre-chilled. If you have them, adding cool blocks is a fantastic way of maximising a cool bag's effectiveness. If you don't have any cool packs, a quick and easy way of replicating their effect is to freeze a few small bottles of water. Another top tip is to freeze food such as meat or pre-made stews or chillis. These will slowly thaw over several hours and yet still stay cool for when you come to use them. Whatever you do, just make sure any containers you use are leak-proof to prevent any spills as your food thaws out.
Don't Peek Too Soon
Every time you unzip a cool bag to sneak a peek at all the treats inside, the cold air inside whips out and warm air nips straight in! This means that your cool bag has to work that extra bit harder to stay cool, so limit the number of times you open and close the bag. One way to minimise how frequently you'll need to open it is by packing items in the order you're most likely to need them. This can be harder to arrange than you may think though, as sod's law dictates that the items you want will always be toward the bottom of the bag. Still, it never hurts to try and that's why we advise packing meals in the order you may need. Breakfast at the top, lunch and then dinner. Anything you can do to minimise rummaging around will help keep your items cool for as long as possible.
Heat it up!
To save time on that Friday evening, using a cool bag (but not the same one, obviously) to keep items warm can also work really well. Hot baked potatoes, pies and pastries can make a great first-night dinner whilst you pitch up your tent!
Cooking Stove or Charcoal BBQ?
Charcoal BBQ
A popular choice for many over the summer, normally encouraged by an enthusiastic Dad reliving his youth. While charcoal can add a brilliant flavour to your food when used well, the downside is that they can be a lot of work. So it all depends on how adventurous you're feeling!
One very important thing we have to say is that we'd recommend using charcoal which hasn't been treated. It is common for the manufacturer to add lighting fluid and chemicals to the charcoal to help it ignite, which can give food an odd taste when it's used for cooking.
Another thing we'd recommend is to avoid disposable BBQ's if you can. While they certainly serve a purpose, their single-use nature makes them tricky to dispose of and even harder to recycle. They also leave nasty scorch marks on the ground, which can upset campsite owners. If you don't have a portable BBQ and don't have the chance to pick one up, give your friends on social media a shout. If you're lucky, someone may have one and be more than happy to lend you theirs for the weekend!
The Gas Stove
Cooking on a gas stove or gas BBQ is a convenient, compact way of cooking. Regulating temperature is more manageable, so simply spark up and start cooking. Having said that, we do advise making sure you have a windbreaker of some kind and perhaps raising the cooker off the ground so you don't need to hunch over as you cook (posture is important). Oh yeah! and bring plenty of gas.
Camp Cooking Hacks
It goes without saying that proper prior planning and preparation can make things much easier when cooking outside. From looking into what facilities your camping spot has to offer right through to checking the weather forecast. Taking the time to do a bit of research will definitely pay off! Here are a few things that will make cooking in camp a breeze:
The Outdoor Cooks Best Friend: Aluminium Foil
Aluminium foil is super handy for baking on the coals or simply to keep food warm. It is the perfect cooking item and can even be used to make spare plates if you need to get creative! Always make sure you have more than you need and it's worth getting the extra tough foil if you can. While many see aluminium foil as a single-use item, it can actually be washed and reused if need be.
Outdoor Food Storage Solution: Ziplock bags
Ziplock bags are an absolute saviour and their uses are endless. They come in a wide range of sizes and we'd advise always going bigger than you think you'll need. Best of all, just like aluminium foil, they can be washed and re-used. Ziplock bags are great for transporting rubs, sauces, herbs, spices and marinades and if you're really organised, we'd definitely advise pre-chopping some vegetables for omelettes and other meals. Doing so will make it easier to reach into your cool bag and grab what you need while on the go! We've experimented with a host of brands and we definitely recommend avoiding the cheaper brands unless you want to spend a weekend rinsing exploded paprika out of your shorts!
The Drinks Bottle: The Perfect Chilled Milk Storage Solution
If you're anything like us, you can't go anywhere without that cup of tea or coffee. Yet storing milk when camping can be a real pain! Our stainless steel drinks bottle can keep milk chilled for 24 hours and with a capacity of 750ml, it is the perfect size for transporting all the milk you could need for hot chocolates around the campfire! After all, nothing beats a campfire hot chocolate.
If you enjoy pancakes or even omelettes for breakfast then storing egg mix in a drinks bottle is a great way of carrying eggs without worrying about leaking. Pancake batter works really well in the drinks bottle too; simply pour onto your frying pan or griddle and away you go! Just make sure you rinse it well before its next use and use the canteen lid!
Keep Your Pans Clean When Cooking on Fire
Here's a little trick if you're planning on using pots and pans over an open fire. To make them easier to clean, you can add a layer of washing up liquid on the bottom of the pan. This will protect them from turning black and grubby while also making them easy to clean. This means more time cooking and less time washing up, which is always a win in our books!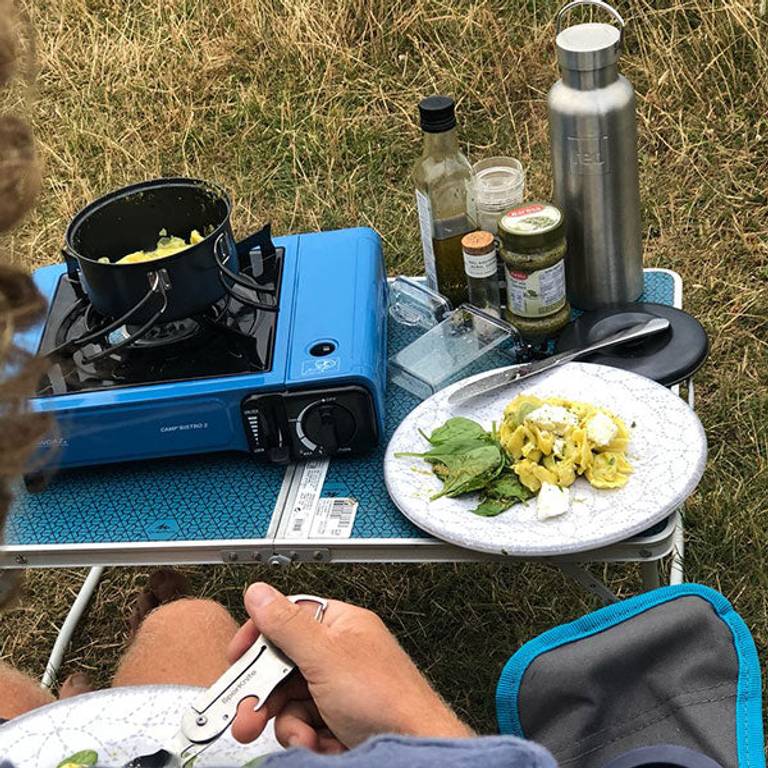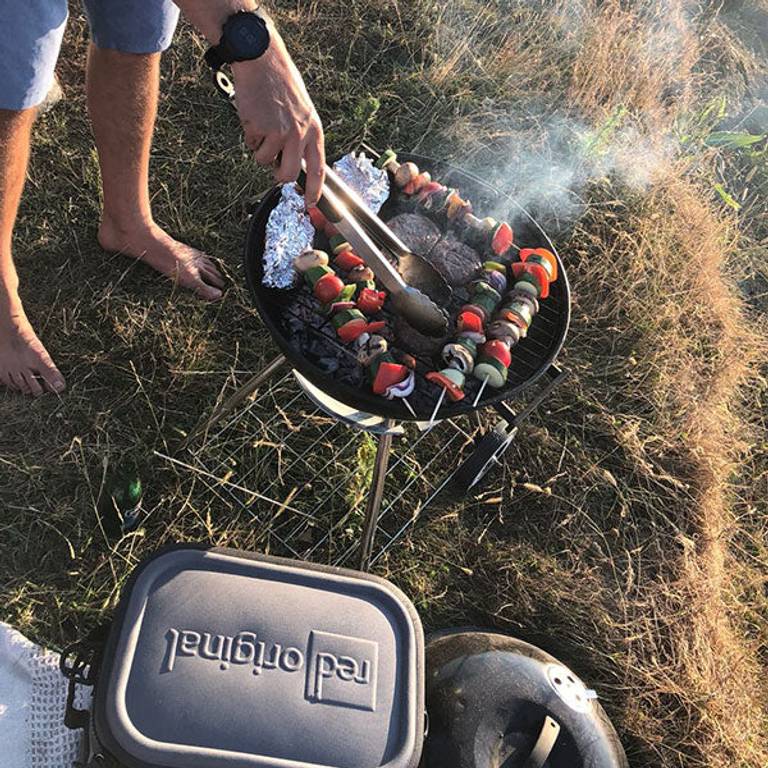 The Camp Cooking Checklist
Whether you're a seasoned pro or you just fancy trying something new, camp cooking can always venture between good fun and absolute chaos. It's supposed to be a fun and enjoyable experience, however, which is why outdoor cooking should always be taken with a pinch of salt. So get your friends and family involved! That way if you end up with charred food and unquenched basic needs, it all makes for a good story next time around!
Before we send you on your merry little way below is a little checklist of basic items that always get forgotten.
Chopping board perhaps a box lid.
Head torch or suitable lighting
Washing up kit for hands and equipment
Pots and pans
Utensils and sharp knives for prepping
Sauces, Rubs and flavourings, if it all goes a bit wrong you can easily disguise with some condiments!
Tin foil as mentioned ideal for cooking long and slow, baked potatoes in the coals or just lots of veggies make for a great side dish!
Simple pre-made mixes such as cookie dough, brownie mix can make superb camp cooking desserts.
Get Outdoor Cooking this Summer
Cooking outdoors is great fun! Even if you end up just cooking out in the garden with the kids! There's so much fun to be had and it's a great activity where everyone can get involved. If you want to find out more about our products mentioned in this blog then take a look at our Equipment page. Happy cooking!