Return to blog
8 Practical Tips For Cycling In The Rain
Posted by Luke Green
All cyclists will find themselves riding in the rain at some point, particularly during the autumn and winter months. While it's not always fun, knowing the best tricks for cycling in the rain will help to ensure the experience is a whole lot more enjoyable, as well as a lot safer. These are our top tips for making your next bike ride in the rain a lot more pleasant:
Make Sure You're Visible
When the weather is overcast and rainy, visibility is significantly reduced, which is why it's so important to ensure that other road users and pedestrians can see you easily. When cycling in the rain, you want to ensure that you're using lights at all times, even during the day. In addition to this, wearing reflective clothing further enhances your safety. The Red Original Waterproof Backpack is the perfect choice for cycling in the rain, due to its 100% waterproof design and reflective trim detailing that makes you more visible in low light conditions.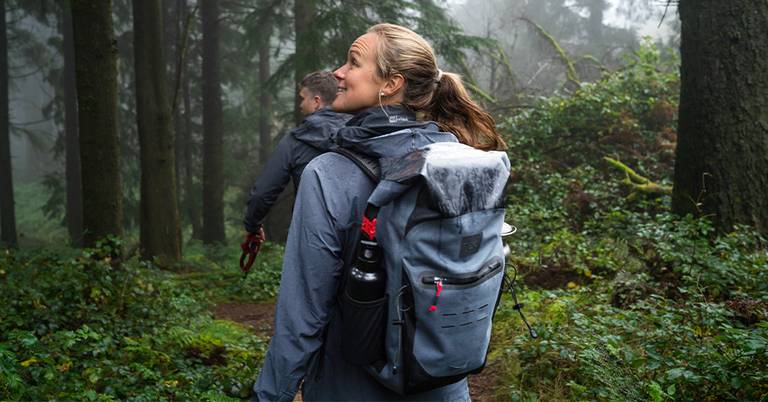 Avoid Puddles
Where possible, try to avoid riding through puddles. Not only can puddles present a problematic slip hazard, they can also be a puncture hazard. The main issue with riding through puddles is that you don't know what's lurking underneath. Potholes, rocks and tree branches can all too easily cause nasty punctures that could cause an accident and are generally just a real inconvenience. So when cycling in wet conditions, make sure to keep your eyes peeled for any puddles.
Consider Using Mudguards
If your bike has the necessary mounting points, mudguards can be a really useful piece of gear for cycling in the rain. They prevent water and muck from slashing up onto your legs, as well as preventing it from splashing onto riders behind you. In short, mudguards prevent a lot of the mess that often comes with cycling in the rain. In addition to this, they also protect key components of your bike from general wear and tear.
Invest In A Good Waterproof Jacket
You can't underestimate the importance of a good quality waterproof jacket when thinking about what to wear when cycling in the rain. A good waterproof jacket should not only protect your upper body from the rain, it should also help to keep your body temperature regulated. Red's Active Jacket for men and women has a 5k waterproof rating with a YKK zip to offer secure protection from the elements. Aside from offering a high level of waterproof protection, the fabric used to make our Active Jacket is breathable with underarm vents for cooling. Another great feature of the Active Jacket for cyclists is the reflective trim detailing which helps with visibility in low light conditions.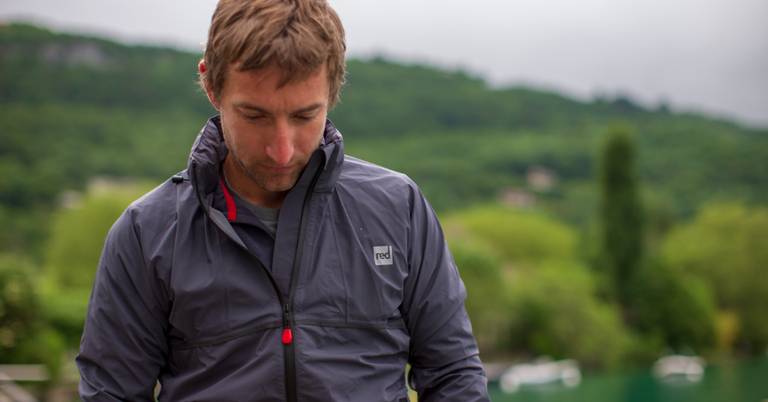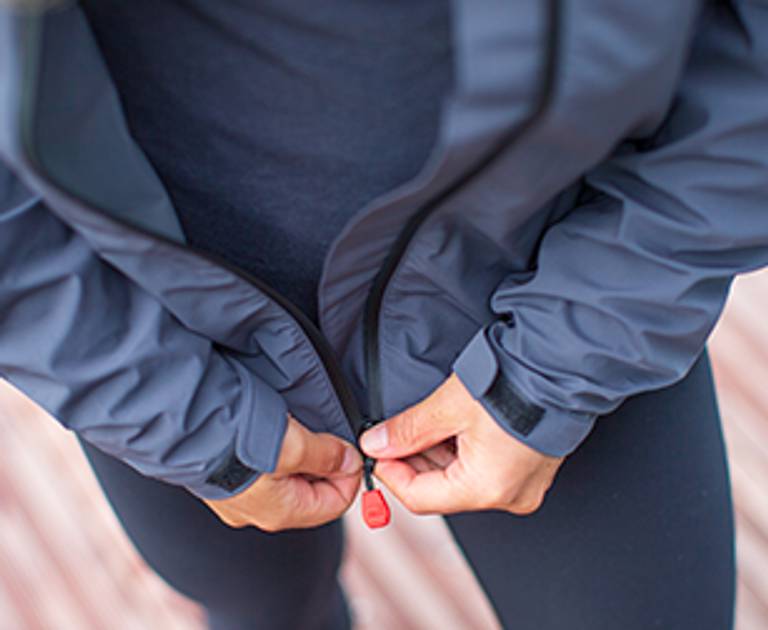 Wear Overshoes & Gloves
If your hands and feet get cold and wet, not only is it uncomfortable, it's also likely that the rest of your body will start to get cold quickly as well. That's why it's always beneficial to wear gloves and overshoes when cycling in the rain. The right pair of gloves and overshoes will be water-resistant whilst providing you with an extra layer of warmth and protection in cold weather. When searching for gloves and overshoes, make sure they offer you plenty of flexibility alongside their weather protective properties.
Take Care When Braking
Another key tip for cycling in the rain safely is being cautious with your braking technique. The wet road surface and wet rims both increase your braking distance. The reduced grip increases the chances of locking up on your front wheel if you brake hard, and so in wet conditions you'll need to make more use of the rear brake. When approaching bends, do your braking before you start turning and stay away from the edge of the road to avoid loose debris. Make sure you bring a mobile phone with you in a waterproof dry pouch in case you run into a puncture or any accidents.
Check Your Tyres & Brake Pads
A bike ride in the rain is likely to leave your tyres covered in water and grime which will eventually eat through your brake pads and wheel rims. With this in mind, be sure to wipe down your wheel rims and check your brake pads for embedded grit. Check your tyres for any loose debris once you've finished your ride to prevent any punctures. You may also want to consider using a slightly thicker tread tyre in the winter to enhance grip when the roads are more slippery.
Protect Your Eyes
Sunglasses might not be the first thing that comes to mind when thinking about what to wear when cycling in the rain, however some form of eye protection is always a good idea when cycling in wet weather conditions. This prevents rain and spray from the road blurring your vision while you're cycling. A pair of cycling glasses with clear lenses are great for shielding your eyes from the rain as well as from dirt and grit.