Return to blog
5 Tips For Taking Great Paddle Board Photos
Posted by Luke Green
Every ride on your paddle board is an opportunity to experience epic surroundings. Though the memories you create on the water will stay with you long after you get back on land, taking good paddle board photos can immortalise them forever. Here are some top tips to make sure that your snaps are as awesome as your adventures:
Keep practising
'Practice makes perfect' is one of the best pieces of advice when it comes to paddle boarding. It probably took a couple of attempts to feel confident standing up on your board when learning how to paddle, and the same logic applies to taking great paddle board photos. After all, maintaining your balance whilst getting a good shot is no easy feat, so don't get disheartened if you miss out on the perfect photo on your first attempt. Keep practising and work out whether you prefer to take photos stood up or sat down. You'll also get to experiment with a whole host of different angles in the process, creating some unique shots and helping you decide which kind of photos you like best!
Go to interesting places
Don't forget the basics: great paddle board photos rely on finding something exciting to snap in the first place. Exploring interesting places is a great starting point if you're looking for opportunities to hone your skills. You'll have all kinds of different and spectacular surroundings at your fingertips, ready to create a diverse camera roll or varied feed. You could also try paddle boarding at different times of day to mix up the scenery you can capture, from an atmospheric sunset shot to an image of the still sea at sunrise.
Get the right equipment
Though there's no requirement to invest in any flashy bits of kit to take great paddle board photos, having the right equipment always makes life easier. Make sure you consider how you'll keep your phone safe out on the water if you are planning to use it to take snaps. Most smartphones are waterproof to some extent and a few splashes shouldn't cause any major damage, but you'll need something like a waterproof dry pouch to keep it safe as you glide across the water.
If you're planning on taking an action camera out to sea with you, a paddle board camera mount is the perfect bit of kit. Simply secure it onto the front of your Red paddle board and enjoy capturing your adventures from all angles.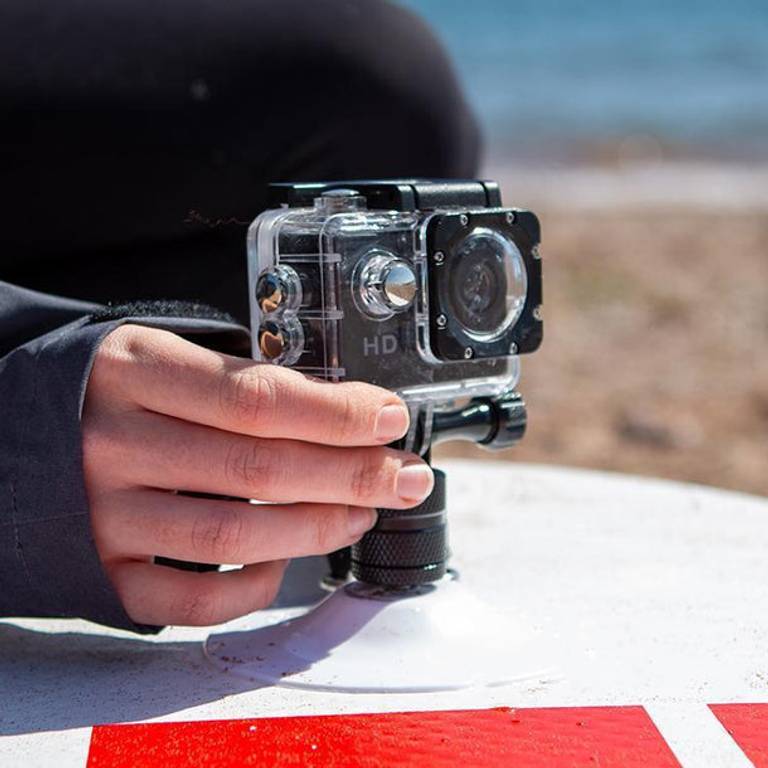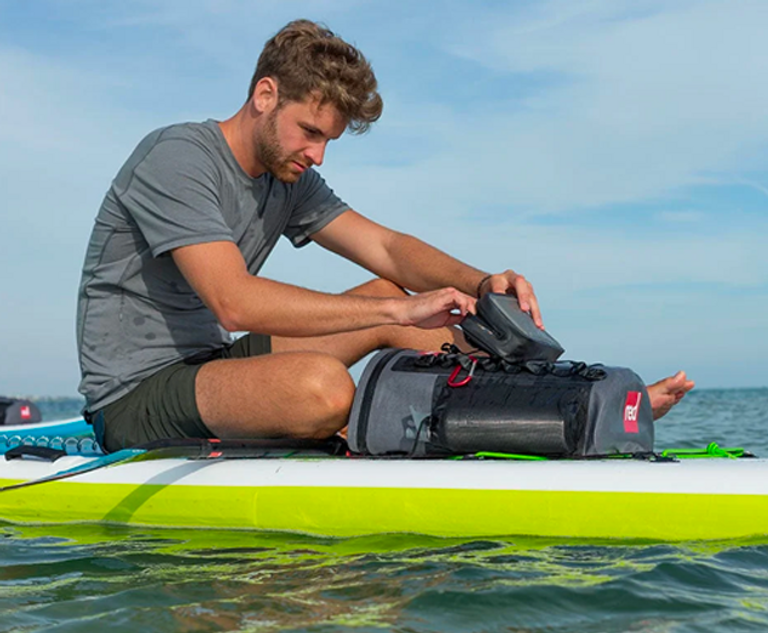 Try new things
Whether you take POV shots from the end of your board or snap candid captures of your friends, every paddle provides ample opportunities for great paddle board photos. However, if you're looking to really level up your content, trying new things is the way to go. Explore different angles and make the most of the panoramic settings on your phone or camera. If you're relatively advanced on the water, you could even try a completely different type of activity like SUP yoga or surfing. Though you might not be a natural at first, these activities are sure to make for some awesome pictures..
Learn from creators you admire
There's no harm in taking inspiration from other paddleboarders if you're not sure where to start with your photos. Instagram is full to the brim with epic posts and other people's content can be a great place to get ideas, from destinations to selfie angles. Check out different hashtags like #paddleboarding or #redpaddleco. But be warned, you might find yourself scrolling for hours on end!