We're here to empower adventurers.
Supported by our intrepid global community, our mission is to get more people out on the water.
Born on Devon's south coast in 2008, we create world-leading inflatable paddleboards and premium award-winning outdoor kit for epic encounters with nature.
We've grown over the past 15 years, but we're still a team of real people.
From ex-pros and instructors to weekend warriors, we're devoted to shaping the future of on-the-water adventures.
PIONEERING PERFECTION
From day one, our mantra has been to never compromise.
For 15 years, we've shown fearless commitment to making ground-breaking, reliable products that last.
Our process is unique.
We design, innovate and produce every element ourselves in our own zero-waste facility.
Obsessive, us? Maybe! But no other outdoor activity brand sweats the small stuff like we do.
We're also fanatical about dismantling barriers, designing inclusive products that enable more people to get outside.
Why? Because when you have the right kit, you can do more, adventure further, explore without boundaries – and feel EPIC.
The truth is, you've not really been paddleboarding until you've paddled a Red.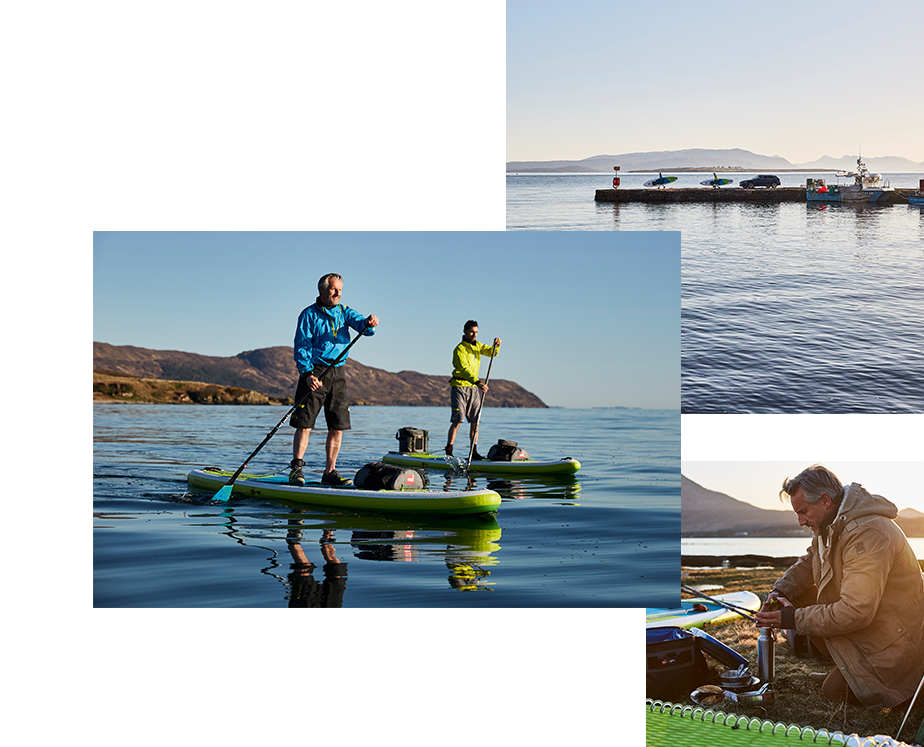 NEVER COMPROMISING SINCE 2008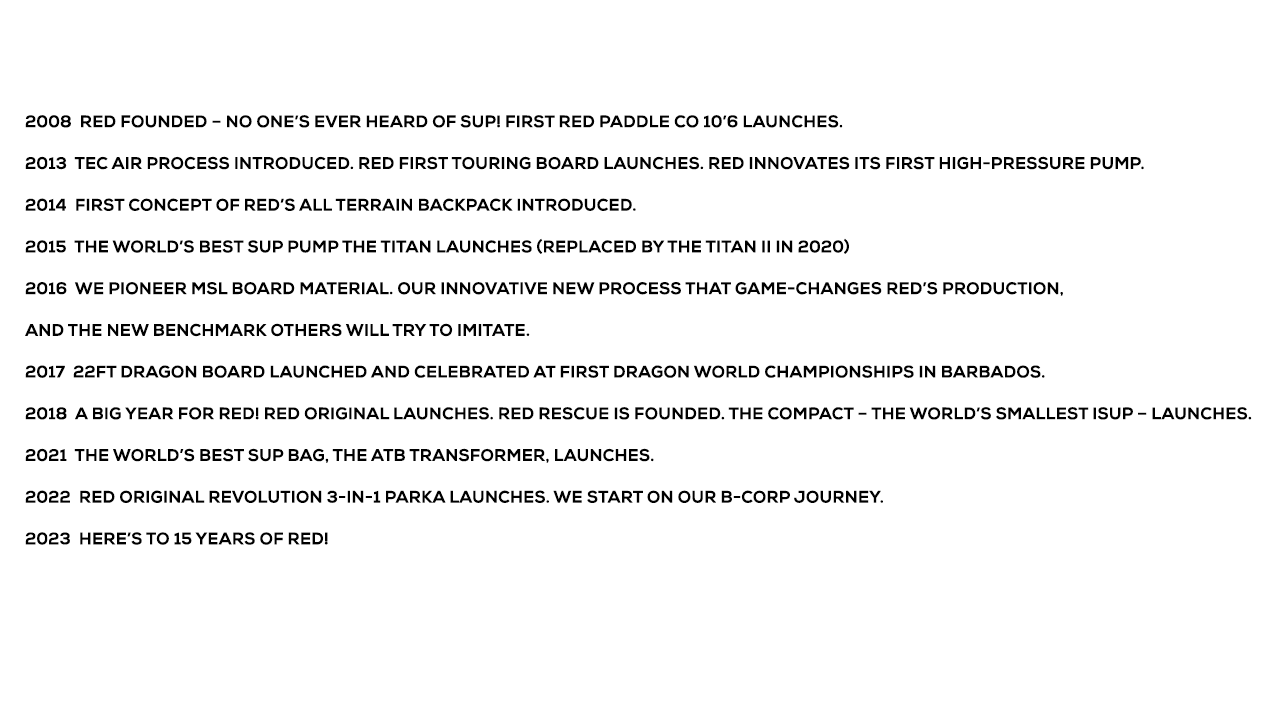 POSITIVE IMPACT
We know we're part of an industry that contributes to climate change.
We hold our hands up to that.
But we're determined to be a force for good.
We're leading the way on responsible environmental sustainability in our industry.
We're making a positive impact on our community and employees.
In the final stages of B Corp Certification, we're committed to transparency and accountability.
We want to be better today than yesterday.
Find out more about our commitments to Sustainability and Safety.
ENVIRONMENTAL SUSTAINABILITY & IMPACT ON OUR COMMUNITY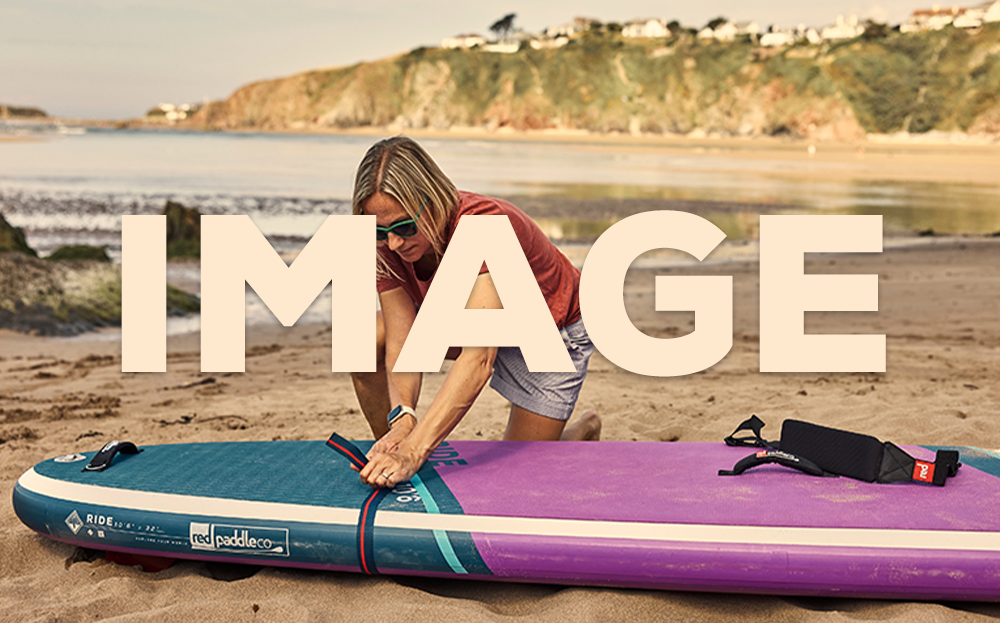 ENVIRONMENTAL SUSTAINABILITY & IMPACT ON OUR COMMUNITY
We're leading conversation and action on making environmentally and socially responsible products.
We love recycling – and now our board production facility is 100% waste free.
Designing and ecologically responsible products is just the beginning.
We believe everyone has a right to enjoy being outside.
We're dedicated to inspiring and enabling inclusivity and diversity in, on and around the water.
Red Rescue
Our innovative lifesaving boards and rescue equipment .
Red design and build lifesaving boards, leading thought on improving Rescue equipment.
PLOT TO PADDLE
How our SUP safety campaign made waves
Water Safety
We've partnered with the lifeboat charity RNLI and the Royal Life Saving Society UK to encourage people to stay safe and aware.
WE CARVE OUR OWN PATH
WITH INTEGRITY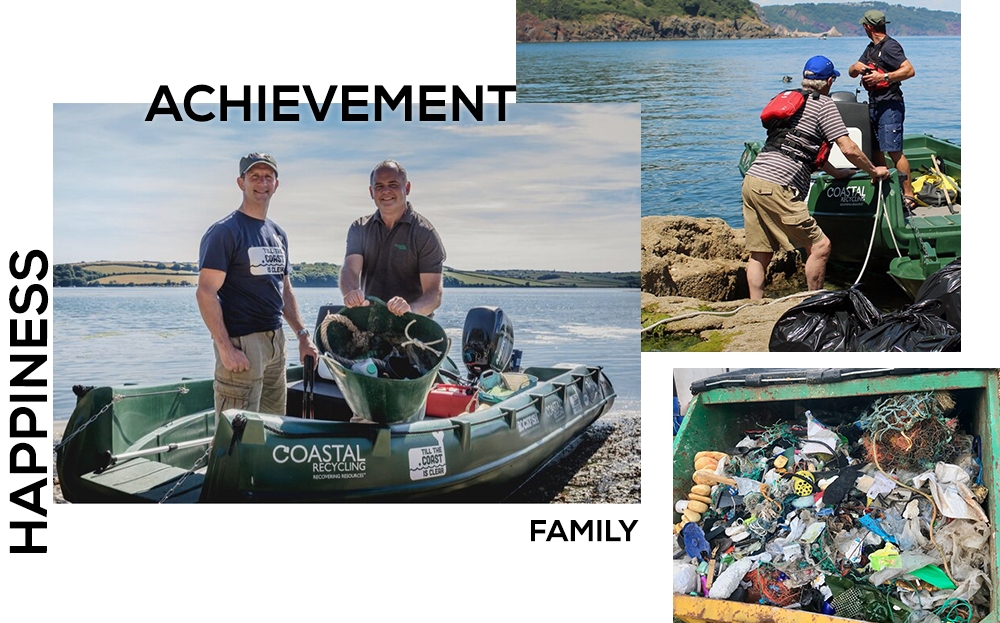 WE CARVE OUR OWN PATH
WITH INTEGRITY Our people are at our beating heart. They represent the essence of Red and what we believe in – it's who we are.
And we live by our values.