Return to blog
TOP TIPS FOR WHAT TO PACK FOR A FESTIVAL IN 2022
Posted by Charlotte Green
GET READY FOR THE BEST FESTIVAL YEAR YET!

It's been a long time coming but 2022 is set to be the best summer we've ever seen for festivals in the UK.
This year will be my 7th time going Glastonbury, plus Camp Bestival booked for this July with my extended family, I'd like to say I have learnt over the years of what to take and what not to take to a festival. Also, now being in my 40's, comfort, convenience, and a bit of luxury is more my festival vibe than roughing it!
So, here's the run-down of my packing list for must haves for this festival season.
1. CHARGE YOUR PHONE FOR THE DURATION OF THE FESTIVAL: As recommended on the Glastonbury Facebook group, Anker power packs are a great choice for a serious phone charging set up. Ideally look for 20,000mAh capacity to last the festival and I'd suggest taking a small power stick that you can recharge from the big power pack to take out and about with you.
2. REUSABLE INSULATED DRINKS BOTTLE: Glastonbury is going plastic free this year and they're heavily encouraging reusable water bottles for all. The Red bottle is made from marine grade steel and will keep drinks super cold for 24 hours as well as hot drinks warm for 24 hours – win-win! It's also very generous and will hold a whole bottle of wine – what's not to love!
Insulated Water Bottle - £25.95
3. EPIC KIT BAG FOR ALL YOUR FESTIVAL CAMPING GEAR: You may well have to walk some way from your car or the bus to get to your tent, so you'll need a kit bag that is comfy to carry as well as roomy – no wheely suitcases here!
I'll be packing all my gear into a 60ltr Red kit bag as it's waterproof in case of downpours during travelling, and can be carried as a backpack. It's also got a waterproof pocket section on the outside so you can put any smelly or wet clothes in there, keeping everything else clean and dry.
Red Original Waterproof Kit Bag - £149.95
4. GET THE BEST CAMPING MAT: The Independent have curated a great line up of camping mats which will also be great for festival use. We have chosen the Cloud Base camping mat from Alpkit but it seems to be out of stock now but available on pre order.
Having given it a trial run over the bank holiday weekend it is surprisingly comfortable given how compact it packs down. Plus, it's even good for those that sleep on their sides. I love it compared to a more traditional large inflated mattress which always deflated halfway through the night.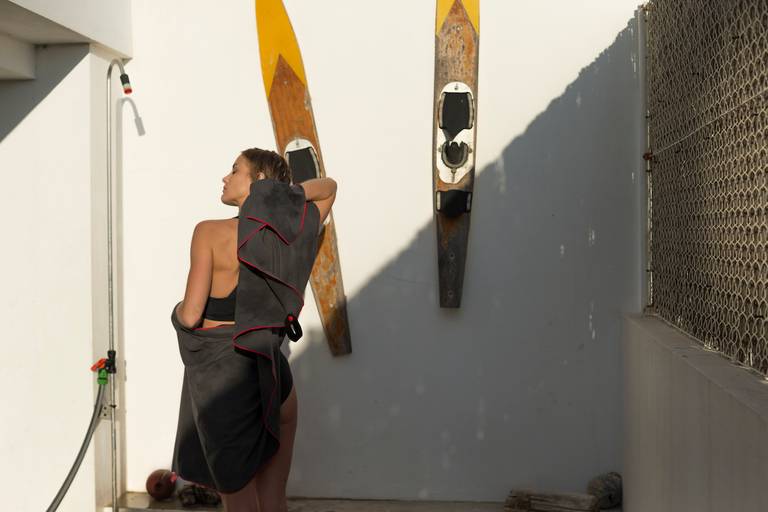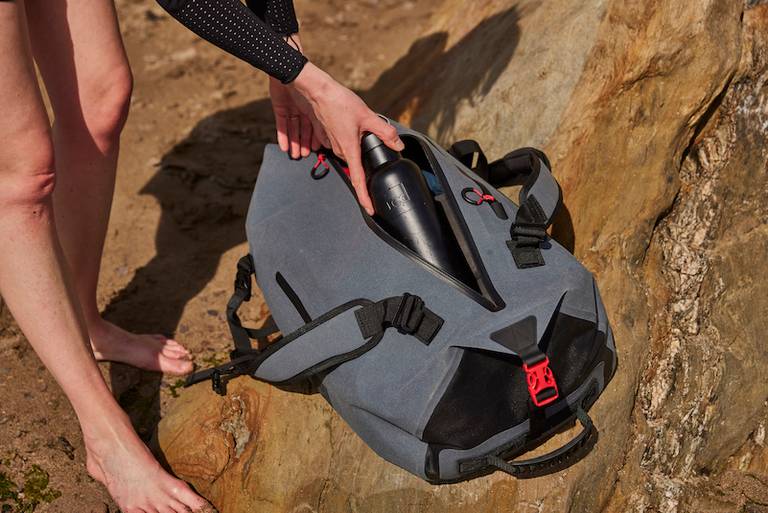 5. NEXT LEVEL COMFORT WITH A SUPER COSY SLEEPING BAG: Gone are the days of a skinny sweaty synthetic sleeping bag, this brushed cotton roomy version should ensure you get a great night's sleep after a hard day's dancing! It might be bulkier to carry than others on the market but it's worth it!
6. PREPARE FOR EPIC DOWNPOURS AND CHILLY SPELLS: You might have only thought you could use a change robe by the water, but the Red Pro Change Evo makes THE perfect companion to any festival. Being waterproof, full length and super warm, it will be at the top of my packing list. Combined with the new stash bag, it will pack down super small so easy to justify and carry with you to any festival. I'll be rocking my robe if the heavens open at Glastonbury but also on the chilly evening.
Plus, as we're in the glamping area, I'll be wearing it to trot to the showers as well, so I don't have to get changed in the wet communal changing areas. Voted recently best change robe by GQ magazine, you'll also be sure to look the part with the subtle branding and stylish colour options:
Red Pro Change Evo Robe from £149.95
Red Original Stash Bag - £34.95
7. BEST DAY PACK FOR LONG DAYS DANCING: Glastonbury festival goers walk on average 6 miles every day and 30 miles in total. So, you'll need to ensure you've got a comfy and practical day pack with you, so you don't have to go back to your tent to get supplies. I'll be packing up each day my bag with water, snacks, phone, waterproof jackets and a warm jumper for the evening. My day pack of choice is the Red Waterproof Backpack which will ensure all my essentials are kept dry even in the event of a Glastonbury biblical downpour. Also recently voted by the Independent as the best day pack in their line up, it's a great choice all round.
Red Original Waterproof Backpack - £99.95
8. BARISTA STYLE COFFEE ON THE GO: I'll admit I'm a coffee snob and also can't function in the morning without a good cuppa so our Aeropress coffee maker will be top of the packing list. The go to coffee press for outdoor adventures and campers alike, it's a super handy bit of kit which will give you a cracking espresso no matter where you are. You'll just need some ground coffee, hot water and you're away.
Aeropress Coffee Maker from £36.95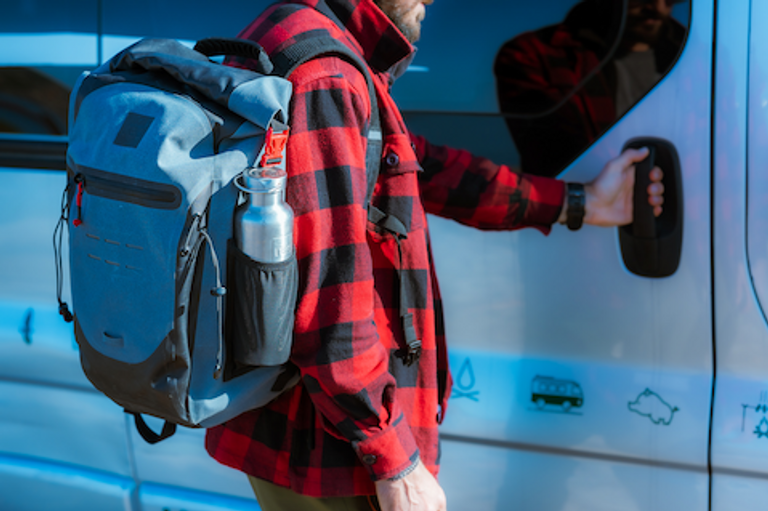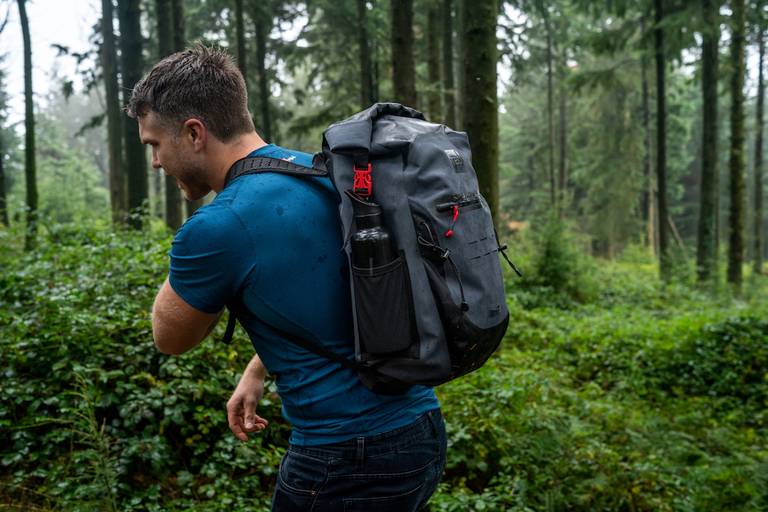 9. THE ULTIMATE COOL BAG FOR CHILLING YOUR FESTIVAL BEVERAGES: A cold lager or glass of vino is a must-have for us on arrival at our festival camp site. While there will of course be lots of options to buy drinks throughout the festival, queues can be long, they can be a bit of a walk from the stages and costs can rack up over the course of a 5-day festival. So typically, we'll take our large Red cool bag with us, filled with cans of beer, soft drinks and bags of white wine to last the first couple of days. We fill the cool bag with ice which keeps everything super chilled for at least two days. As the cool bag is waterproof the ice and then later in the festival cold water is kept securely in the bag with no chances of leakage.
Red Original Waterproof Soft Coolerbag, 30ltr - £179.95
10. NO MORE SMELLY TOWELS AT THE END OF YOUR FESTIVAL: As we'll have access to a shower at Glastonbury, we'll need a towel that is compact to pack, easy and quick to dry and won't smell by the end of the festival. The Red Original microfibre towel ticks all those boxes plus, it's extra-large so will cover your modesty in the communal changing areas! It actually also works as a towel; it can absorb up to 4 times it's weight in water and it's anti-Bacterial and made from an anti-odour fabric keeping the towel fresh and clean.
Large Microfibe Towel from £24.95