Return to blog
SUP Buoyancy Aids - The Essential Paddle Boarding Accessory
Posted by Alex Clasper
Whatever your experience level, and whatever location you choose to go paddle boarding in, safety should always be a top priority. A central aspect of this is ensuring you are wearing the correct SUP buoyancy aid to suit the conditions you are paddling in, as well as your experience level. So, if you're a little unsure as to the type of SUP buoyancy aid you should be wearing, the following guide will help you out.
What Is A SUP Buoyancy Aid?
If you are paddling in moving water (i.e the sea, rivers & estuaries), you should always wear a SUP buoyancy aid. Equally, if you are not a confident swimmer, or are new to paddle boarding, you should wear a buoyancy aid, even when paddling in flat water.
Not to be confused with a life jacket, buoyancy aids zip up at the front or fit over the head, and can be tightened using shoulder straps or waist straps. Whilst lifejackets are designed to keep the airways above the waterline in the event that the wearer is unconscious, buoyancy aids are designed to keep conscious swimmers afloat as they call for help or get themselves to safety. Buoyancy aids offer a lot more freedom of movement than life jackets, which is why they are used for watersports such as kayaking and paddle boarding. SUP buoyancy aids come in a range of different shapes and sizes to provide a comfy fit, and their buoyancy is measured in newtons.
As an absolute minimum requirement, you should be wearing a 50N buoyancy aid. This provides support for conscious swimmers who are able to swim to safety or await rescue. When trying on a PFD, make sure all zips and buckles are properly fastened and that the PFD doesn't move towards the neck or chin when stretching your arms upwards. A buoyancy aid should fit firmly to the body with no gaps between the vest and the shoulders. These are important considerations to make when choosing a SUP buoyancy aid that will keep you safe in the water.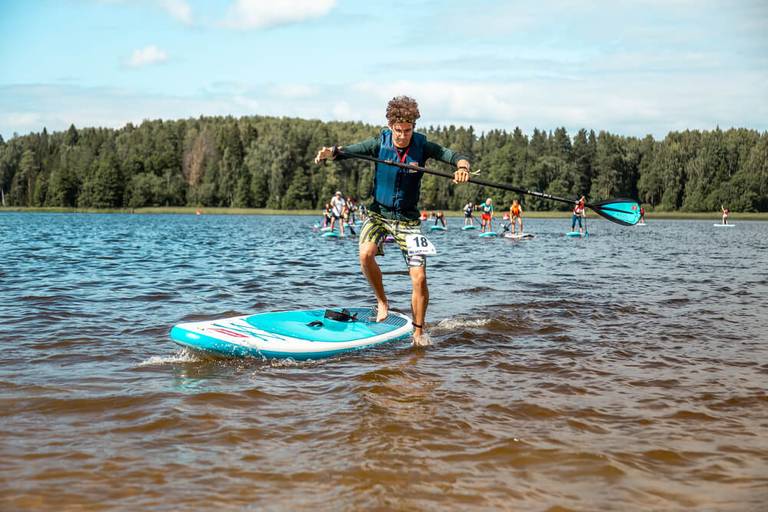 What About A Waist Belt Personal Flotation Device (PFD)?
If you are a confident swimmer, and paddling on flat water, such as a lake, you may choose to wear an Airbelt PFD, instead of a standard SUP buoyancy aid. These personal floatation devices attach comfortably around the waist, ready to be deployed quickly in the event of an emergency. In order to activate the PFD, you pull the grab handle to retrieve the bladder, place it over your head and pull the cord firmly to inflate (or inflate using the mouthpiece). The PFD includes a whistle to attract attention, and visibility stripes to make you more visible in low light conditions. It's essential that you practice deploying the Airbelt PFD before you head out on the water to ensure you can do so quickly in the event of a genuine emergency.
SUP Buoyancy Aid Vs Airbelt PFD - Which Is Right For Me?
Whenever you are paddling in moving water, regardless of your experience level, you should always wear a SUP buoyancy aid. Tides and currents can be incredibly strong in flowing water, which is why it's essential you're wearing a SUP buoyancy aid to help keep you afloat, should you end up in the water.
You should only wear an airbelt PFD instead of a buoyancy aid if you are a very confident swimmer and you are paddling in flat water. You will have to deploy the personal flotation device yourself in the case of an emergency, which can be more challenging in moving water.
Always Wear A Leash
Alongside your SUP buoyancy aid or personal flotation device, it's essential that you wear a SUP leash. If you are paddling in flat water or moving water, wear a coiled SUP leash with a quick release waist belt. This will allow you to detach yourself from your board quickly in an emergency, when you're unable to reach your ankle. If you are paddling through the surf, you should wear a straight SUP leash.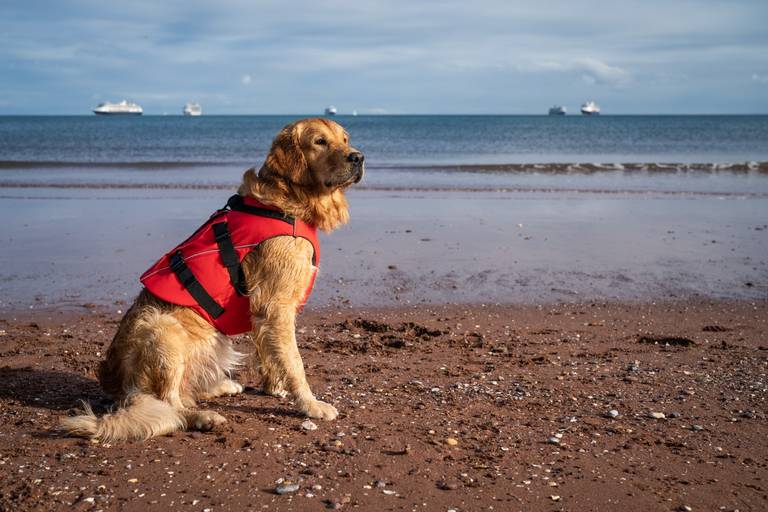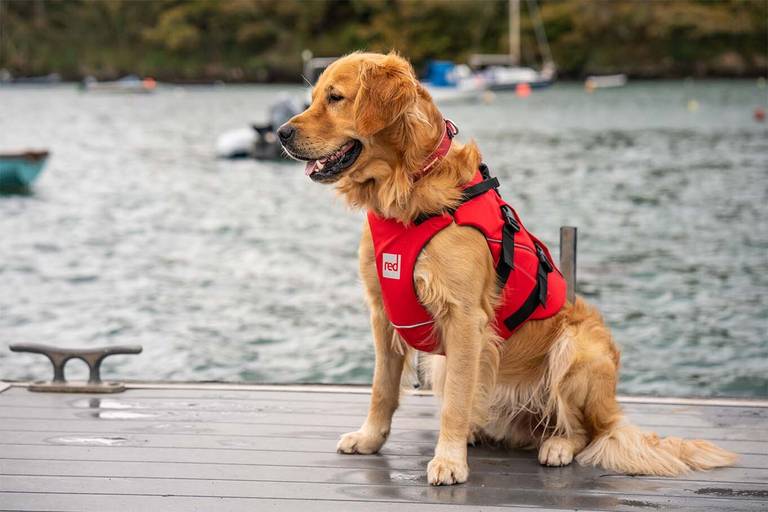 Don't Forget Your Four Legged Friends…
If you're taking your dog out on the water with you, don't forget to keep them safe too. Our ergonomically designed dog buoyancy aid is made from tear-resistant Cordura® fabric and provides the necessary support without impairing the dogs movement. Reflective detailing keeps your dog visible in low light conditions, whilst four easy-to-use grab handles allow you to lift them out of the water quickly & easily.
If you have any questions at all about the SUP buoyancy aid you should be wearing, please don't hesitate to get in touch with us for further guidance.