Welcome to the 'Travel Diaries'. This blog is an excerpt from our bi-weekly email series which features stories of incredible SUP adventures and locations from all over the world. If you want to receive stories like this straight into your inbox make sure you sign-up, we'd love to have you on board!
This summer I had the chance to visit Daffy's Gin distillery in the highlands for a weekend of gin making and botanical foraging along the river Spey. Scotland has been on my SUP bucket list for a while now but to finally meet Chris Molyneaux the mastermind behind the Scottish gin brand was an opportunity I didn't want to miss.
Located in the Cairngorms national park, Strathmashie Distillery is surrounded by an area of exceptional natural beauty and an abundance of wildlife. With numerous lochs and the river Spey a short distance away it is easy to see why paddle boarding became the perfect method for Chris to access essential botanicals to make his gin…
CM - "Paddle boarding and gin may not seem like the obvious synergy but many of the botanicals we use in our gin can be found on the banks of the Scottish waterways. SUP in Scotland allows me to get right into the nooks and crannies of the riverbank which would be far harder to reach if it weren't for my board."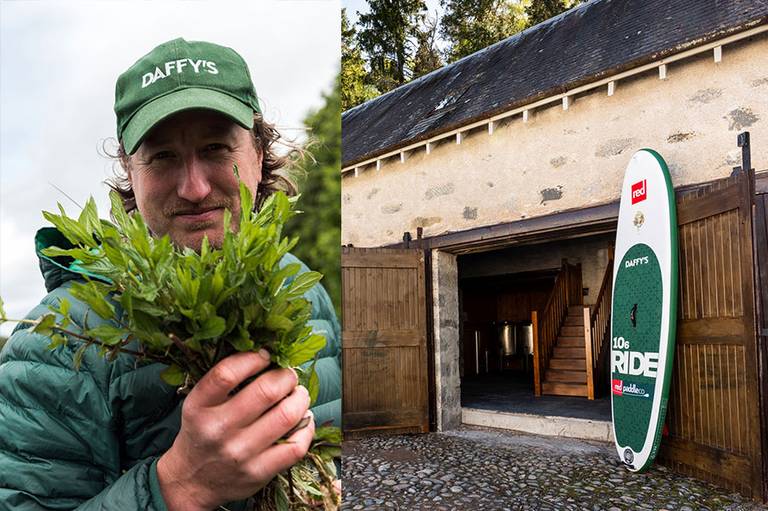 It is always refreshing to meet someone who has managed to combine their passions into their work and Chris has definitely found that balance. Residing in the quiet, super remote location of the Cairngorm mountains can't be everyone's cup of tea but the Daffy's team are clearly in their element...
"We are surrounded by some of the most plentiful foraging land in the UK and with thousands of local plants, herbs and fruit to forage and make gin I feel lucky to live at the heart of that. To have access to waterways and mix the experience of paddle boarding with my knowledge of gin making is really rewarding part of what we do here at Daffy's."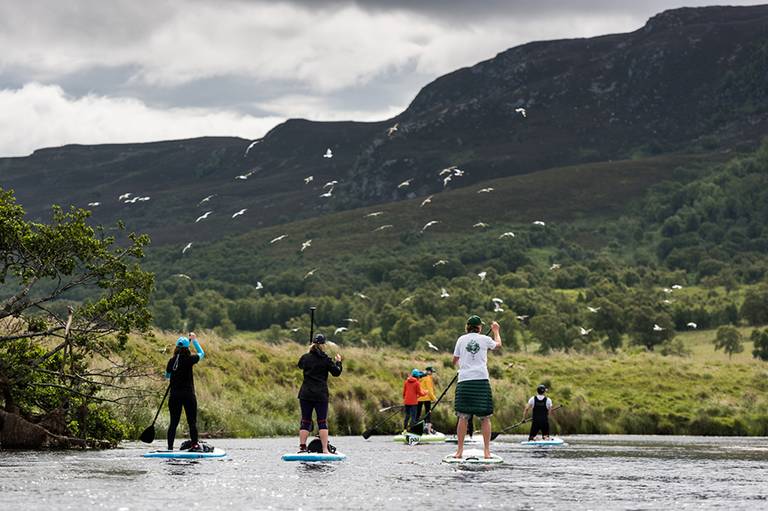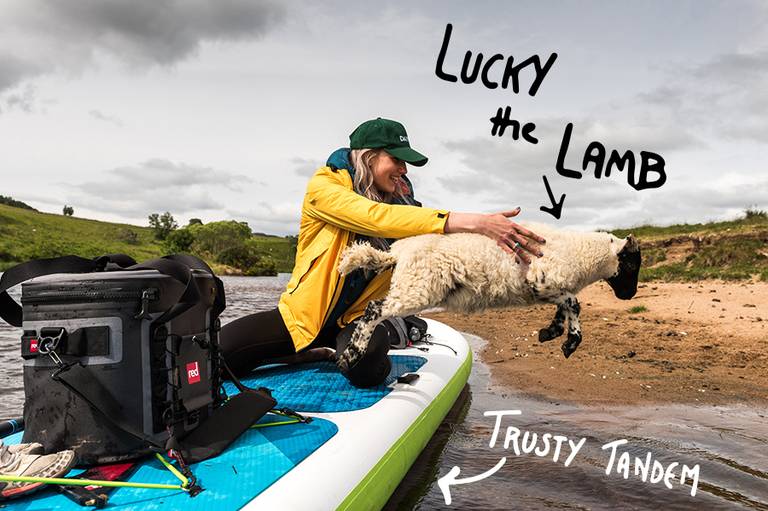 Throughout the weekend we were joined by Barry Wallace from Wilderness SUP who has an expert knowledge of the waterways in Scotland. Having run adventures across the highlands for over five years, Barry share's a similar ethos with Chris creating experiences which combine natural beauty with great local produce to provide the ultimate digital detox – definitely a winning formula in my eyes.
In addition to the foraging (we collected nettles, yarrow, bog myrtle and meadow sweet) our day on the water consisted of navigating through shallow rapids and helping a stranded lamb (we aptly named him lucky) back to his flock – hey, all in a day's paddling here in Scotland!
Myself and Ella from Daffy's had the best day paddling the Tandem inflatable SUP in Scotland! It was a perfect for cruising along while foraging and had loads of room to store our kit and essential refreshments in the cool bag.