Return to blog
Red's New Merino Beanie & Merino Headband Launch In The UK!
Brand
Product
Red Original
Posted by Luke Green
Looking to complete your collection of Autumn/Winter essentials? The latest addition to our active headwear collection might just help you tick off a couple of boxes. We're delighted to announce the UK launch of the Merino beanie, and its equally cosy counterpart, the Merino headband. Made from super soft Merino wool with the added functionality of reflective yarn, the Merino beanie and headband are designed for outdoor adventures, however are equally well suited for use in urban environments - the sleek visual design ensures this.
The beanie is perfect for providing full coverage, ensuring you stay toasty and warm when enjoying your favourite outdoor activities, whatever the weather. Equally as cosy, the headband is perfect if you don't want to wear a full hat, but need a little extra thermal protection - it's particularly good for protecting your ears from wind chill.
Responsibly manufactured in the UK, the Merino headband or beanie is a fantastic choice if you're in search of more locally-made apparel. Ensuring our beanies and headbands are made in the UK is an important part of our wider commitment to sustainable and responsible design. Making our latest headwear from responsibly sourced Merino wool which is a natural material, contributes further to this initiative.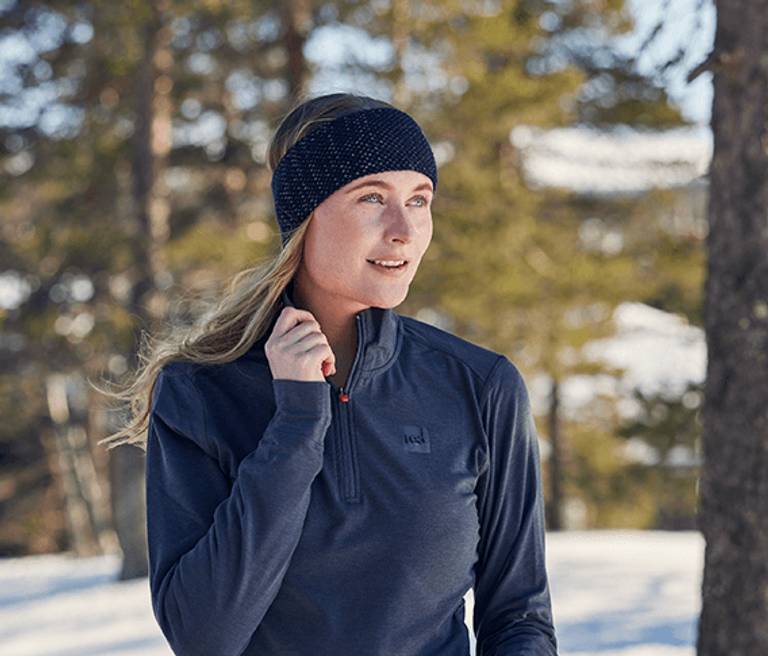 What Are The Benefits Of Using Merino Wool?
As we touched on a second ago, one of the major benefits of choosing to make our headwear from Merino is that it is naturally sourced. This is crucial for minimising the impact on the environment of our production processes. Aside from its sustainable qualities, Merino wool is also the best-performing choice of material for active headwear. Merino hairs are light and ultra-fine (half as thick as regular wool). This makes the material more effective at trapping air next to the skin, creating a level of insulation and warmth that you don't get with regular wools. Fine hairs also bend more, which prevents any of the itchiness that you get with some wool clothing.
Another key benefit of Merino? It's naturally moisture-wicking - in fact, it can hold a third of its own weight in moisture. This is why the Merino headband or beanie are such a perfect choice for exercising. In comparison to wearing a hat that's made from synthetic fibres, our Merino beanie and headband help to draw sweat away from the skin, ensuring you feel comfortable and fresh. Due to the structure of the wool, bacteria struggles to attach to it, making it good at repelling odours.
Other Key Features Of The Merino Beanie & Headband


3M Reflective Yarn Twist: The reflective yarn is woven into the Merino wool so that the entire beanie or headband 'lights up' when lights are shone on it
Temperature Regulating: the Merino wool works to keep you warm, whilst ensuring that skin can breathe so that you don't overheat
Available In A Choice Of Colours: choose from a choice of burgundy or navy to suit your individual style.
A practical (and cosy) solution for outdoor adventures in the cold,the Merino beanie and Merino headband are available to purchase in the UK now.
If you'd like more details on our women's or men's Merino beanie or headband, or would like guidance on how to order your own, please don't hesitate to get in touch with us.