Return to blog
The Red Original Waterproof Cooler Bag Vs Other Brands
Red Original
Posted by Luke Green
Cooler bags come in all shapes and sizes, from big and heavy hardshell boxes to flat pack alternatives that are quick and easy to collapse. Whether it's keeping our lunch cool for the daily commute or stopping the ice cream from melting on the way back from 'big shop', the multi-use function of insulated cooler bags has turned them from something that is used once a blue moon to a daily household item.
With so many features to consider, including size, portability, and cost. We thought we'd compare the Red Original Insulated waterproof cooler bag with some of the other available brands.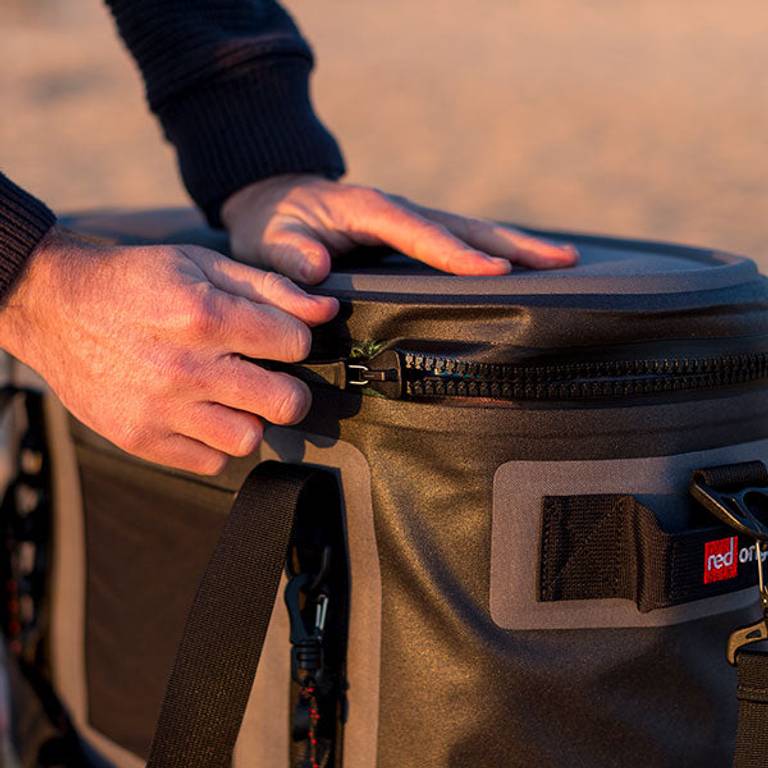 Cooler Bag Options
We all have slightly different needs from our cooler bags. Some of us require a family-sized bag to satisfy the needs of a hungry family, whilst others are perhaps looking for something more portable to keep lunch and drinks cool. Fortunately for consumers, between traditional hardshell boxes and soft-shell backpacks, the options are endless. When there are plenty of options to choose from, however, deciding on which option is right for you can be tricky and with so many budget options available, it's easy to simply say 'it will do' to the first one you come by. You know what they say though: "buy cheap, buy twice"!
Finding The Perfect Size
It's easy on first impressions to choose the largest option available when shopping around. However, once laden with cold drinks, snacks and ice cubes, it can all of a sudden become a bit of a haul as you head to the beach or local park for your picnic. The Red Original Waterproof Cooler Bag has been designed in two sizes the 18 litres and 30 litres; one of which is the ideal fast and light cooler bag for a hungry soloist or picnicking couple, while the other is perfect for a whooping family-feast!
Carrying Functionality
When we were developing our cooler bag, we compared many popular options already on the market and struggled to find a suitable middle range. They were either too small and designed for commuters in the form of sandwich bags, or so big that they became difficult to carry when full. We discovered this with the igloo hardshell cool box, an off-the-shelf option that's solid in construction and made using a familiar plastic build. Though it provides more than enough space, carrying the igloo cool box was near impossible once it had been filled up. What's more, the weight caused the box's plastic carry handle to dig into your hand, making it uncomfortable as well as difficult to carry.
Other brands opted for the insulated backpack option or at least a shoulder strap, which certainly made carrying much more comfortable. However, we do question whether these budget options could withstand the weight of a full feast with cool blocks inserted.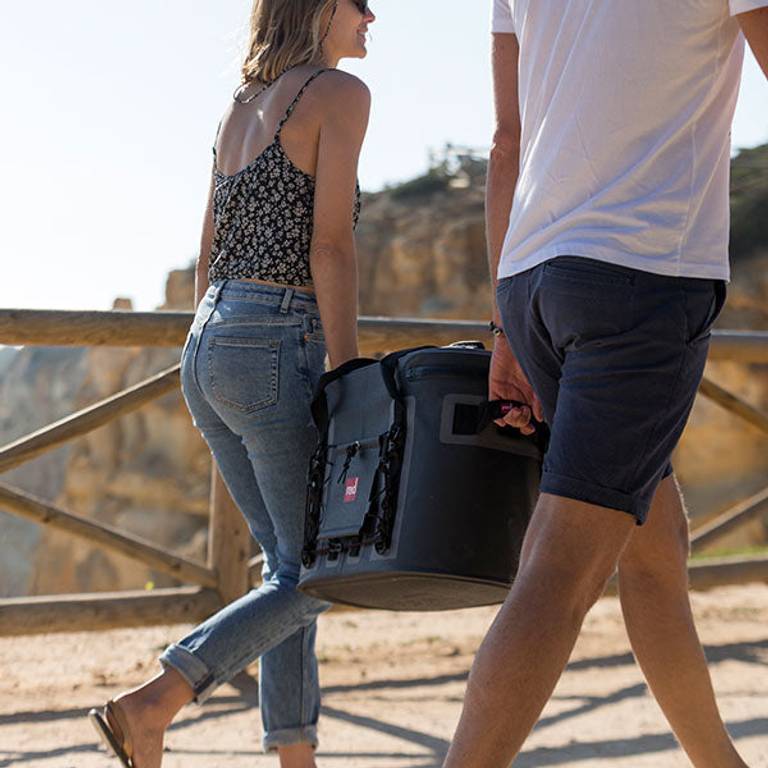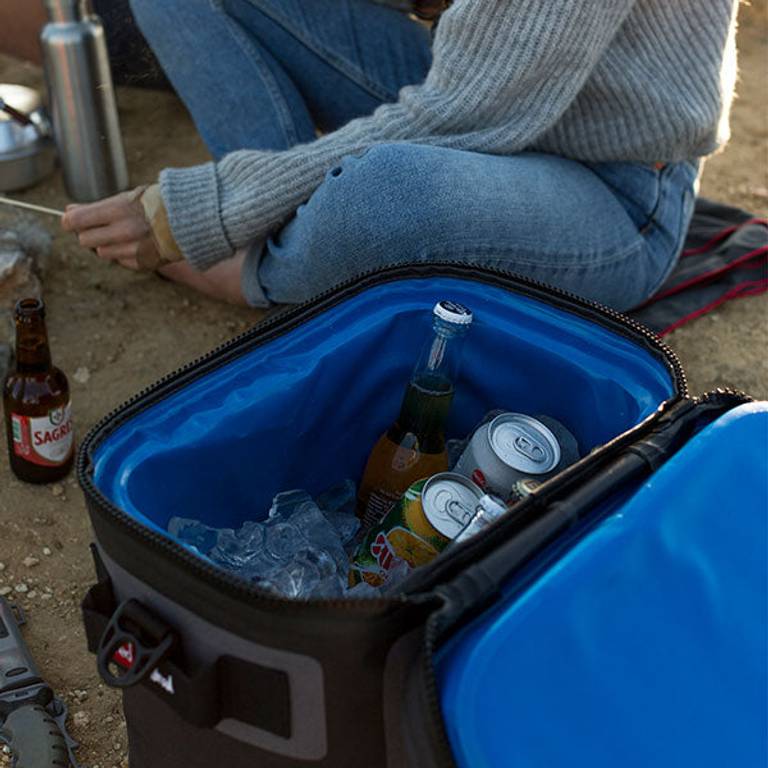 Durability
We spent a long time testing different options and it's fair to say that our design team are a pretty active and heavy-handed bunch. Our tick list was rather large as we needed ours to be tough enough to handle the most vigorous adventure, yet flexible and soft enough to fit into a packed car. We have also included a Luggage Tensioning System that allows users to quickly attach the Red Original cooler bag to their paddle boards, boat or fishing trolley, and the external pockets make it easy to keep bottled water within arms reach at all times.
Keeping Your Items Cool
This is a pretty tricky one to test with so many variables - including the size of the box and the amount of ice in the container - so we opted for a standard ice melting test. We froze 4 bottles each at 1.5 litres, or 1,500 grams in weight once frozen, and whichever had the most ice left would prove to be the best insulator! After just 24 hours, both the ice inside the igloo hardshell cool box and budget insulated backpack had completely melted. On the other hand, only 73% of ice inside the Red Original waterproof cooler bag had melted, compared to 94% of ice in its nearest competitor.
Why The Red Original Cooler Bag Comes Out On Top
Whether it's a couple of chilled cans you want to keep frosty or a fresh and crisp salad you're looking forward to at lunchtime, maintaining the temperature of your contents is absolutely paramount. The key to the Red Original cooler bag is its quality insulation, achieved through thermal lock insulation and an extra-thick 2-inch lid. Under investigation, we discovered that competitors didn't really insulate the lid and that this was allowing a lot of that cold air to escape. On top of that extra cosy fit is an aqua seal YKK zip that keeps water, grit, dirt and hot air from seeping in and ruining your tasty treats!
Armourtech Fabric
We needed a fabric that was essentially bulletproof as we knew our cooler bag would have to handle countless scuffs, drops and knocks while out on adventure. Essentially, we wanted a go-anywhere cooler bag. So we created 'Armour Tech Fabric', a durable waterproof fabric able to withstand any day out from picnics on the beach to endless road trips. The use of Armour Tech Fabric has allowed us to have created a product that will last day-in-day-out for years to come. Making items that last a season just isn't a style!
Rave Cooler Bag Reviews From Red Original Customers
"I use this so much now, even for things like bringing frozen food back from the shops so I don't have to rush home, or transporting food on long journeys. I've also used as an ice bucket for parties as it doesn't leak - totally worth the investment and SO much nicer than a horrid hard & heavy plastic cool box which are a pain to carry & I never used anyway."
"I loaded it up at with cans of drink at 09:00 on the Friday and topped it with ice blocks. When I returned home on the Monday evening and unpacked the remaining couple of cans I was absolutely astonished to see that the cans were still COLD!"
"Tried out the new medium cool bag during Scotland's one day off summer and it kept our drinks chilled from early morning to evening. The fixing straps held the bag tight on the front of the board and despite choppy conditions it didn't move or impact paddling. The external pockets are great for holding a bottle and cap and the zips and clips feel like they will be pretty robust."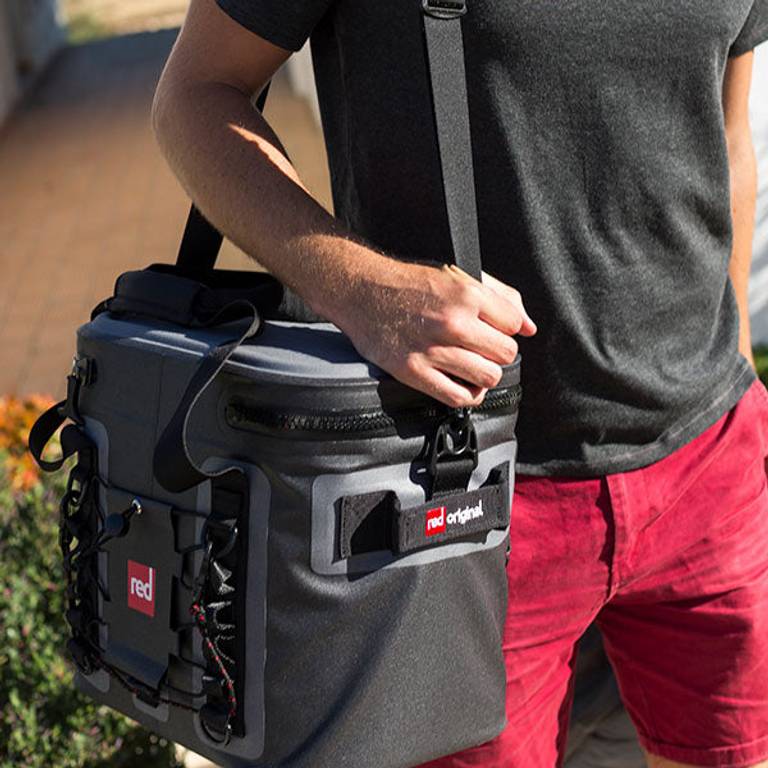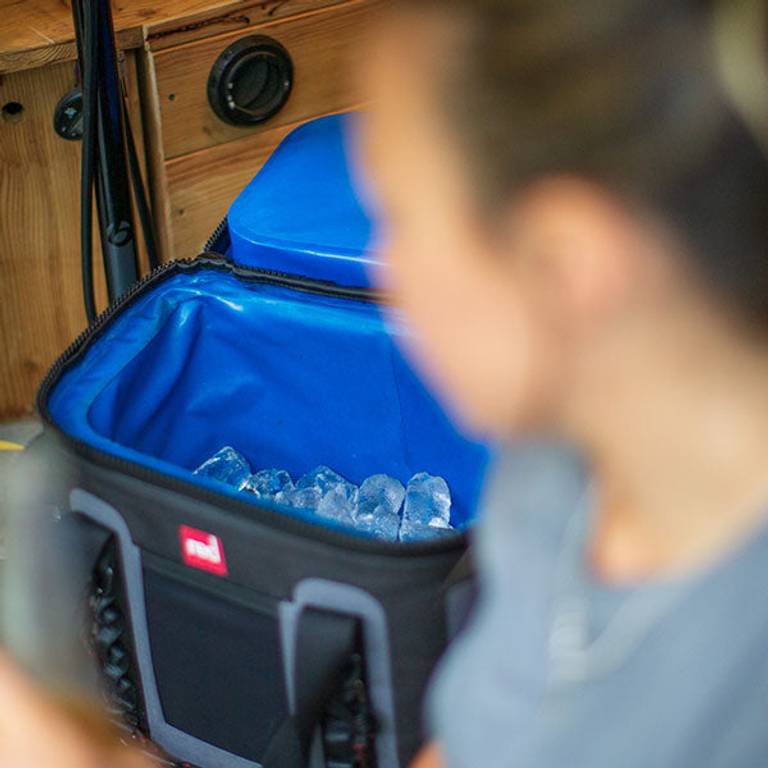 Watertight, Dirt & Sand Proof, Insulated - The Ultimate Cooler Bag
Are you looking for a lifelong product to join you every beach day, sports game or fishing trip without any compromise in performance? If so, then the Red Original Cooler Bag comes out on top every time. It consistently outperforms similar coolers that claim to have similar features and is 40% cheaper than its nearest competitor, ensuring you can keep your food and drinks at temperature whatever the adventure!
If you're looking for an insulated cooler bag to see you through many seasons of adventurous picnics then check out our full range. From the light and nimble 18litre to the slightly heftier and more spacious 30 litre.
Share your Picnic Spots
If you're out and about this season in search of the perfect outdoor picnic spot, we want to hear about it. Remember to tag your photos @redoriginalaccessories.