Return to blog
Where To Go Paddleboarding In Brighton - Top 5 SUP Spots
Posted by Alex Clasper
With a gorgeous seascape to explore, there are plenty of scenic paddle boarding locations to discover in one of the UK's most iconic seaside cities. As beautiful as it is, Brighton's seafront isn't the only place to go paddle boarding in Brighton. There are plenty more routes to discover in the surrounding area. In order to help you discover the gorgeous scenery on offer, we've picked our top 5 favourite locations for where to go paddleboarding in Brighton. These are the stunning spots that made it onto our list:
Palace Pier
We couldn't talk about where to go paddleboarding in Brighton without mentioning Palace Pier. Paddle around the iconic pier whilst taking in the main sites and atmosphere of the city. The structure looks particularly impressive at sunrise and so we'd recommend paddling here early in the morning to get the best views (as well as to avoid the crowds in the summer). If you're an experienced paddle boarder wondering where to SUP near me in Brighton, there's a really nice route starting at Palace Pier and ending at West Pier, that takes in plenty of the famous seascape along the way.
West Pier
One of the main things that we love about paddleboarding in Brighton is the unique scenery and landmarks that you get to encounter whilst out on the water. One of those landmarks is West Pier. The pier was built in the 1860s for use as a major tourist attraction, and the remains of the structure are considered a famous landmark today. If you live in the Brighton area, this has to be one of the most unique places to go paddle boarding near me. You can launch here and paddle to Palace Pier if you are an experienced paddler or do the route in the opposite direction, as we mentioned previously. When paddling around West Pier make sure to keep a very wide berth from the structure itself and avoid paddling underneath it.
Cuckmere Valley
When looking at where to go paddleboarding in Brighton there are a few beautiful spots located just outside of the city. One of these is Cuckmere Valley. Located just 30 mins outside of the city centre, Cuckmere Valley has stunning views of flower-rich chalk grassland. You can paddle on the Cuckmere River, which is a gentle flowing river for enjoying a relaxing paddle. You can also paddle on the sea at Cuckmere Haven, which is a beautiful pebble beach with views of impressive white cliffs to take in as you paddle by. Make sure to plan your trip carefully when paddling in flowing water/ in the seas and where the necessary safety gear. Don't hesitate to get in touch with the team at Red for more details on this.
River Adur
When thinking about where to paddleboard near me in the Brighton & Hove area, the River Adur is another great option for advanced SUPers. The reason we suggest this as a place for experienced SUPers to go paddleboarding in Brighton is because flowing water is more hazardous if you don't have the necessary skills and take essential safety precautions. With this in mind, make sure to read our paddle boarding safety tips for rivers and estuaries to ensure you can explore this beautiful river safely. This gorgeous river is packed full of stunning scenery and wildlife that's perfect for helping you destress and unwind.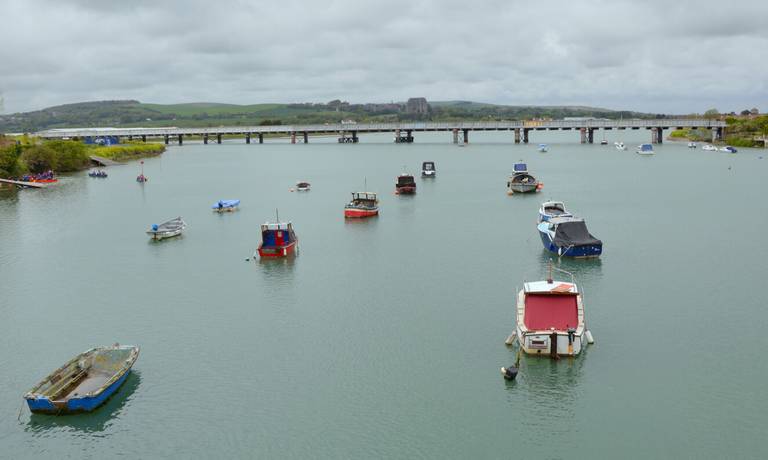 Hove Lagoon
If you've never tried SUPing before and are not sure where to go paddle boarding in Brighton then Hove Lagoon is a great place to start as it offers lessons for beginners. Hove Lagoon is effectively a massive paddling pool that accommodates a range of different watersports, and, as you can imagine, is particularly popular during the summer months. The waters are calm and sheltered creating the perfect conditions for trying out your skills for the first time. You can build up your skills here, and then head out to the other amazing locations we've mentioned on your own inflatable paddle board.
For more advice on where to go paddleboarding in Brighton or elsewhere in the UK, please don't hesitate to get in touch with the team at Red.