Return to blog
What Is 316L Marine Grade Stainless Steel?
Red Original
Posted by Luke Green
At Red Original we are constantly working towards creating new things and improving on classic designs. We also love the outdoors and are committed to minimising the impact we have on it as much as possible. Our 316L Marine-Grade Stainless Steel Water Bottles and Insulated Travel Cup are the results of us bringing these two goals together, as reusable drink holders are one of the best ways we can all reduce the amount of plastic pollution we make. While we were developing these products, however, we decided to set ourselves a challenge. We didn't want to make just another insulated water bottle and travel cup, but really improve on what was already available.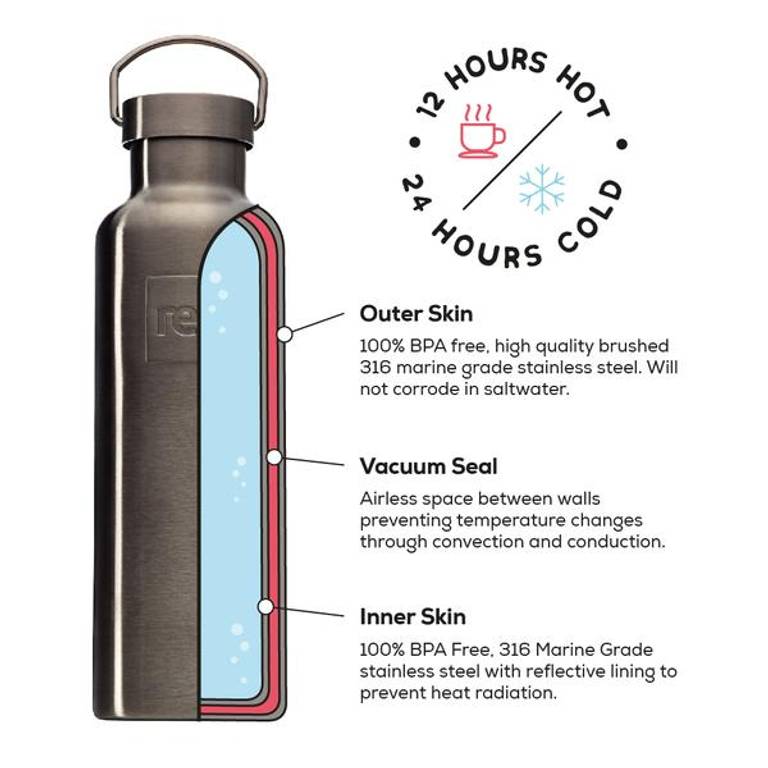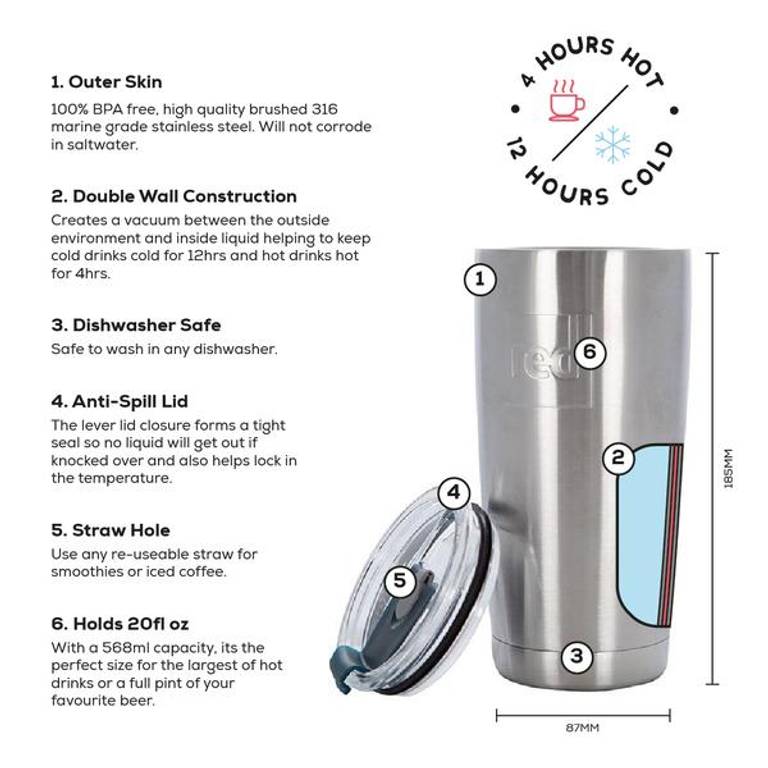 Stainless steel is one of the most common materials for insulated water bottles, due to its strength, durability, and longevity. The alloy of iron, chromium, and carbon has an improved corrosion resistance over regular steel, which, like most ferrous metals, rusts when exposed to water. Stainless steel has hundreds of applications and is widely favoured in the food & drink industry, as it doesn't affect the taste of consumable produce and is easily cleaned and sterilised for reuse.
That said, the 316L stainless steel used by Red Original is actually a step or two up from the kind used in your typical food-preparation area. You see, 316L stainless steel is more commonly known as "marine grade stainless steel" as its enhanced corrosion-resistance properties make it ideal for use throughout the marine industry. The material you typically find being used in restaurants, commercial kitchens, etc. is 304 stainless steel, or "food grade" stainless steel.
Marine-grade stainless steel takes the inherent benefits of standard stainless steel and improves on them through increased levels of chromium and molybdenum. The addition of these elements provides a greater corrosion resistance than many of the other commercially available grades of stainless steel. This level of corrosion-resistance is absolutely essential for the Red Orignal water bottle and travel cup, as salt-water is more corrosive than other types of water and our products have been designed with watersports in mind. 316 stainless steel also provides incredibly high yield and tensile strength when compared to its weight, making it a truly ideal material for drinkware.
The list of benefits that 316L stainless steel brings has allowed us to push the limits of our insulated water bottle and travel cup. Being relatively lightweight for its durability and strength, the use of 316L stainless steel has allowed us to make our insulated drinkware products larger than we'd otherwise have been able to. Coming in at 750ml and 568ml respectively, the Red Original water bottle and travel cup are more than big enough for most casual needs.
Marine-grade stainless steel also happens to be an excellent insulator and when used in the double-wall construction that our insulated water bottle and stainless steel travel cup both have, there are a great many advantages. By separating the two layers the temperature is maintained for much longer, whether hot or cold, and the temperature also doesn't pass to the outer layer. This means that your hot drinks won't burn your hand while you're holding them and your cold drinks won't give you a chill either. By using 316L marine grade stainless steel for our drinkware, we are able to keep cold drinks cold for 24 hours and hot drinks hot for 12 hours, all with no external condensation.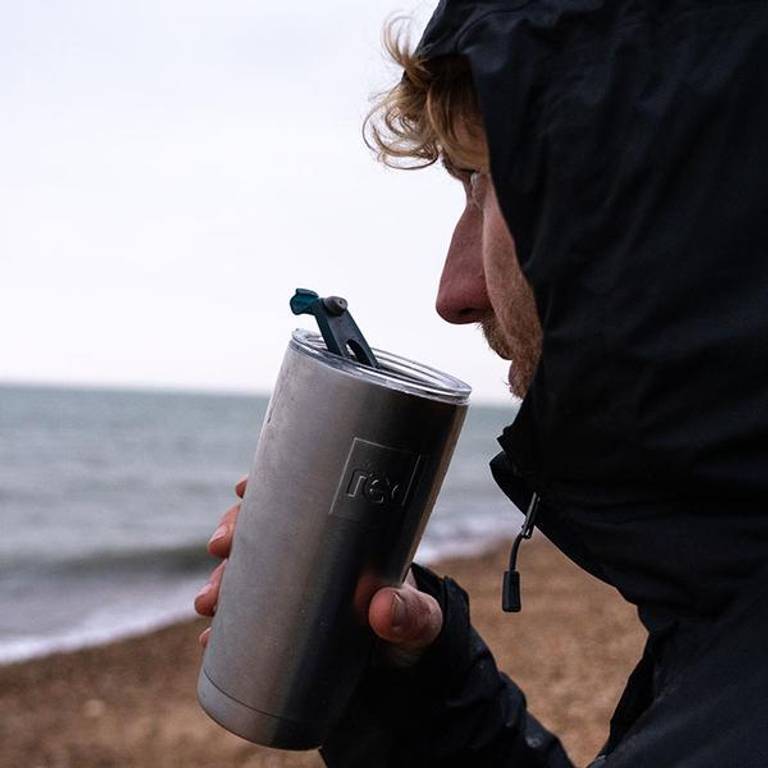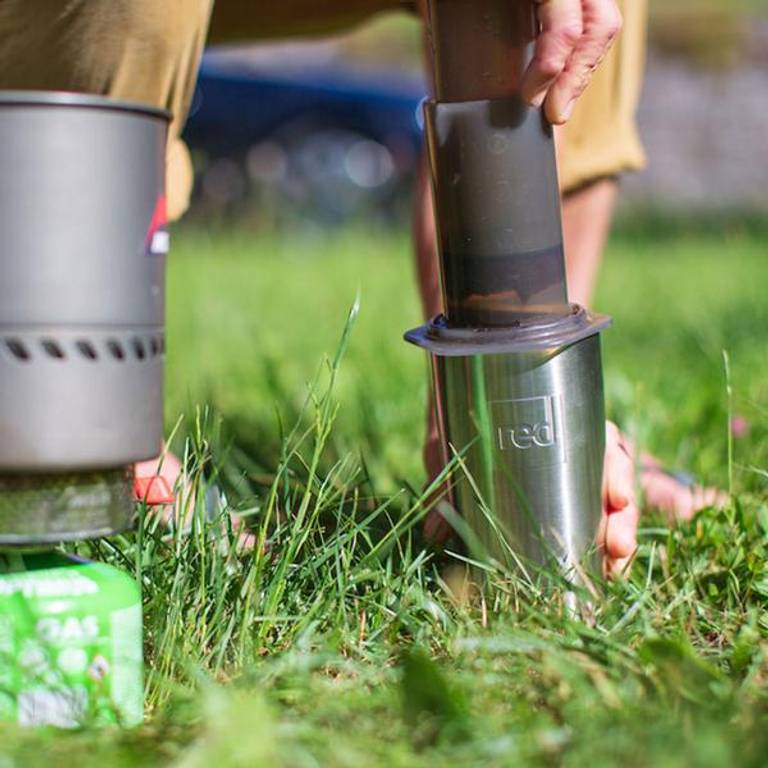 With all of these performance upgrades, we feel confident that our materials match our design and ambitions in terms of quality. Letting us deliver peak performance products with all of the extras, without any of the downsides. By keeping the toughness up and the weight low we were able to add multiple lid options to our insulated water bottle and make our stainless steel travel cup entirely disassemblable in order to ensure it can be cleaned effectively.
The Benefits Of 316 Marine Grade Stainless Steel
In summary, 316L marine grade stainless steel is the perfect material for insulated water bottles and travel cups designed for outdoor use. Whether you're a cyclist, surfer, hiker, or paddle boarder, drinkware made from this impressive material is sure to meet the most rigorous demands of your prefered watersport or outdoor activity. Once again, the benefits of 316 marine grade stainless steel are:
Enhanced corrosion resistance to withstand saltwater
Chemical-resistant
Incredible insulating properties
Durable and hardwearing, yet lightweight
Non-magnetic
High stress-to-rupture strength
Heat-resistant