Return to blog
Why LifeJacket Protection Has Become an Outdoor Essential
Safety
Posted by Ross Montandon
We are an adventurous bunch here at Red Original, the love for the outdoors runs deep throughout the team! Wetsuits routinely hang drying from a morning surf and lunch time lawn games are a common feature during lunch breaks. Even though outdoor activity is great for us, there can also be risks, even some that we might not be aware of.
This season we've teamed up with LifeJacket Skin Protection whose soul mission is to spread awareness for good quality skin protection especially in men. It's staggering to think that twice as many men die from skin cancer than women. With numbers expected to double in the next 20 years, the team at LifeJacket Skin Protection plan to do something about it. To launch our Red Original partnership with them this summer, LifeJacket have kindly added some great samples to all of our orders and chatted with us below to shed more light on the brands mission.
Jono shares his inspiring story of how LifeJacket came to be
"I was diagnosed with bowel cancer at the age of 34. I had no family history of it and I was fit, relatively young and healthy. Despite signs leading up to my diagnosis that something wasn't right, it was still a complete shock. But as is too often the case, I tried to ignore it, telling myself it was nothing. I didn't seek the medical advice soon enough. Yet, I wasn't alone; three good friends of mine - all fit and strong guys - were also diagnosed with varying forms of cancer in their early thirties. Thankfully, we have all made full recoveries, but we were shocked to learn we weren't as indestructible as we all thought."
"While he was busy supporting his friends and I as we went through our treatments, Billy, my best friend and fellow LifeJacket co-founder, was reading about why we got out various conditions and wondering how much of it was avoidable. We knew we couldn't eradicate bowel cancer, but we could take steps to reduce the chances of us getting skin cancer. Fitness-fanatic Billy wanted to do something positive; encourage men to take life outside, but protect themselves while they are doing what they love. My brother and I felt the same and knew we wanted to be involved."
"From this LifeJacket was born. We want people to understand the science and facts around skin health. A few small steps now will do wonders for our short, medium and long-term health. In Western society we still believe a tan is a good thing, when in fact it is the complete opposite and there is no such thing as a healthy tan; it's simply prematurely ageing sun damaging. If something isn't right, don't put it off, see a doctor. But our message is inspirational… #TakeLifeOutside, do what you love and enjoy but protect yourself while you do."
Sharing the same mission with Melanoma UK
"Our mission at LifeJacket is to halt male skin cancer. It's a big challenge, but we're up for it. When it comes to skin and sun protection, men are actually poorly catered for, with most of the products out there aimed at women (think images of sun hats and bikinis on the beach and the smell of coconut or guava). While we knew we had to offer products that recognised men have their own priorities (non-greasy, suitable fragrance, not sticky and which cater for all body hair types and skin sensitivities), the biggest challenge we face is not only encouraging men to change their mindsets when it comes to investing in their future health, but trying to instigate a cultural change when it comes to our relationship with the sun."
"Our partnership with Melanoma UK came naturally as we're both on the same mission. Melanoma UK offers support for people going through treatment and it wants to educate as many people as possible. We also want to prevent skin cancer by offering protection that men will love and regularly use."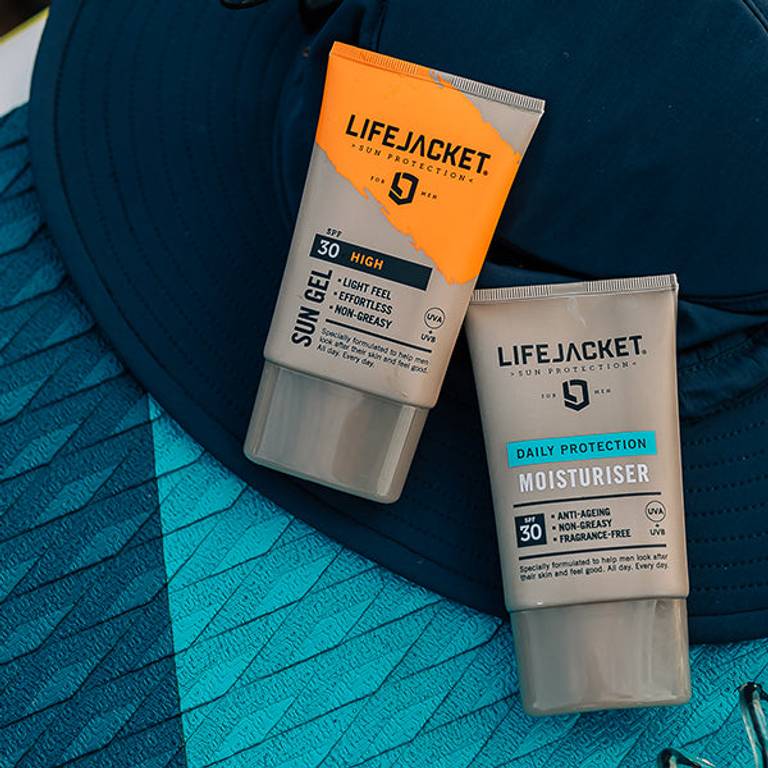 Jono explains the importance of reef-friendly and inclusive products
"Reef-friendly products have been an increasing area of interest in regards to sun care products. It has been driven by emerging scientific research that has focused on reef environments and how they might be impacted by certain chemistry found in sun protection. This resulted in certain ingredients being highlighted as potentially damaging to the reef environment and as a result some local authorities banned products containing those ingredients from use."
"We didn't use those ingredients in our formulations but scientific research is an evolving subject of course and we keep a close eye on the developments for future development. The "toolbox" of ingredients we use is actually quite small so we always have to balance the regulatory needs of the industry with locally applied rules in relation to something like reef environments. The safety of our consumer is obviously paramount but we always formulate with sustainability as a fundamental need."
"For any product we launch, inclusivity is a key part of the development process and we test them accordingly on diverse panels. We want our products to be universally loved by anyone using them, no matter their skin colour or type. Outwardly and so far as our mission goes, we are quite focused on the male market because when it comes to skin care we have discovered there is a lack of understanding from men concerning its importance in their day to day lives. This is reflected in the fact that almost twice as many men die from skin cancer vs. women in the UK, Australasia, North America and much of Europe. Male skin cancer cases have exploded over the past 20 years and incidence rates are forecast to double over the next 20 years. We want to change that. But the products we make are just as effective for women!"
"Through changing attitudes and brands talking about it, we'd like to think there is increasing awareness of the need to protect your body's largest organ - your skin - from daily UVA and UVB. I think this has historically been seen as something you only need to think about on holiday but the reality is that the exposure is year round and demands a year round strategy. We want to harness a positive relationship with the sun which is why we promote the #TAKELIFEOUTSIDE. Get out there, do the things you love, but stay protected."