Return to blog
A SUP Yoga Retreat In Beautiful Byron Bay
Responsibility
Posted by Maxine Smiles -Cooke
Two emotions coursed through my body when Red Paddle Co's invitation to a SUP yoga retreat dropped into my inbox – excitement and terror. I'd been wanting to try stand-up paddle boarding for a long while, and where better than beautiful Byron Bay. But SUP yoga… how would this work out when I hadn't even mastered the SUP bit yet?
I've got reasonably good cardio fitness and stamina through Zumba and walking, my core – needed for balancing on a paddle board – is my weak spot. Would I even be able to stand up, let alone pick up a paddle for the river expedition? And, as for SUP yoga, the very idea seemed nigh on impossible.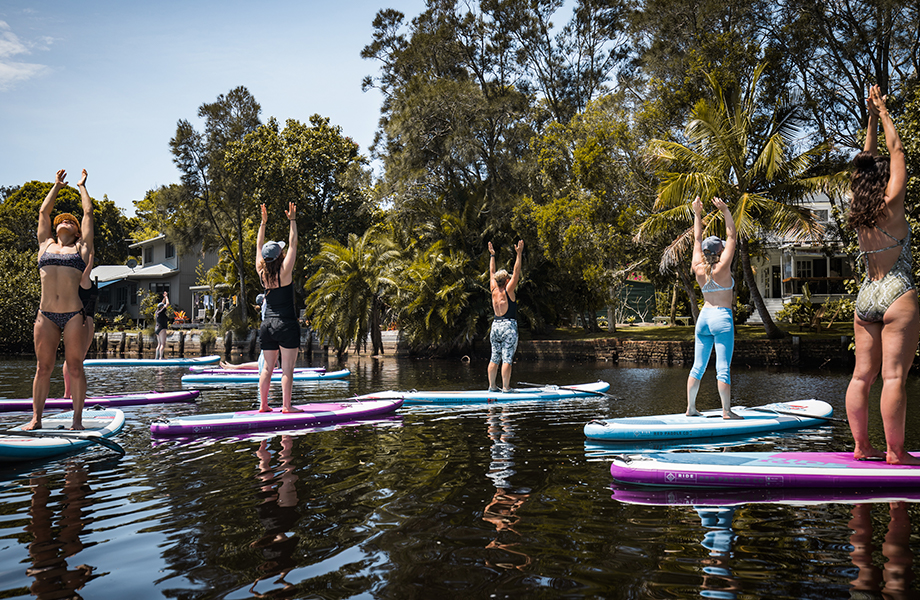 News of my forthcoming trip got mixed reactions from "amazing" to "you're joking" followed by hysterical laughter from one friend, especially when 'acro yoga' was mentioned. The last reaction convinced me I was doing the right thing – as a woman of a certain age, if not now, when?!
But how to prepare? With just two weeks before the SUP yoga retreat, was there any chance whatsoever that I could improve my core strength by then? Ideas of Pilates or yoga classes flashed through my head and just as quickly disappeared as I had to power ahead to get all my work done before I left for the trip.
I managed to pack my bag with the requisite gear to wear for SUP or SUP yoga – activewear as well as swimmers, headed into the office for a few hours, before heading to the airport. Byron Bay here I come!
The retreat was held in a wonderful location in Belongil, with direct water access to a creek and, as I arrived, some of the other participants were excitedly returning from their first paddle. A delicious dinner followed, whipped up by SUP yoga retreat host and guru, Charlotte Piho, where we got to know other retreat participants before an early night in preparation for the adventures to come.
Next morning was a 5am wake-up so that we could get to the beach in time for sunrise yoga. After this fabulous start to the day, we fuelled up with a coffee from a beachside café and headed to a creek for what would be my first SUP session.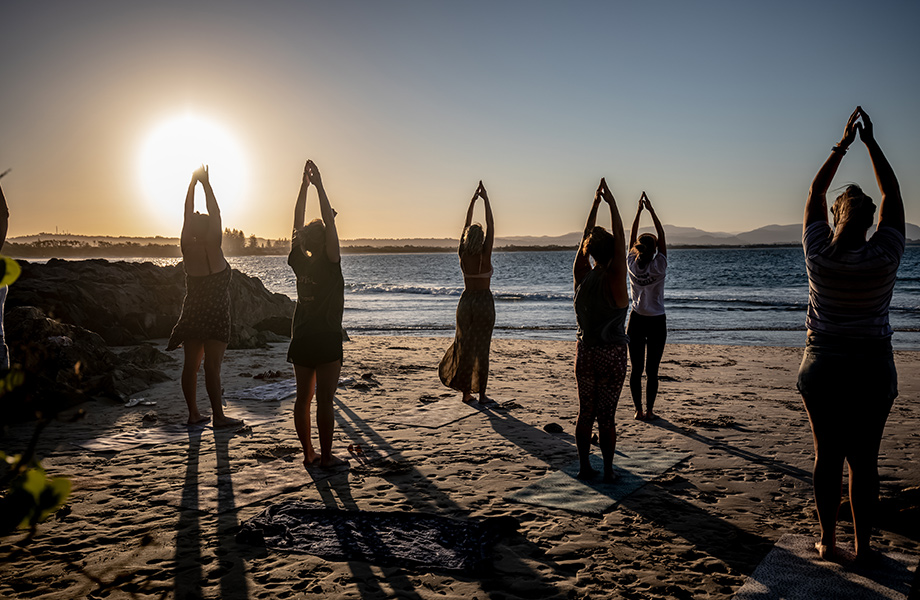 As I'd imagined, my first attempt at standing was a little challenging and I managed to launch myself spectacularly backwards off the inflatable paddle board, somehow landing upright in the shallow water. "Lean forward, and don't think too hard about it," advised Charlotte. "And keep your knees bent."
Next up was a little acro yoga on the paddle boards – uh oh! Under Charlotte's expert our group took turns to try the challenging-looking 'flying angel'. I gave this one a miss but was very excited to manage a more basic acro yoga pose with my board partner Sam from Red Paddle Co.
After a well-earned and delicious breakfast, we picked up our boards from the end of the garden and headed out onto Belongil Creek for an exploratory paddle. After a few wobbly attempts at standing, I tried paddling sitting down as well as on my knees, but after a while it was getting a bit challenging and I was going nowhere fast.
Standing up was beginning to look like a more attractive option, so when I was a safe distance behind the group, I decided to give it another whirl. Taking it slowly and keeping Charlotte's words of wisdom in mind, I got myself vertical and, to my amazement, stayed up. Whoops of encouragement from my fellow paddlers egged me on and, elated at this achievement, I enjoyed a relaxing and peaceful paddle back to the house. A SUP yoga class was the perfect ending to our mini-expedition, culminating in an amazing meditation floating on the creek. Bliss!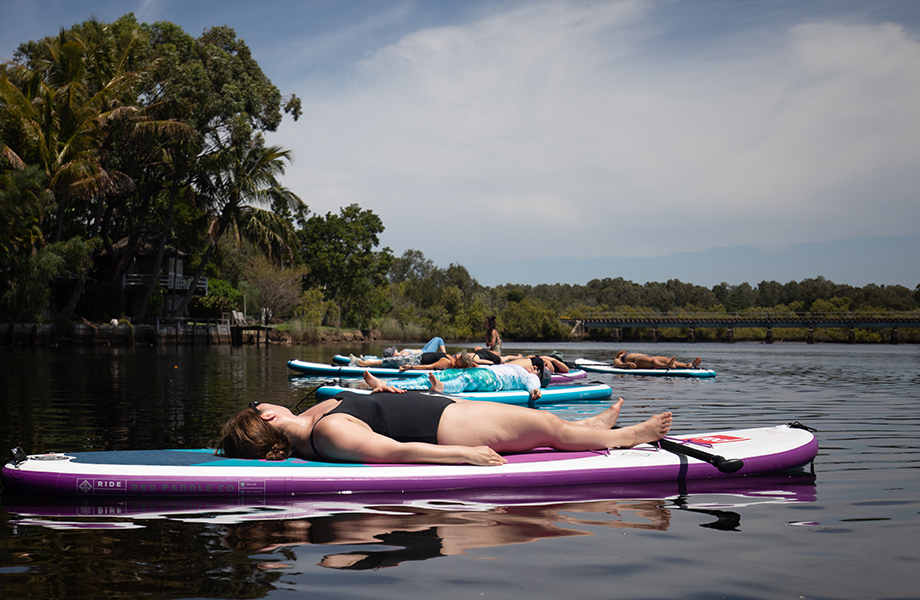 Back home in Sydney, friends were amazed to hear that I not only managed to stand-up paddle but also did SUP yoga, thanks to Charlotte's great instruction and the amazing stability of the Red Paddle Co boards. Buoyed by what feels like a great achievement, I'm now keen to try out my new-found skills exploring the top SUP locations in Sydney and beyond – roll on summer!
Words by Sue Ramsey