Return to blog
Red Paddle Co FAQ: Can You Sit On A Paddle Board?
Posted by Luke Green
Many people enjoy stand up paddle boarding for the full body workout it provides, however this certainly isn't the only way to enjoy this versatile activity. Some days you just want to sit back and take it all in, enjoying the relaxing movement of the water as you bask in nature and fresh air. So, if like many, you're looking for a more relaxed approach to your paddling some days, you may be wondering "can you sit on a paddle board?".The answer to this question is "yes, absolutely!". Sitting on a paddle board really is a thing, and it's a great way to make the most of your time on the water.
How Can You Sit On A Paddle Board?
There are three main SUP paddling positions - standing, kneeling or sitting. When in a seated position and paddling, you can either sit with your legs criss crossed or sit on your knees. Sitting with your legs criss crossed provides the lowest centre of gravity, making it easiest to maintain balance, however it doesn't offer the best position for paddling. Sitting on your knees raises your centre of gravity slightly, however provides you with much more leverage. Many beginners start in a kneeling position before transitioning to standing as they develop their paddle board technique. Alternatively, if you're just chilling out on your SUP, there's nothing better than sitting and dangling your feet in the water on a hot, sunny day.
At Red Paddle Co, we want to ensure that you can enjoy your paddle board exactly as you please. That's why our All-Round Inflatable Paddle Boards feature a super grippy and comfortable EVA embossed deck pad that provides exceptional grip and comfort for standing, kneeling or sitting. If you're in a standing position, the diamond cut tail pad enhances grip when turning. Made using durable MSL technology, the Ride 10'6" and Ride 10'8" offer exceptional stability that's perfect for those who are new to paddling, or for those who are looking to enjoy more relaxed SUPing sessions.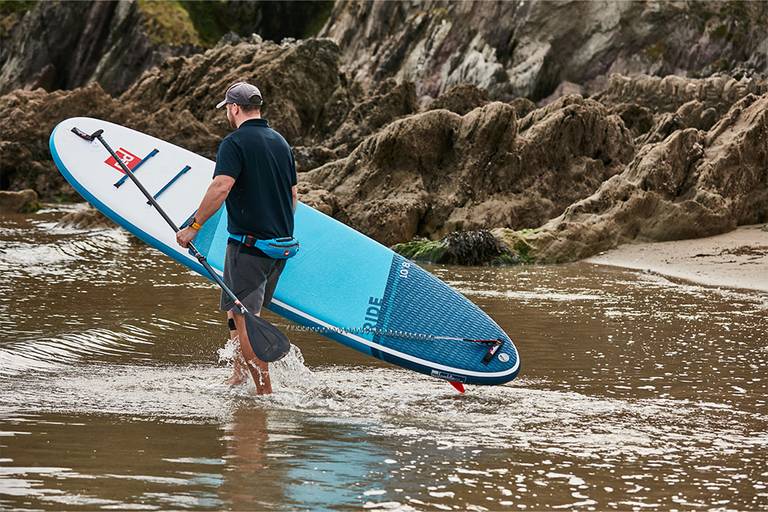 Paddle Board Seats
If you've been wondering "can you sit on a paddle board", you're certainly not alone. In fact, sitting on a paddle board is so popular that you can even buy padded, ergonomic seats for the occasion. These attach to your SUP, and provide additional support for your back when in a seated position. SUP seats certainly aren't essential, however they can provide that extra bit of comfort if you're looking to spend a lot of time chilling on the water, rather than paddling longer distances.
Reasons To Sit On A Paddle Board
So, we've determined that the answer to the question of "can you sit on a paddle board" is a definite "yes", but what are the benefits of choosing to sit rather than stand from time to time?
Take Great Pictures
When paddle boarding, it's inevitable that you're going to encounter some spectacular scenery - this is just one of the reasons it's such a popular activity. Being able to sit makes it easier to capture still shots and take home the memories with you. Our Paddle Board Camera Mount attaches to the front of your Red Paddle Co SUP making it even easier to capture pictures and videos on-the-go. The 360-degree adjustable head ensures you won't miss any of the best shots.
Ride With Others
Sitting can make it easier to bring kids out with you - It's a great way to slowly introduce your kids to the sport, without the added pressure of you both needing to stay balanced when standing. The same goes for if you want to bring any canine companions out on the water with you. Our Multi-Person Paddle Boards are designed specifically for SUPing with friends - they are created with an increased length and volume to safely carry multiple people, enabling you to make your next SUPing trip a real social occasion.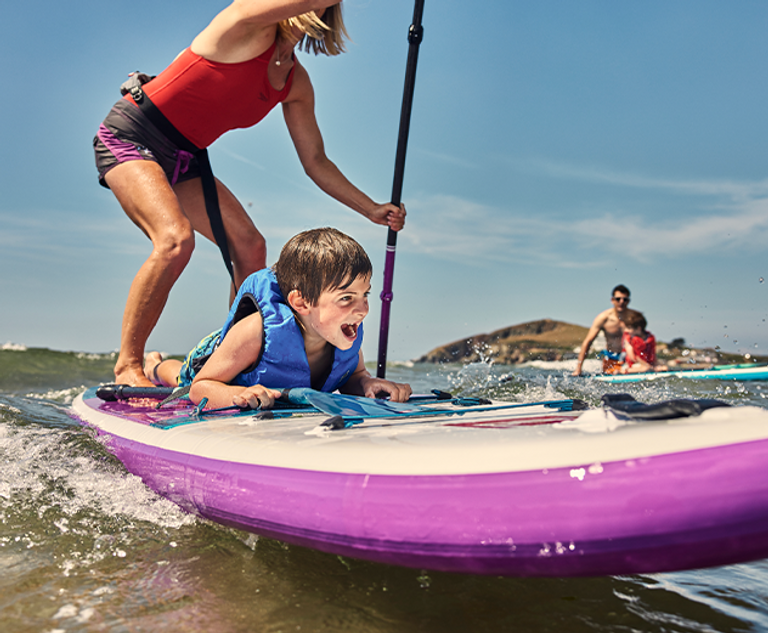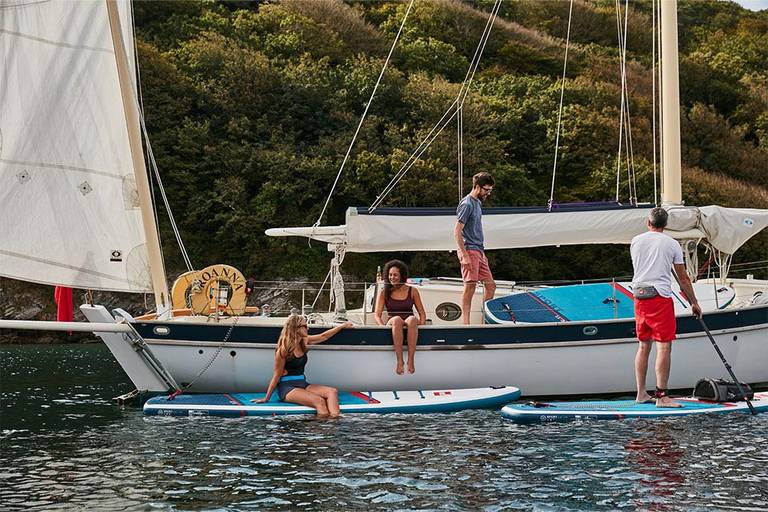 Have A Rest
Sometimes you just need a rest, particularly if you're stand up paddle boarding over a long distance. Taking a seat gives you the opportunity to rest your legs before standing again. Equally if you're paddling in a kneeling position, it's a good idea to switch to a seated position every so often in order to give your legs a break in a more comfortable position.
Enjoy A Picnic & A Catch Up
We've talked about the question of "can you sit on a paddle board", but what about enjoying a picnic on a paddle board? The answer to this is a big "yes". There's nothing better than finding a calm spot where you can paddle to as a group, kick back & enjoy some of your favourite food & drinks. The Red Original Waterproof Cooler Bag is fitted with a patented LTS system that enables you to attach the bag to your SUP effortlessly - this makes it easy to bring a tasty picnic out on the water with you.
Try SUP Fishing
SUP fishing has become increasingly popular over the years, enabling anglers to access more remote fishing locations while enjoying a more unique and tranquil fishing experience. If fishing is your thing then this might be worth a try, and it's just another way to make versatile use of your SUP. Our All-Round SUPs are the best choice for SUP fishing, providing you with the width and volume that you need for sitting and housing your fishing equipment.
Through answering the question of "can you sit on a paddle board", we've opened up the world of possibilities that exist within the SUPing world. For guidance on how to progress your paddling, or for tips on how to get started, please don't hesitate to get in touch with the team at Red.