Paddleboarding in Devon - The 5 Best Places To Go in 2023
Return to blog
Paddleboarding in Devon - The 5 Best Places To Go in 2023
Outdoors
Paddle Boarding
Places to paddle
Summer
Posted by Lydia Burdett
Paddleboarding offers limitless opportunities to discover new places, from unspoilt shores to busy lakes popular with families. Because Red Paddle Co inflatable paddle boards are so easy to deflate and tuck away in their carry bag, there's no reason why you can't get out there and see what you can find.
Devon offers something for every paddler, with new places to discover if you are paddle boarding in Devon as a local, day tripper, or on holiday. Here are the 5 best places to go paddleboarding in this part of the UK in 2023:
Mothecombe Beach, South Devon
If you are going paddle boarding in Devon, you cannot miss out on a trip to the South Devon coast. Salcombe and Kingsbridge are particularly popular due to their easy access and still, clear waters, whilst the expansive bay of South Milton Sands offers vast opportunities for adventure in a beach setting.
Offering the best of both worlds in this area is Mothecombe Beach on the Flete Estate. Sheltered, unspoilt and vast, Mothecombe is a truly unique paddling experience. Park in the large grass carpark and then it's your choice whether you follow the footpath down to the large sandy beach or walk down the lane to the river beach, called Coastguards Beach, and launch there.
The main Mothecombe beach is best at low water with light winds. When the tide is out the water is shallow and the beach provides a great place to learn or get the family on board. If you want to paddle further afield then a paddle up the River Erme, either from the river beach or by paddling around from Mothecombe is a great option. The river meanders through peaceful surroundings and it's possible to travel a few miles inland. If you start your paddle session 1 or 2 hours before high water you can get a free lift up the river on the tidal flow, before it turns and assists you back to your starting point as the tide goes out. Make sure you are wearing a Quick Release waist belt when paddling on flowing water.
Once you've finished paddleboarding, pop your inflatable SUP on your back and head up the hill to the Schoolhouse, a bustling dog-friendly restaurant and takeaway just a short stroll up the hill from the beach. Here you'll find fantastic food and drink, including feast nights and bbq events in the summer. There is ample outdoor seating, perfect for enjoying a drink as the sun sets, and the funky indoor area comes alive at night with a range of local live music.
Firestone Bay, Plymouth
Paddleboarding is particularly popular in Plymouth, a Devon city where the coast is never far away. Firestone Bay is one of the most popular spots, just a short walk from Plymouth City Centre, and offers unrivalled views across the Plymouth Sound.
Firestone Bay is perfect for an after-work paddle in lighter evenings, with plenty of space to quickly inflate your Red Paddle Co board on the sheltered pebble beach. The surrounding waters offer one of the most versatile places for paddleboarding in Devon. You can choose to head towards the bustling Plymouth Hoe or venture across the water towards the elusive Drake's Island, so you'll never get bored on your SUP in this part of the UK.
Plus, in April 2023, Firestone Bay became one of the UK's designated bathing waters. This means the nearby water is monitored by the Environment Agency, so you know you're in one of the cleanest spots here.
This location is best suited to a slack tide (1 hour either side of high or low water) as there can be a large amount of water moving around Devil's Point and Drakes Island during mid tide. You have a choice of parking spots of Royal William Yard, or even the free car park at Devil's point, however it does become busy in the summer.
Make sure you are wearing a leash with a Quick Release waist belt when paddling here as there is often a tidal flow.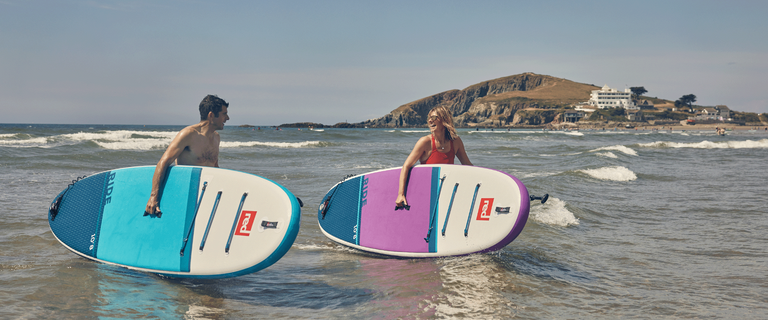 Wimbleball Lake, Exmoor
If you fancy getting away from the ocean when paddleboarding in Devon, why not try something a little different at Wimbleball Lake? Nestled just on the border with Somerset in Exmoor National Park, Wimbleball Lake is the perfect spot for children and beginners. The lake's crisp waters provide a steady surface to help you get standing up for longer or take advantage of the technology that helps your Red Paddle Co board glide with ease.
Wimbleball Lake is also one of the best places you can go paddle boarding if you're looking to make a day of it. Parking is reasonably priced and there are a variety of options for a bite to eat. Refuel with a snack in one of the many picnic areas, or grab lunch in the cafe, with relaxing views of the water glistening in the sunshine.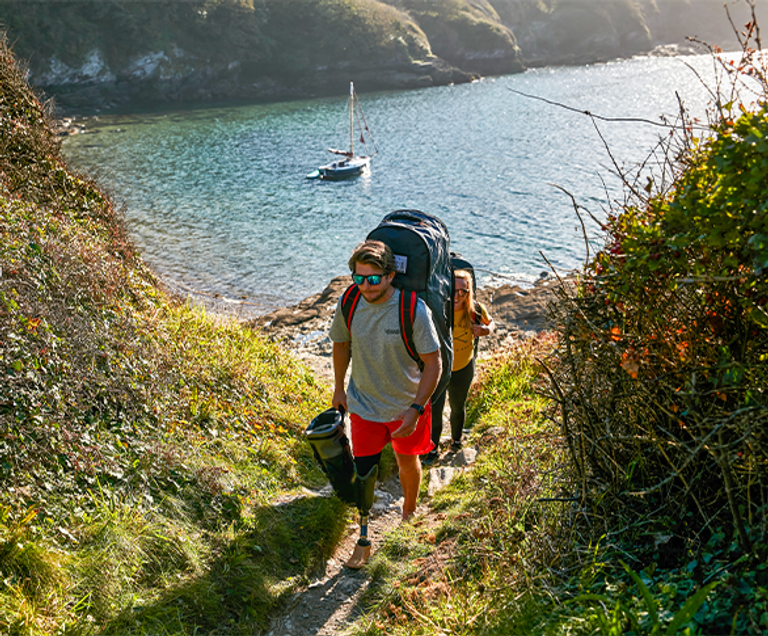 Woolacombe, North Devon
If you've been paddleboarding for some time, you might be looking for places to go that offer a bit more of a challenge. Woolacombe is a very popular spot with the many surfers that flock to the North Devon coast all year round, but on the right day it can offer a great introduction to riding your SUP board on waves. The tide goes out a long way here so come prepared for a bit of a walk. Choose a day with no more than a 1-2ft surf forecast and light winds - These are quite regular conditions during the summer, that surf forecasts often describe as 'Poor' but they actually present the best conditions for your first try in the waves. The wide expanse of beach means you can always find an uncrowded spot to try your hand at catching some waves on your board.
Check the surf forecast on Surfline
Exeter Canal, Exeter
Possibly one of the best flat water paddling spots in the whole of Devon. Launch at Haven Banks on the Quay in Exeter - next to the AS Watersports shop. From here you can paddle down the canal to the Double Locks pub - A great turn-around point (after refreshments!).
If you fancy a longer paddle then just portage (i.e pick up and carry your board) a few metres to miss out the lock and continue on down to The Turf at the southern end of the canal. Another great pub with great food and drink. You can either paddle back to your start point or arrange for someone to collect you from the pub. Choose a sunny day with light winds and you will have one of the best days on the water.
So, whether you're just getting started on the water or years into the hobby, paddleboarding in Devon is definitely worth a try! This list should help you start finding the best places to go, but feel free to contact the team at Red for more advice or guidance.