Return to blog
Discover 10 Of The Best Places To Paddleboard In Maine
Posted by Alex Clasper
Aside from the thousands of miles of rugged coastline that are waiting to be discovered, Maine has an abundance of ponds, lakes and rivers to explore by paddleboard. The state's rich maritime history offers plenty to be discovered from your paddleboard, and you'll certainly be privy to some of the region's most spectacular views along the way. These are just a few of the best places to paddleboard in Maine:
Trickey Pond
Trickey Pond is known to have the clearest water in the region, but that's not the only reason it's one of the best places to paddleboard in Maine. The surrounding natural views are just as mind blowing as the clarity of the water itself, and it's an oasis of tranquillity in comparison to some of the larger more popular lakes. You can access Trickey Pond from route 114 in Naples. The quieter conditions are perfect for a relaxed paddle after work or for practising SUP yoga.
Sebago Lake
Sebago Lake is larger and a little busier than Trickey Pond, however its offshore facilities make it one of the best places to paddleboard in Maine with the family. There are plenty of sandy beaches along the shoreline for enjoying a day of fun in the sun. There are also numerous picnic spots in the surrounding area, as well as campsites. With all these facilities on offer, Sebago Lake is the perfect spot for enjoying an epic SUP trip with your favourite people.
Casco Bay
If you're looking for places to go paddle boarding near Portland in Maine then you can't miss Casco Bay. Portland sits at the centre of the bay which runs all the way from Cape Elizabeth to Bath. We would recommend launching from East End Beach, where there's a parking lot and where you'll be joined by fellow paddlers. If you're an experienced paddler, there's a gorgeous 7 mile route that runs from East End Beach to Whitehead Passage. Alternatively, you can launch at Portland and explore the waterfront there. This is a good launching spot for beginners.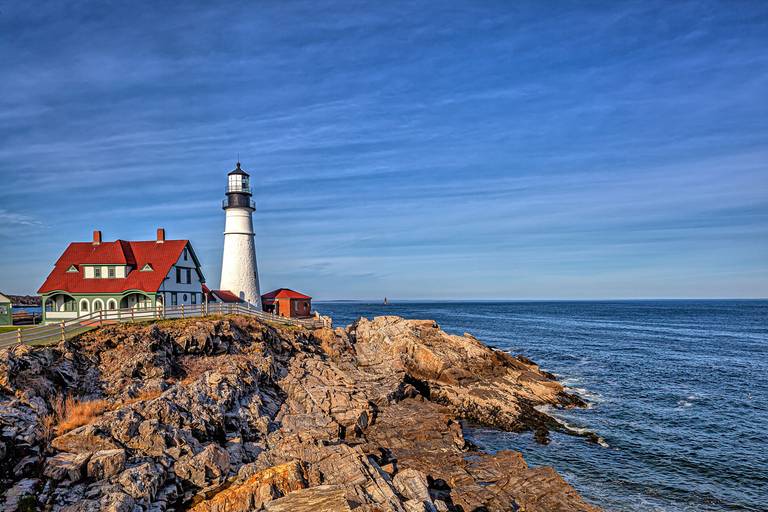 Merrymeeting Bay
Merrymeeting is a freshwater estuary that's located just north of Chesapeake Bay. It's only an hour's drive from Portland however it's one of the largest staging grounds for migratory birds making it an incredible paradise for spotting wildlife. Bald Eagles are just one of the amazing bird species that you'll encounter here, alongside plenty of other native wildlife. It's the meeting point for 6 of the state's main rivers as well as the Atlantic Ocean, meaning that conditions are tidal and a little more challenging. With this in mind, we'd only recommend Merrymeeting as one of the best places to paddleboard in Maine for experienced SUPers.
Moosehead Lake
We couldn't talk about the best places to paddleboard in Maine without mentioning Moosehead Lake. It is the largest lake in the entire state after all! This is an incredible lake to explore by SUP, with plenty of nature and wildlife to look out for along the way, including moose and deer, to name just a few. This is the perfect location for both experienced or new paddle boarders, and you'll be joined by plenty of other water sports and outdoors enthusiasts.
Acadia National Park
Acadia is one of the most spectacular natural beauty spots in all of Maine, and there's no better way to explore it than by paddling the beautiful freshwater lakes and tranquil inlets and bays. Paddling around Mount Desert Island, you'll encounter plenty of wildlife along the way including seals, porpoises and native seabirds. With an abundance of hiking trails to discover across the park, this is a great spot for a weekend of outdoor adventure both on and off the water.
Muscongus Bay
Another one of the best places to paddleboard in Maine has to be Muscongus Bay. The rugged scenery and abundance of wildlife make this a popular spot for local paddlers. One of the major benefits that comes with paddling here is the lack of boat traffic. There aren't many harbors in the area, preventing large boats from coming into the bay, creating better conditions for paddlers. This is also a great place for planning a multi-day SUP trip as you can paddle between the different rocky islands that are located within the bay.
Jewell Island
If you're a highly experienced paddler then you definitely need to check out Jewell Island. To access Jewell Island you'll need to paddle roughly 9-10 miles from Portland Harbor. You'll be paddling through open water, where conditions can get choppy which is why it's essential that you're experienced and wear the necessary safety gear. Once you reach the island, you'll experience a natural oasis, with plenty of options for camping overnight.
Damariscotta River
Another one of the best places to paddleboard in Maine for more experienced paddlers is Damariscotta River. This is a stunning tidal river that covers a distance of just under 20 miles and is packed full of many different wildlife and fish species, making it the perfect location for SUP fishing. In order to enjoy a safe paddle here, make sure to check the tide times and water levels before you head out. You should also read our safety tips for paddling on rivers and estuaries for essential guidance.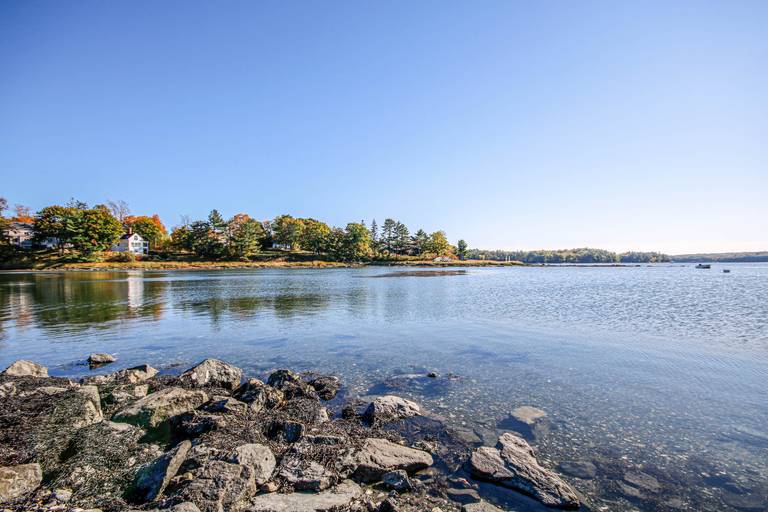 Crescent Beach
We couldn't complete our list of the best places to paddleboard in Maine without mentioning Crescent Beach in Cape Elizabeth. The beach offers a sheltered spot for enjoying a paddle with unique views of the surrounding area at Cape Elizabeth. Conditions are generally calm, however the beach can get a little windy from time to time, and so be sure to consider this when planning your trip. Crescent Beach offers the perfect spot for combining paddleboarding with a day spent sunbathing on the sandy shores.
For more tips on the best places to paddleboard in Maine, or for help finding the perfect inflatable SUP for your next adventure, please don't hesitate to get in touch with the team at Red Paddle Co.