Return to blog
How To Choose The Right Dry Bag, Deck Bag & Waterproof Pouch
Products
Red Original
Posted by Ross Montandon
DRY BAGS, DECK BAGS OR WATERPROOF POUCHES? FOLLOW THIS GUIDE TO FIND THE BEST STORAGE SOLUTION FOR YOUR NEXT ADVENTURE!
Between dry bags, deck bags and waterproof pouches, it seems there are many items available that all set out to achieve the same goal; namely, keeping your valuables dry! Each of the three items mentioned above are super handy and fully functional, but why choose one over the other?
In this article, we give you the low-down on which waterproof bag will work best for your watersport and your needs!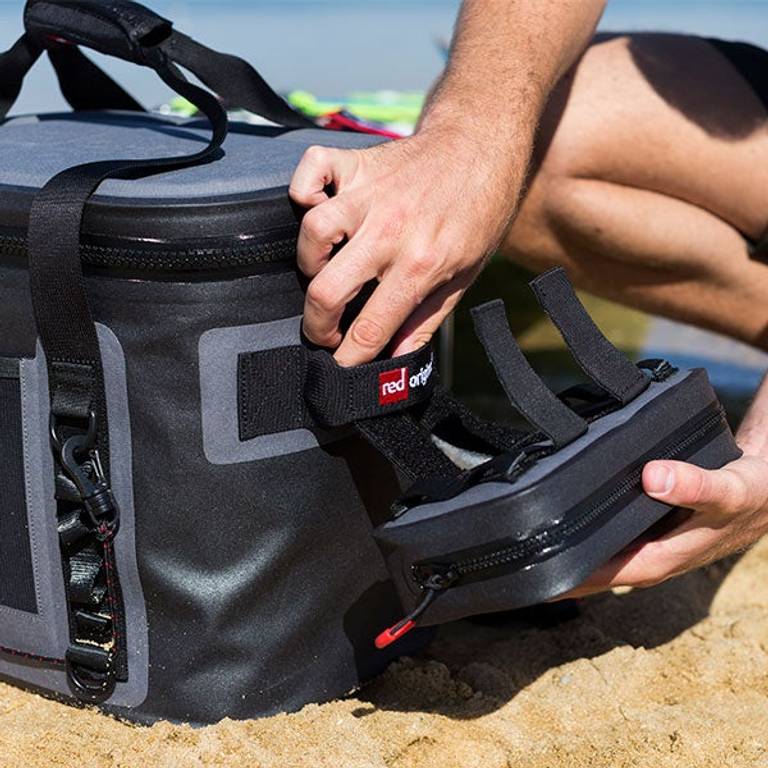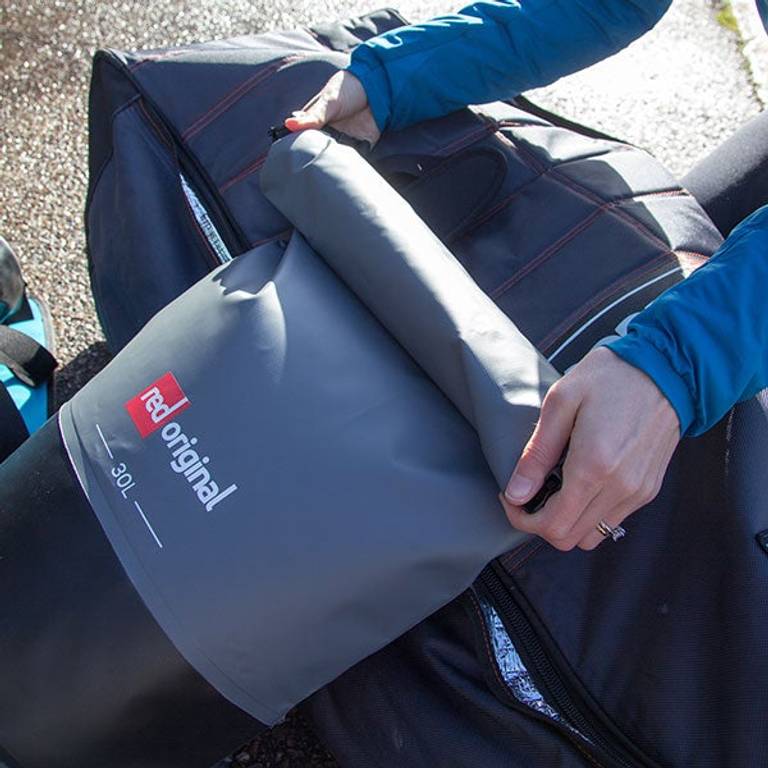 The 3 Best Waterproof Bags
We've created 3 different storage options each with their own special flairs and characteristics to suit a wide range of needs. Some adventurers opt to travel light and only feel the need for something small, like the waterproof pouch, to keep their phone dry and a snack nearby. Others prefer to prepare for any eventuality and rely on all 3 to store a range of equipment for different adventures!
Roll Top Dry Bags
Roll Top Dry Bags are an old favourite. Tough, lightweight and available in many sizes, almost anyone who enjoys activities on or under the water will have used one at some point. Our Red Original Roll Top Dry Bags come in 3 sizes, 10litre, 30litre, and a 60litres, with each offering different benefits for different uses. They keep the contents dry through the use of a simple roll (or perhaps two or three depending on how full it is) and secured with a firm clip. This traps air inside the bag and leaves no wiggle room for water to creep in.
Roll Top Dry Bags have become popular due to their simplicity - less is certainly more when it comes to the design of these bags. As well as size, the durability of the fabric and the clips used to secure the bags are two important features that differentiate one roll top dry bag from another. Be careful choosing budget options, however, as these will be made with low-quality materials and components that are practically guaranteed to break or tear at the worst possible moment. Best case, you end up with a soggy sandwich, but you could end up losing your phone, car keys or worse. Needless to say, we'd always recommend investing a little more and going for a heavy-duty option that can withstand occasionally getting snagged on a jagged rock.
Deck Bag & Waterproof Pouch
The Deck Bag and Waterproof Pouch are siblings and, unlike most family relationships, they actually work really well together. The small waterproof pouch is fashioned from Red Original's Armour Tech Fabric and has a semi-hard exterior that is perfect for protecting small valuables or essentials; such as car keys, mobile phone or even passports. To keep it sealed and safe against sand, dirt and water, we use a YKK Aquaseal Zip that ensures nothing can get in or out, effectively keeping your valuables safe and dry.
A must-have for any paddle boarder or kayaker, the Red Original Deck Bag fits perfectly on to paddle boards and kayaks and is again made from Armour Tech fabric and sealed off with an Aquaseal YKK Zip.
Why we use a zip?
Why would we choose a zip over another roll top function? Well, the zip speeds up quick and easy access into the waterproof pouch and deck bag. The Deck Bag, in particular, is designed to allow users access to its contents whilst it's still attached to paddle boards, kayaks, etc. The Waterproof Pouch also can be attached to other items, such as the Deck Bag, carry handle of a board, or boat.
Which Waterproof Bag Is Best For Your Activity?
Roll Top Dry Bags
We all know that friend who's van is constantly loaded with watersports toys and if you are that friend, then the Roll Top Dry Bags should be a staple bit of kit. Roll top dry bags should be considered a strong contender if you're looking for a waterproof option that you can quickly throw things in and secure.
Selecting the Right Size Dry Bag
Starting from the bottom up with the little nipper, the 10-litre option is your perfect lunch bag. Small and compact, it's the perfect size for first aid kits, a few items of clothes, and perhaps a small snack. Capable of being clipped onto paddle boards, or the back of a kayak or boat, it's ideal if you're looking for something safe and secure to keep your essentials in.
The 30-litre option is perfect for day tripping. Ideal for storing a warm jacket, some food and equipment for the day, if you think the 10-litre option might not always cut it then the 30-litre bag is sure to fit the bill. This is because one of the best things about the Roll Top Dry Bags is they can be rolled down to a size that suits your needs. It can be a 10-litre bag, a 30-litre bag, or anything in between. What's more, the quick and easy clips and carry straps make it a doddle to throw over the shoulder and dash out on an adventure with!
The 60-litre is the 4x4 of dry bags. Load with wet kit to prevent your car from accumulating large puddles or clip it to your board for an overnight trip. 60-litres is large enough to carry plenty of gear yet the reinforced carry straps ensure you can sling it over your shoulder and comfortably carry it with ease!
Why Choose the Waterproof Pouch
Ideal for keeping things as close to hand as possible, the Waterproof Pouch is much smaller than the 10-litre dry bag. The main feature of the Waterproof Pouch is to securely carry small valuable items - such as your phone, wallet, car keys, etc. - on you, rather than leaving them hidden on land. The removable padded insert is a nice addition if you're the clumsy one in the group, as it provides an additional layer of protection! The YKK Aquaseal zip is quick and easy to open and close when on the move, which comes in handy for grabbing your phone for that quick selfie or to store some money in for that all-important ice cream stop!
The Modular Dry Bag
One way in which the Waterproof Pouch really stands out is in how it can be quickly and securely attached to other Red Original products. The velcro system allows a strong yet quick attachment system that connects the pouch on to other bags, such as the Deck Bag, and Waterproof Cooler bag. This level of functionality and customisation is perfect for any watersports enthusiast looking for a small 100% waterproof container for their valuables.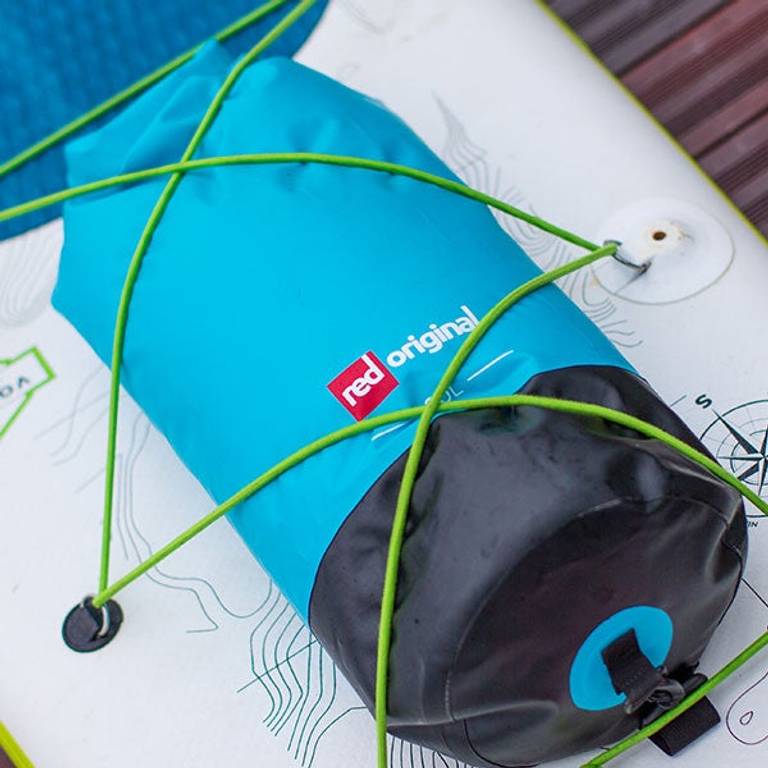 The Waterproof Deck Bag
The Red Original deck bag was designed with paddleboarders in mind, but can also be effectively put to use by sailors and kayakers. Complete with a handy shoulder strap, this 22-litre bag uses a luggage tensioning system that can attach to any board with a 4 point cargo system. Our deck bag excels in it's out and out functionality and once attached to a board, its contents can be accessed with its secure easy-open YKK Aquaseal zip. This watertight zip has been trusted with paddlers' prized possessions; including laptops, SLR cameras, and even Drones.
The deck bag's exterior is home to two side pockets ideal for drinks bottles and an elastic mesh for easy-grab items; such as a performance t-shirt or paddle cap. It also features a zipped pocket at the top for those little extras like sun cream and sunglasses. Off the board, the deck bag can be carried comfortably by its handle or carry strap, making it a great travel companion if you're venturing further afield with your paddle board!
Selecting the right bag for you
Whichever you choose, the main thing to consider is how you're going to use it and what it is you want to keep dry. It could be that no single option suits your needs, which is why we have designed them to work together so they are more convenient to use. To find out more about our Waterproof Pouch, Deck Bag and Roll Top Dry Bag range visit our website!