Return to blog
5 Ways A Waterproof Dry Pouch Can Help Keep You Safe
Products
Safety
Posted by Luke Green
The Red Original waterproof dry pouch is specifically designed to keep your belongings safe. To do this, it is created using seven high spec features, making it the most versatile waterproof pouch on the market:
Easy-attach Velcro strap system which attaches to almost anything. For SUP, secure to the carry strap or bungee cord on your board for convenient on-water access. Can also attach to bag handles, belts, bike handle bars…..
YKK Aquaseal Zip: Each zero-leak, totally waterproof zip is individually tested to ensure it won't corrode or fail giving you peace of mind in the water
Quick access to ensure there is no fiddling around with roll tops or clips
Robust welded seams: For optimum waterproofing
Removable high-density foam pocket: Protects contents against knocks and scrapes
Armour Tech Material: Tough but tactile high-density fabric provides the optimum in resilience
Convenient Size: L:230mm W: 50mm H: 120mm Perfect for phones, keys and other essentials such as energy bars, inhalers, radios or sunscreen.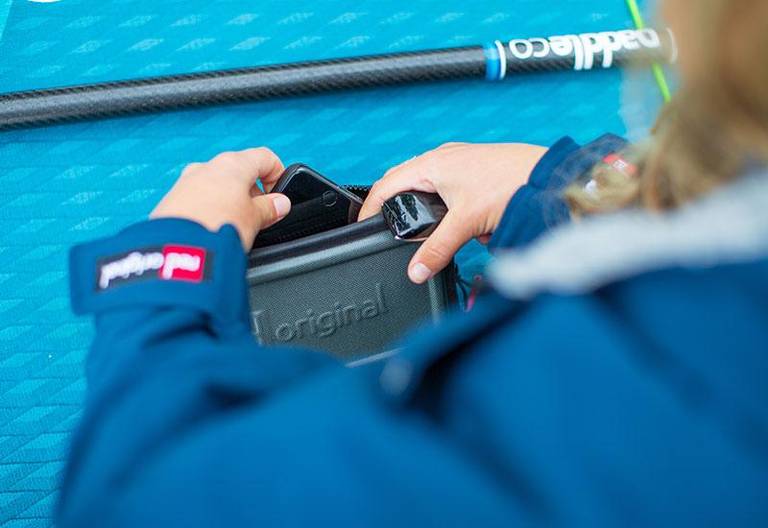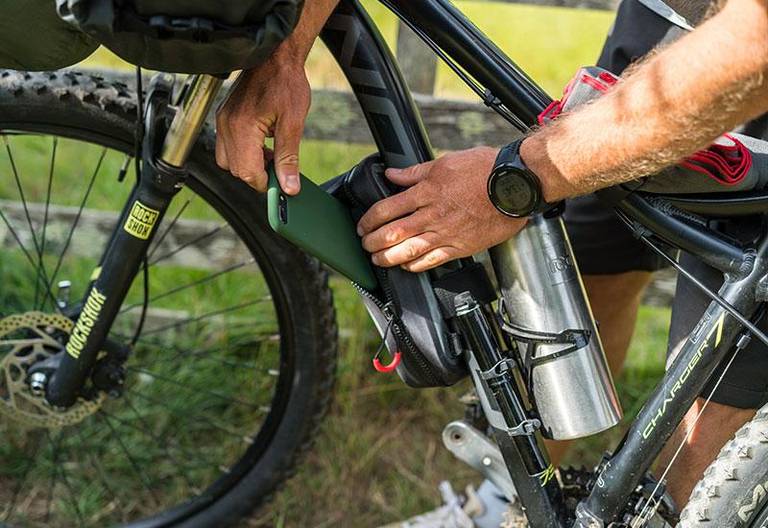 Our waterproof pouch is primarily created to protect your belongings and doing so it can keep you safe too, here's how...
Mini First Aid Kit
With the convenient dimensions of L:230mm W: 50mm H: 120mm, the Red Original waterproof dry pouch is perfect to create a mini first aid kit that you can keep on you at all times. We strongly recommend carrying a mini first aid kit around with you in your waterproof pouch, this does not have to be too bulky - however, you should be able to fit in all of the essentials. A mini first aid kit can really come in handy when in remote locations and potentially save lives when an accident occurs. You may wonder what could be classed as essentials? Check out our guide on what we think would work best.
Food & Drink
Being safe and healthy should always be an utmost priority before you head out for an outdoor water sports adventure. Being prepared as best you can is the best way you can do this. Having a waterproof pouch with all the essentials you will readily need certainly makes life a whole lot easier. Why not carry around a light snack such as an energy bar or gel and a small drink? Simple tricks like this prove to be a lifesaver if an emergency were to occur.
Waterproof Phone Pouch For Paddle Boarding
The Red Original dry pouch can be used as a waterproof phone pouch, this helps to keep you safe in an emergency, as you can always have contact with people on land. The ability to raise the alarm should you need to is extremely important and gives family reassurance that you can contact someone in the event you get into trouble, or more importantly, capture that timeless memory on the water!
Weather Conditional Items
We all know and love the traditional British weather, however, it can prove to be a little inconvenient when trying to make plans outdoors. In this instance, we would suggest packing items that ensure you are safe from ever-changing weather conditions to be prepared. Simply packing a small tube of suncream, a hat, and some gloves will certainly help.
Bike Day Kit Bag
When heading for a spin at the weekend the trusty saddle bag doesn't always offer the protection or size to carry everything. With the Waterproof Pouch attaching directly to your handlebars, you can have your phone, spare inner tubes, repair kit, and jelly babies all in easy reach for when you stop.