Return to blog
5 Outdoor Accessories That Also Save Energy
Brand
Hiking
Products
Red Original
Posted by Luke Green
SAVE ENERGY & MONEY BY USING THESE OUTDOOR ACCESSORIES AROUND THE HOUSE
Global warming and climate change are two massive problems facing the world today, but even a few small energy-saving adjustments made by enough people can make a whole world of difference. Here at Red Original, we offer a wide range of equipment and clothing generally associated with watersports and outdoor use. However, these outdoor accessories can also be used as energy-saving products around the home that will not only save you money - but, of course, the planet!
Energy Saving Product #1 - Cooler Bag
Is your fridge a constant squeeze for space? Instead of investing in another fridge that you will have to purchase and power, why not consider investing in a Red Original waterproof cooler bag? Capable of keeping its contents cold for 72 hours, our insulated cooler bag is perfect for perishable items. Made using our 'Armour Tech' fabric and a robust YKK Aquaseal Zip, the food and drink stored inside will be protected from accidental knocks and pets trying to break in.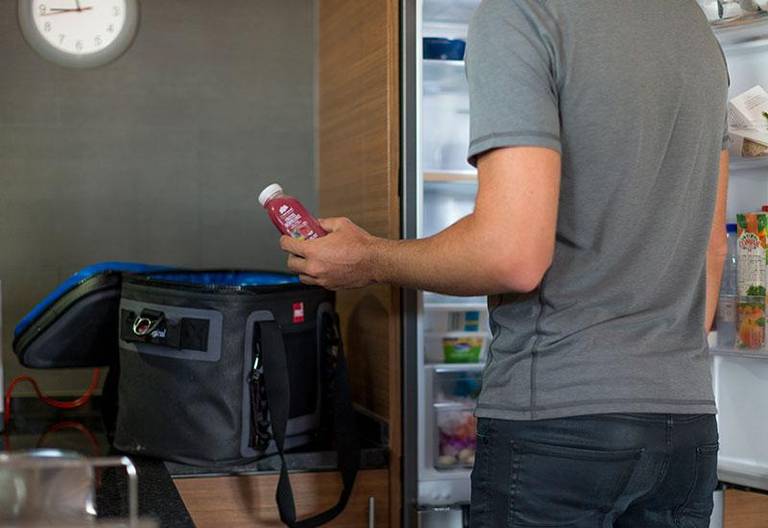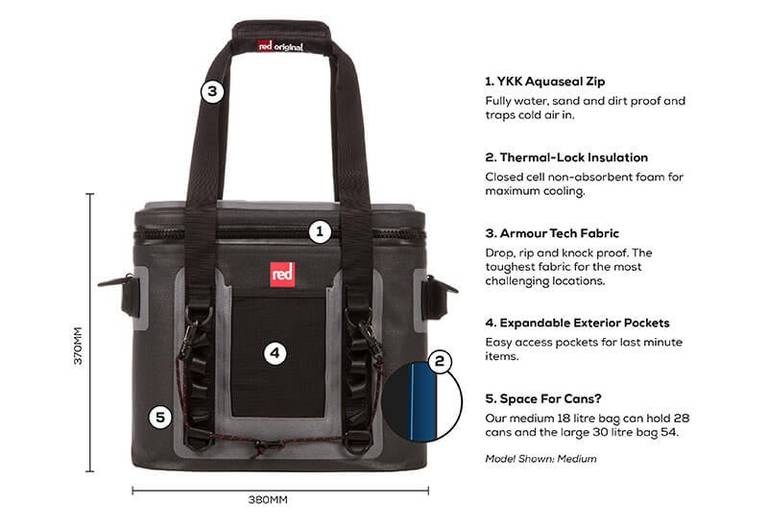 The Red Original waterproof cooler bag is available in two sizes. Our medium waterproof cooler bag has a capacity of 18 litres, which is large enough to comfortably hold 28 cans, while our large option has a capacity of 30 litres and will easily hold up to 54 cans. Perfect for summer BBQs and other back garden events, one Red Original customer remarked that 'It kept my food cool for 2 days even though I only used one Ice block'. This is in stark contrast to your average fridge, which likely to use between 1 to 2 kilowatt-hours of energy (kWh) over the course of a full day.
Energy Saving Product #2 - Pro Change Robe
We know that keeping the heating on throughout the colder months is tempting, but why not consider saving your cash and the planet by throwing on a Red Original Pro Change Robe. Designed to keep wearers warm and cosy (and dry) while taking part in outdoor activities, you can crank the heating all the way down while wearing our hooded changing robe and still feel perfectly snug.
Designed by and for both women and men, our Change Robes are made using triple-layer construction for increased thermal retention and have super soft fur lining that you'll just love to wrap yourself up in. They also come with fleece-lined handwarmer pockets, fleece-lined hoods, and fleece-guarded zips to help ensure your hands, neck, and head stay warm too.
Energy Saving Product #3 - Stainless Steel Water Bottles
Another great way of saving energy is by using a high quality insulated drinks bottle like the Red Original Stainless Steel Water Bottle. Built to last, these bottles are easy to keep clean and can be used over and over, so you'll never need to rely on a plastic bottle ever again. Like the travel cup, our water bottle is able to keep its contents hot or cold for far longer than they otherwise would be. In fact, our water bottle does an even better job than our travel cup, keeping cold drinks cool for 24 hours and hot drinks hot for up to 12 hours.
Made from high-quality, super-insulated marine-grade (316L) stainless steel, the Red Original water bottle is perfect for limiting the number of times you have to boil the kettle. With a 750ml capacity, you can store a hot tea or coffee you made earlier in the water bottle and decant it into a mug as and when you fancy it. When working from home, members of our team have been known to make a day's worth of coffee, share it between the water bottle and travel cup, and enjoy piping hot beverages throughout the day having only boiled their kettles once.
Energy Saving Product #4 - Insulated Travel Mug
40% of Brits admit to boiling their kettle at least 4 times a day, and assuming these kettles are full, they will use 0.1 kWh per boil. Why not consider ordering one of our insulated travel mugs to limit the amount of times that you have to boil your kettle? The 100% BPA free insulated travel mug is a great energy-saving product as its double-walled construction ensures hot drinks stay hot for 4 hours and cold drinks remain cold for 8 hours.
The Red Original insulated travel mug has a 568ml capacity, almost double that of your average coffee mug. Considering most people boil more water than they actually end up using, filling up a travel mug is incredibly efficient and could greatly reduce the number of times a kettle is boiled throughout the day. As an added bonus, thanks to its double-wall insulation and lid, you can enjoy your drink at a higher temperature for longer! This may not seem like a big deal to some, but will mean a lot to anyone who has ever lost track of time and taken a gulp of a stone-cold coffee!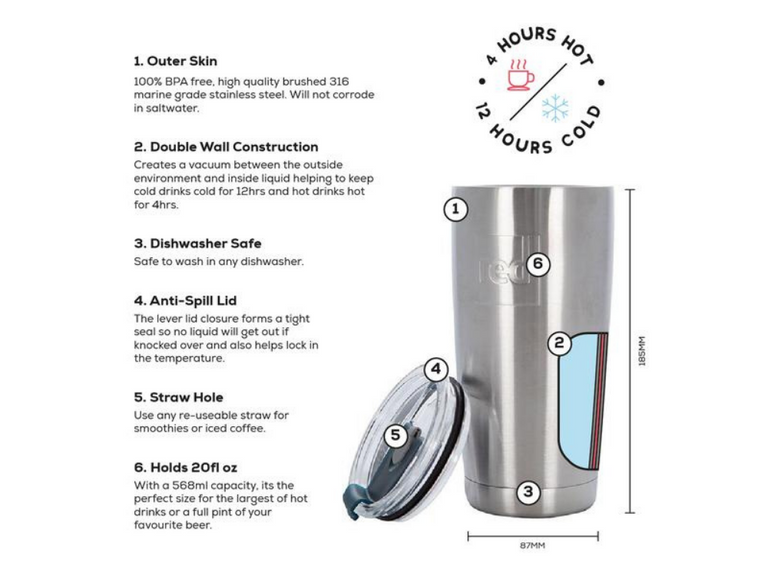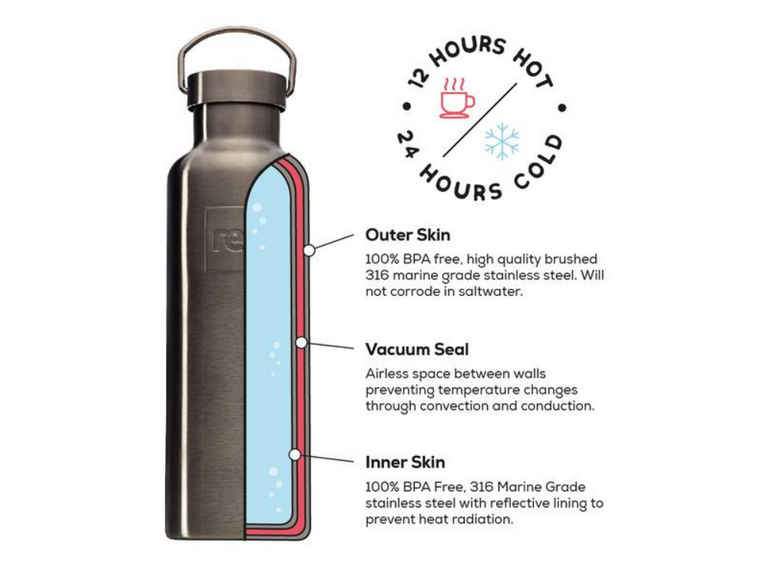 Energy Saving Product #5 - Microfibre Towel
The Red Original Large microfibre towel is made from a super-soft microfibre fabric that can absorb four times its weight in water. Despite this, you'll find our towel dries much faster than a standard towel and its inherent anti-bacterial properties will help keep it fresh and clean for longer. 80cm x 150cm in size, it ought to be big enough to comfortably fit around your waist, but only weighs half as much as a standard cotton towel. This makes it much faster and easier to dry, and that means washing and drying times can be kept to a bare minimum.
Thanks to its anti-bacterial and anti-odour properties, our quick-dry microfibre towel is also ideal for drying dishes and cutlery while washing up. We've also found that it's popular amongst pet owners, who regularly use theirs to dry dogs with after bathtime.