Return to blog
10 Uses For The Red Original Waterproof Pro Change Robe
Red Original
Posted by Ross Montandon
One sport is never enough for those who like to keep busy and stay fit all year round. Whatever the season, you'll want something to do to get your heart going and plenty of activities to keep you occupied. From surfing and camping to cycling and kayaking, it's rare to find items that crossover from sport to sport and the kit list soon racks up while the space to keep it all quickly dwindles.
Fortunately, the Red Original development team has come up with the Pro Change Robe, the only changing jacket versatile enough for all weathers and environments. Ideal for sports and activities on land or at sea, the Pro Change Robe is the perfect choice whether you're a rugby coach wanting to stay warm on the sidelines or a keen open water swimmer in need of some privacy while getting changed on the beach.
Available in sizes for men and women, we're going to share our top 10 uses for the Red Original Pro Change Robe to prove how truly versatile these waterproof change Robes really are.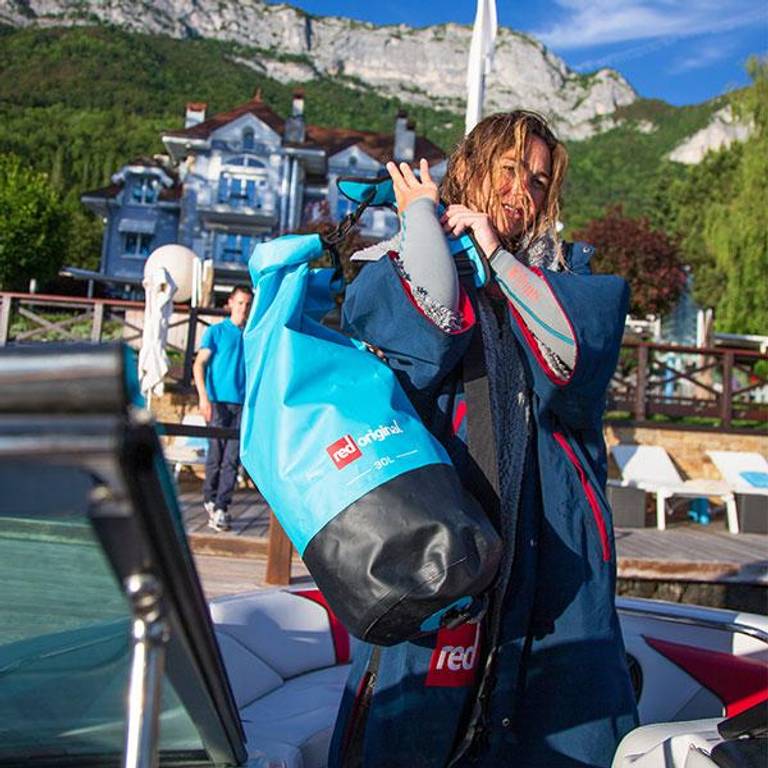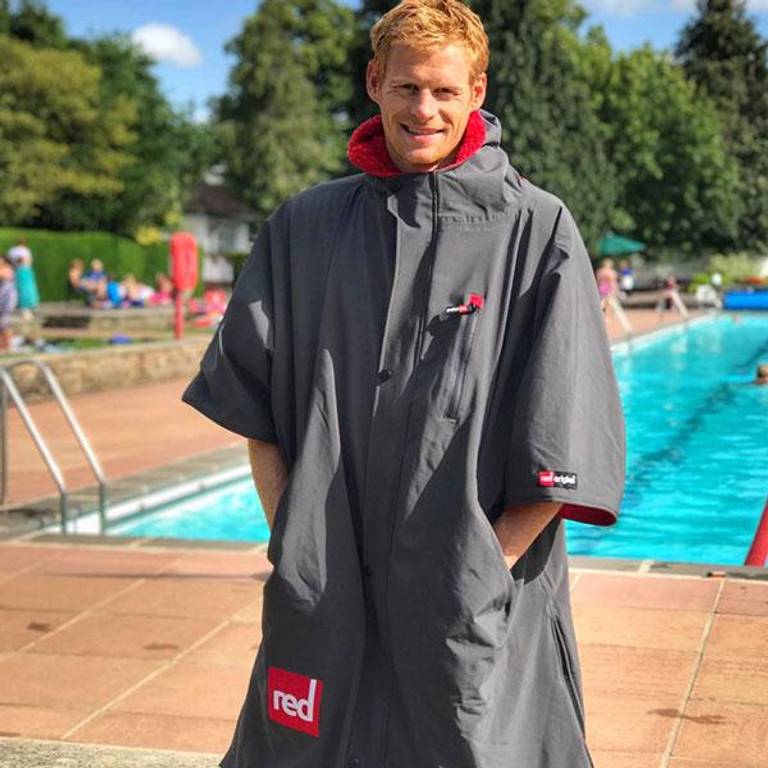 Surfing
Not all our days in the surf are greeted by blue skies and clean breaks and predicting the elements can be half the battle for a day's surfing. Luckily, anyone who's ever had to get changed in a windswept beach car park can now appreciate the warmth of the Red Original Pro Change Robe. This surfer-friendly waterproof changing robe is a must-have in the back of the car as its large stretch panels allow for quick and easy changing. The triple-layer construction protects from ripping winds whilst its moisture-wicking fur liner draws unwanted moisture away from the body to help keep wearers warm.
If you're hanging out in between sets, the large hood, deep pockets and fleece guard ensures you can sit back, hang out, and wait for the perfect break in the weather to hit your next session.
Dog Walking
It doesn't matter if there's lashing rain, heavy snow or gailing winds, your best friend is undoubtedly eager to get out for a walk. While your dog may not mind getting wet and covered in mud, however, what do wear to keep warm, dry, and mud-free? The Pro Change Robe, of course! Its tough and durable exterior can comfortably endure long walks in the battling climates and the roomy sizing allows you to throw it on and off as you go! What's more, thanks to its 4-way zip, there isn't a quicker or easier way to wrap up warm if the heavens unexpectedly unfold.
The stretch panels provide plenty of movement for wearing boots and wellingtons for those days when you have to really layer up. The fur-lined hood can be pulled up and secured comfortably when the winds really pick up. Once home, the Pro Change Robe can be washed and dried quickly and ready for next time!
Camping
Whether you're snuggling up by the campfire at the end of the day or throwing it on first thing in the morning to help you warm up, the Pro Change Robe's fur liner is the ultimate welcoming touch when you simply want to wrap up. Ideal for warming your hands in, its deep fur-lined pockets are perfect for storing head torches and camping treats, while the added length and stretch panels make for that rainy dash to the toilet or shower block a breeze. Needless to say, the waterproof outer fabric can handle the wild weathers of any camping adventure.
Pitch Side
Whether you're a sports coach, a substitute, or a supportive parent keen to see that first goal, standing cold and wet on the sidelines is no fun. Lucky for you, the Red Original Pro Change Robe is the ideal pitch side jacket! Waterproof, warm, and breathable, the outer shell is made from a premium fabric that helps you stay dry even if the game goes into extra time. Not to mention the 4-way zip allows you to really bunker down if you need to. Available in two stylish colours, red & grey and navy & grey, you can stay stylish on the sidelines no matter which team you're on.
With additional features such as the waterproof pocket for small valuables and chunky poppers for quickly wrapping up, the Pro Change Robe is the perfect waterproof jacket for spectators, substitutes or coaches.
Wake Surfing
Believe us when we say there are few better ways to let the adrenaline subside than sat on the back of a boat in a Pro Change Robe. Designed to be quickly thrown on and keep you warm and dry in between rides, carrying a jacket of this size is no problem as it packs down into a 10-litre roll top dry bag. While compact, when it needs to be, the large sizing of the jacket when opened out allows it to be worn in many ways. IT can be slung over like a snug, zipped up to the hilt when chilly, or simply worn over the shoulders if your gear is bulky or you're looking for a quick transition from boat to board!
Kayaking
Kayaking is one sport that requires a lot of kit; buoyancy aids, drysuits, footwear, helmets, you name it. There's a lot of kit to get on and off as you're getting ready, which is where the large sleeves, stretch panels and added length comes in handy!
Triathlon
We all know that with all competitive sports there is a lot of hanging around until the word go! The Pro Change Robe once again comes in handy for both competitor and support crew, as its moisture-wicking fur lining draws sweat from the body to pevent that cold clammy feeling. The chunky zipper pulls have also been designed so that they are easy to use whilst wearing gloves, which is an added bonus!
Open Water Swimming
It goes without saying that the hardiness of open water swimmers is next level! Having said that, we're sure most would welcome a cosy Pro Change Robe to warm up under after that traditional New Years swim in the sea. The extra length and premium windproof outer shell can keep the wildest of weathers out ensuring you stay nice and cosy
Obstacle Racing
Obstacle races have become increasingly popular over the last few years and we all have that one friend who's mad about doing them. Rope swings, swimming wall climbs and endless mud are all staple ingredients and the Pro Change Robe will be there ready and waiting on your victorious completion. Avoid the muddy trail in the car as the jacket's easy-to-clean fabric allows you can keep the mud at bay on the drive home.
Paddle Boarding
The Pro Change Robe's grassroots came from paddle boarding, so it's little surprise why its features excel for such an activity. Whether you're waiting for the wind to drop, for a break in the clouds for some sunshine, or just fancy warming up after a slightly wetter day out, our waterproof change robe will see you through the worst of it. In fact, thanks to its large pockets, fur-lined hood and moisture-wicking fabric, and general all-round luxurious feel, you may end up spending more time in it than expected!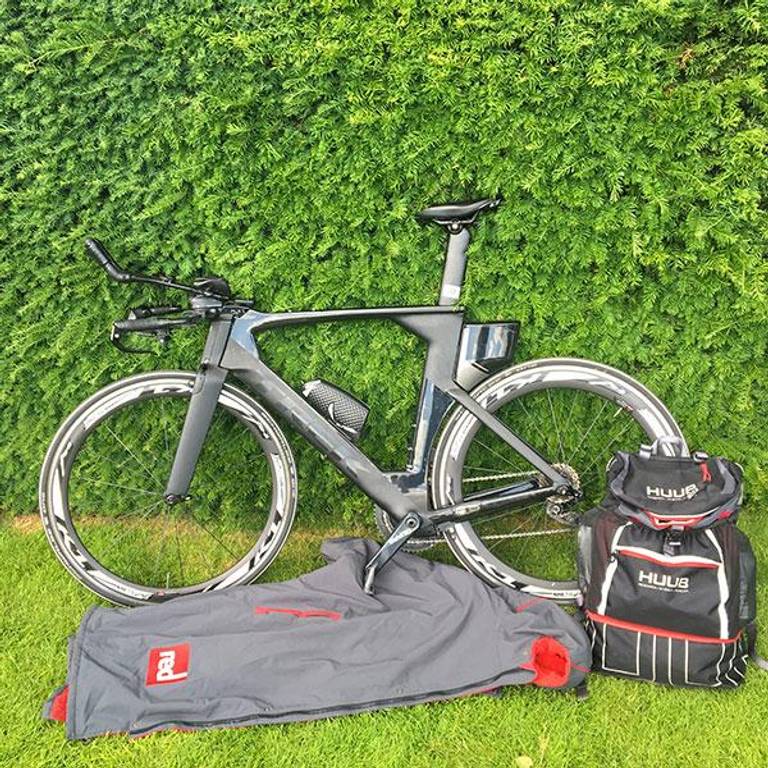 A Pro Change Robe For All Sports & Activities!
Waterproof, warm, dry and ready for any adventure, the Pro Change Robe is one of the most versatile Red Original products available. Whether you're an open water swimmer, fell runner or just one of those outdoorsy types, this waterproof change robe will look after you throughout your outdoor adventures.