Return to blog
Red Paddle Co FAQ: Does Paddle Board Size Matter?
Posted by Alex Clasper
Okay, so you're asking yourself 'what size paddle board do I need?'. You look into it and find a big table with lots of very specific measurements on it. Sound familiar? We're sure that you've seen plenty of tables with all kinds of paddle board sizes and measurements on them telling you exactly what kind of paddle board you should be getting. But are they right? Does paddle board size really matter? In this blog post, we'll take a look at the importance of paddle board size and explain why it may or may not matter to you.
The reality is… sort of. The exact length and width of your paddle board is mostly unimportant, up to a point. Paddle board sizes can be quite flexible, and a few inches are unlikely to make any realistic difference. Obviously you're going to want to avoid a massive board if you yourself are quite small, or one that's too small if you are very tall. Mismatching your paddle board size with your body will make your board extremely difficult to control and balance on. But this is generally only an issue on the extreme ends of paddle board size. The most popular paddle boards generally come in around 10-11 feet long and 32-34 inches wide, and will suit the vast majority of paddle boarders just fine - all-rounder boards are called that for a reason.
However, there are times where one would want to be more careful with their paddle board size. A beginner paddler, for example, is recommended to select a generally wider board when just starting out. This is because a wider board is more stable in the water and easier to balance on. If you're just starting out on your paddle boarding journey and don't have much experience, having extra width on your board will help you ease into SUP.
When it comes to paddle board size, an advanced paddle boarder is likely to select their board based on specific design characteristics over more generic advice based on body measurements. As longer boards are good for going fast in a straight line, they're generally better boards when it comes to racing. Meanwhile a shorter board won't be as fast but is more portable and manoeuvrable, and thus would be better suited to activities that would benefit from the added flexibility. A good example of this would be SUP surfing. Paddle boards designed for surfing are much shorter and have pointer noses and tails than the average board for maximum performance in catching waves. Advanced paddlers will be aware of these requirements and choose their board based on the factors instead of paddle board size.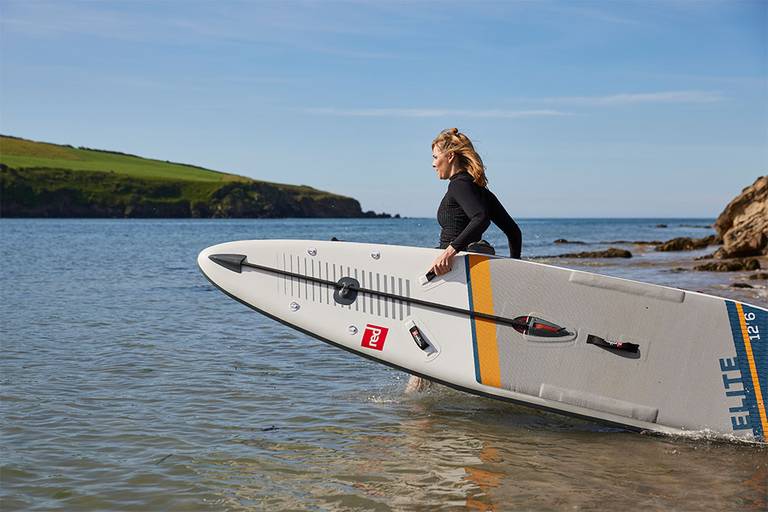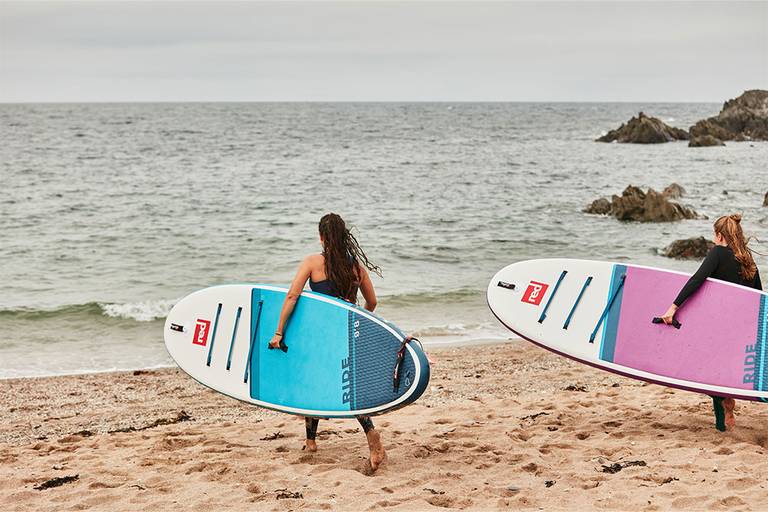 Our recommendation is that you do make use of the multitude of guides available to you, but treat them as just that - guides. If you've spotted a board that you like the look of or perhaps are interested in making use of the features it has, but it's a couple inches shorter than what the table says, you can comfortably go for it. The table is a good advisory tool but it isn't gospel. This is why we have put together our paddle board selector tool to help you find the right board for you! It takes into account experience, where/how you want to use it and if ultimate storage is of importance.
So that's the reality of the importance of paddle board sizes! We hope that's been helpful to you. If you're looking for a great paddle board to get started with or just to add to your collection, check out the awesome selection of boards on offer from RED. If you have any questions about the size of your paddle board, or need any other SUP-related assistance, get in contact with our team for any advice or help you need.