Return to blog
Exploring The Finnish Archipalego With Natasha Sones
Location: Finland
Nature
Paddle Boarding
Posted by Lydia Burdett
We spoke to Natasha from Natasha Starseeker about her recent paddleboarding trip to Finland's archipelago.
How did you prepare for your trip to Finland?
As one of the winners of the Adventure Queens grant, my human-powered adventure idea was to solo paddleboard around the eastern archipelago around the city of Helsinki which consists of around 330 islands. I wanted to explore the gateway to lush green forests, sandy beaches and coastal nature as a contrast to the bustling city. So with my camping gear, clothing, food and drink I set off to have an off-grid adventure on the water. It was absolutely amazing and doing it by paddleboard is ideal.
I had so many questions I didn't even know where to start. Could I really paddle on my own? In a foreign country where I don't speak the language. How would I get my SUP over there and was it big enough for touring on? Would I be safe?
To prepare for the trip I did a lot of research. I found a local outfitter, who hire out kayaks and SUPs and offer tours. I was taking my own SUP with me but I did hire a stove from them to avoid having to find somewhere to buy gas as I couldn't take it with me on the plane. They kindly let me launch from their canoe centre and stowed my SUP bag and suitcase for me.
My biggest concern was safety. In Finland marked canoe routes are not common and islands are not signposted. Therefore I went on some training courses, including a River Users' Course and the British Canoeing Coastal Navigation and Tidal Planning Course. I attended webinars about paddling in different countries and spoke to lots of experienced paddlers and adventurers for advice. I also undertook as much paddling as possible, practised self-rescues and purchased kit.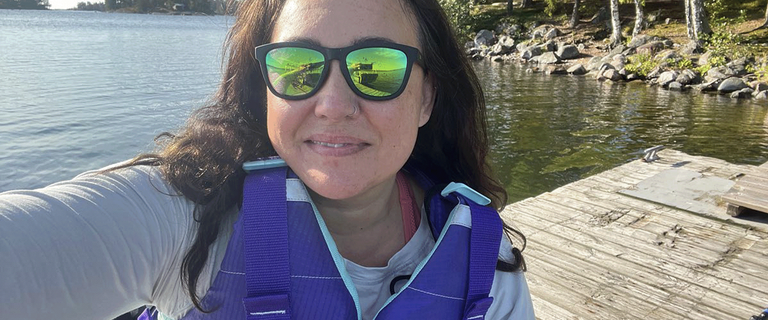 Can you tell us what gear you took and why its important to have the right gear for this trip?
For safety I took with me the safety equipment that I always take out; a buoyancy aid, a mobile phone in drybag and a quick-release waist leash. I also had two power banks in dry bags, my Garmin Solar watch, compass and a nautical map for navigation. Plus I hired a Garmin inReach Explorer+ for the duration of the trip, as I didn't manage to find a Personal Locator Beacon to hire. I had a gifted premium subscription to Komoot which helped with route planning. I had originally planned to hire a paddleboard from a local outfitter. But after getting advice from other people I realised the hired one wouldn't have the amount of bungees and cargo space I need. Therefore I decided to buy a touring board, the Red Paddle Co 12'6" Voyager.
I knew I would need 2 -3 dry bags, as all gear needs to be protected from the water in case it falls in. I took an Osprey Transporter WP Duffel 70 litre as my main drybag, kindly gifted as part of the Adventure Queens Grant. I also had a Red Waterproof SUP Deck Bag, which was kindly gifted. Deck Bags provide additional storage for items that you need to hand whilst on the water, and have multiple attachments to leash them to the paddleboard.
Proper clothing is the key to enjoy the Finnish summer, especially as I was camping in forests. I was lucky to have been given quick-drying, comfortable clothing from Eddie Bauer so I wore leggings and a long- sleeved shirt in case of any mosquitoes (I did get bitten unfortunately!). I made sure I had a dry change of clothes handy for off the water and in case I fell in.
Other gear included a lightweight MSR Elixir 1 tent, water filtration tablets and a trowel for toilet holes! Luckily the island had a compost toilet so I didn't need to use this.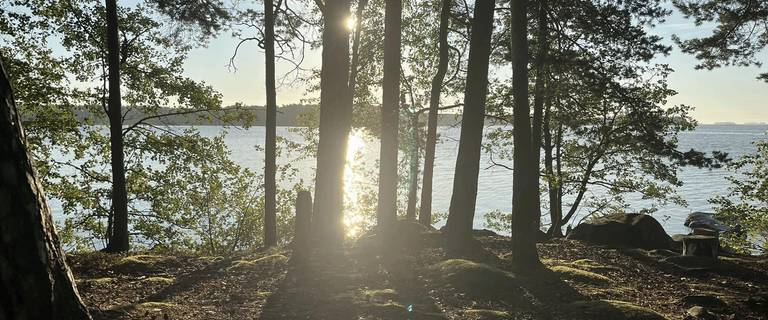 Red are running a campaign this year called 'Upgrade your adventure', can you tell us more about how your Red Paddle Co Voyager 12'6" performed out in Finland with various conditions and why it was the perfect board for your trip?
In preparation for the trip I bought a new touring board. I tried a lot of brands but was blown away by the 12'6" Voyager touring board after trying a friend's. I find it so incredibly stable and this was invaluable when I was paddling on the Baltic Sea. It was really choppy but the board is amazing and she (I've named her Ruby) cut through the waves with ease. I didn't feel close to falling off, despite all the kit I was carrying on the board. The V-Hull and twin-fins ensure excellent tracking and glide so it feels really smooth. The Voyager was ideal for carrying all my kit as, at 32" wide with 360L of volume, there's ample stability and room for loads. There are loads of anchor points and D-rings for carrying kit, plus it packs down neatly into a backpack for easy transport and storage. I managed to fly to Finland and back with it really easily.
Where was your favourite location/paddle in Finland?
Malkasaari island was my favourite location as it ended up being the island I camped on. It has several beaches and picnic spots, and the island's vegetation is forest-like. The island features various services for visitors. There's a covered outdoor kitchen with a fireplace and a charcoal grill, a recycling spot and a compost toilet. Overnight camping on the island is allowed on this island (not all of the islands in this area allow this) as long as it is short term. There is also a sauna, although this wasn't currently in operation. I had intended to camp on a different island as well but my plans changed and actually it was really nice having a base to go back to for a few nights. I came to think of it as "my island". Every day I woke up to the most beautiful view of the sun shining through the trees and the water sparkling. There were other people on the island but they were few enough to feel almost totally alone I rarely saw them. The island was the perfect base for exploring the other islands nearby.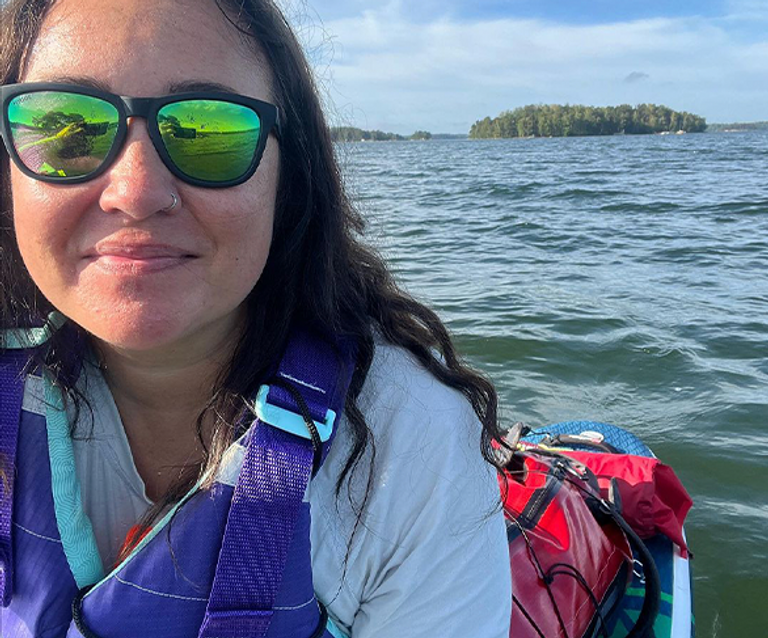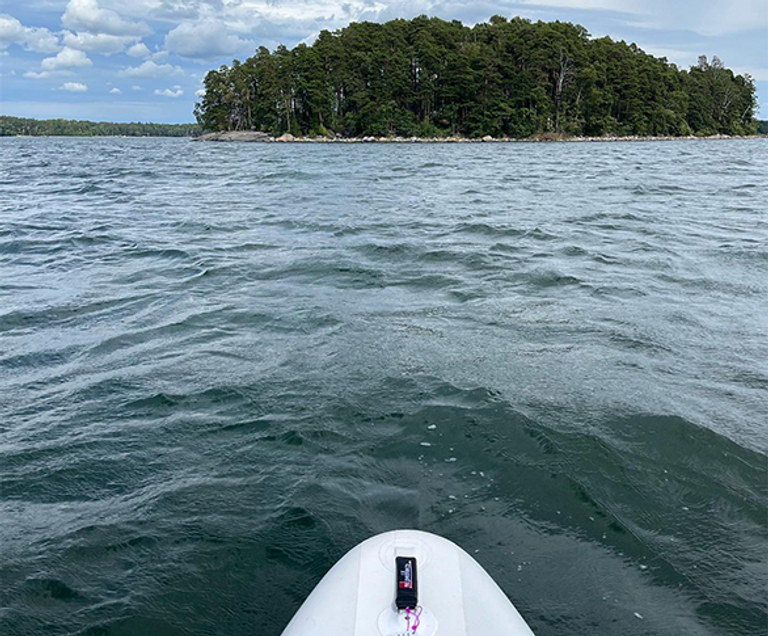 Did you endure any hard challenges on your travels and if so how did you overcome them?
One of the things I found scariest was crossing the boat lanes on the sea around the islands as there was lots of motor boats whizzing around but I managed to navigate those without incident thankfully.
Another challenge was the weather, which was obviously out of my control. Stand-up paddleboarding is very wind-dependent and on the third day there was a moderate wind warning which was upgraded to severe in my area. My priority was always safety as well as adventure so I assessed and opted for just chilling out on the island that day unless the weather changed.
I was feeling a bit down at the thought of no paddle and the prospect of a day doing not much, which felt like a waste of a day. But I did some research to see what I could do. Malkasaari island is not covered by regular waterborne transport but during the summer, you can travel to a few other islands by electrically powered Callboats. So I called a boat taxi, then hopped on a second boat to get to Vartiosaari, an old villa island in southeast Helsinki. It is one of the biggest islands on the archipelago and among the most beautiful islands in Finland. That was a great day where I managed to go for a long hike so I wasn't just stranded on the island doing nothing and I managed to make the adventure even better.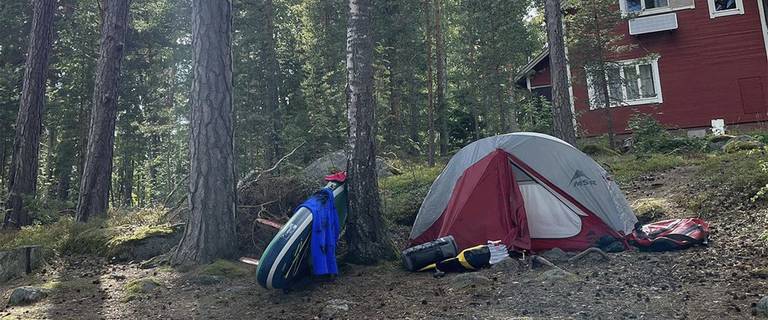 What did you say to those to who are interested in doing a wild camp SUP adventure to inspire and encourage people to go out of their comfort zones?
Finland is a perfect place for solo adventuring and everyone is really helpful. In Finland, nature is both wild and free. The law allows anyone living in or visiting the freedom to roam the countryside, forage, fish and enjoy the recreational use of natural areas. This is known as 'The Everyman's Rights'. Unfortunately in England we don't have many options for wild camping apart from Dartmoor National Park – although there is a campaign (see www.righttoroam.org.uk) to bring a Right to Roam Act to England so that millions more people can have easy access to open space, and the physical, mental and spiritual health benefits that it brings.
Camping SUP adventures are a great experience I think. All you need is a few willing friends (or go solo!), a SUP and somewhere to pitch your tent. Carrying your kit on your board is really not too difficult, just make sure you have drybags and strap it all down securely – and away you go! You can experience the world at a leisurely pace from the water and be totally self sufficient. You can also fit on much more stuff than a kayak.
I felt very lucky to be the first paddlesports winner of the Adventure Queens Grant as it gave me the push I needed to do the adventure, especially having money and kit and mentorship to help me. I really enjoyed my adventure and didn't find it daunting do it all solo. There are grant opportunities available in the adventuring world but you don't need that to just go and have fun. I'd encourage anyone to try it, you will have the time of your life!
What's next for Natasha?
I'd like to get a SUP Leadership/Instructor qualification and see where that will take me. I would love to continue to be an ambassador for stand-up paddleboarding and to keep encouraging women and girls especially into the world of paddlesports.
My adventure has given me a lot more confidence in paddleboarding and I now will try lots of different places to paddle. I hope I've inspired more people to realise that paddleboarding adventures are right there ready to be had!
Follow me @natashastarseeker on Instagram to see what other adventures I get up to!