Return to blog
Introducing 3 New Red Original Pro Change Robe Colours!
Posted by Alex Clasper
Perfect for keeping warm in cold and wet weather, or for changing outdoors discreetly, the Red Original Pro Change Robe Evo is an essential for any outdoor enthusiast. Packed full of technical features to ensure comfort and protection against the elements, style is an equally important consideration in this design. A flattering fit ensures excellent comfort and appearance, and the best part? There's 3 new colours to choose from!
The waterproof and breathable outer shell of the Red changing robe is now made from 100% recycled fabric, complemented by an insanely-soft recycled inner fur-style fleece that draws moisture away from the skin. The 3 new colours to choose from are:
Mulberry Wine
Perfect for adding a subtle hint of colour to your outdoor wardrobe, the rich tones of the mulberry wine colour are beautifully contrasted by a rich blue lining and trims. (Looks great when paired with a grey or black beanie!)
Stealth Black
Timeless in appearance, this all-black Red Original Pro Change Robe features a flattering black outer shell and matching fur lining. The stealth black waterproof changing robe differs from the original black Pro Change Robe which is slightly darker in shade and features red trims.
Sea Mist
The perfect fit for water sports and adventures in the great outdoors, the new sea mist colour is a subtle light blue that's complemented by a darker navy blue inner fleece lining.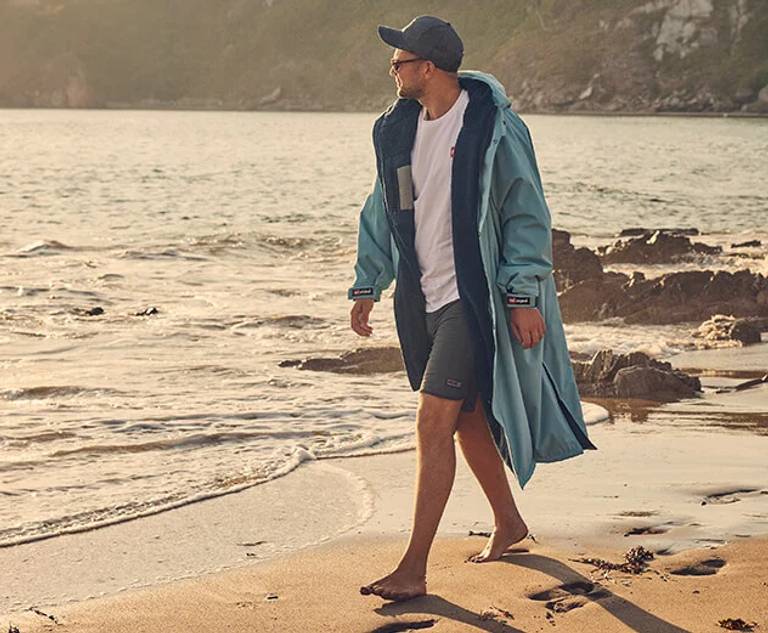 The 3 new colours of the Red Original Pro Change Robe join our existing assortment of colours, including our bestelling favourites. This includes black, grey, parker green, teal, navy, hawaiian blue and fuschia pink - This means there's plenty of choice when looking for the perfect waterproof changing robe to suit your style.
Red changing robes aren't just built to look great. Our design team has spent a huge amount of time researching and testing the fabrics and tech specs that make the Red Original Pro Change Robe what it is. As a result, the Red Original Pro Change Robe can be relied upon for warmth, comfort and waterproof protection in any weather, all thanks to the following features:
Toggled hood with 5 popper wind baffle for enhanced protection from the elements

New recycled 8k/3k waterproof and breathable outer shell to provide comfortable coverage from the rain

New recycled super-soft and moisture-wicking fleece lining for getting dry quickly whilst stay warm and comfortable

Multiple inner and outer storage pockets for keeping valuables safe and dry

Increased robe length design for enhanced protection and discreet changing

Convenient stretch side panels for unrestricted changing

YKK two-way zip that's easy to fasten with cold hands
The size of the Red Original Pro Change Robe Evo is based on user height not build. You can read more about how to choose the right size Red changing robe in our simple size guide. If you need any assistance finding your perfect waterproof changing robe, or have any questions, please don't hesitate to get in touch with us.