Return to blog
5 Amazing Features Of Red's New Kids Waterproof Poncho
Posted by Lydia Burdett
As experts at splashing, swimming and playing, It's no secret that little explorers demand a lot from their outdoor gear. That's why our new Kids Dry Poncho combines all of the best features of our existing popular kids changing robes, but with extra innovation and the addition of a Red-first over-the-head design. It's safe to say that the new kids waterproof poncho has been designed to make adventuring with children easier than ever before, keeping them dry, warm and happy in the process.
To celebrate the launch of our latest design, let's take a closer look at the amazing features packed into the Kids Dry Poncho:


Easy Overhead Design
Just one glance at the Kids Dry Poncho draws you to one of the standout features, Red's first-ever over-the-head design. Any parent will be well aware that getting kids changed after any kind of activity can be a challenge - the less you have to faff around with, the better! That's why we decided to think out of the box and create a kids waterproof poncho rather than a full-zip design. Simply throw on when needed and use the handy zipped neck to adjust for effortless removal.


Adjustable Sleeves
As part of the development process when creating our new kids waterproof poncho, we tried to really get to grips with the challenges that parents face when investing in new bits of kit for the kids. It can feel like there is an endless amount of things to buy and replace at any one time, particularly when kids grow quickly and suddenly. To reassure busy parents, we opted for a sleeve design that can grow as your kids do! Adjustable elasticated sleeve cuffs mean that one size really does fit all.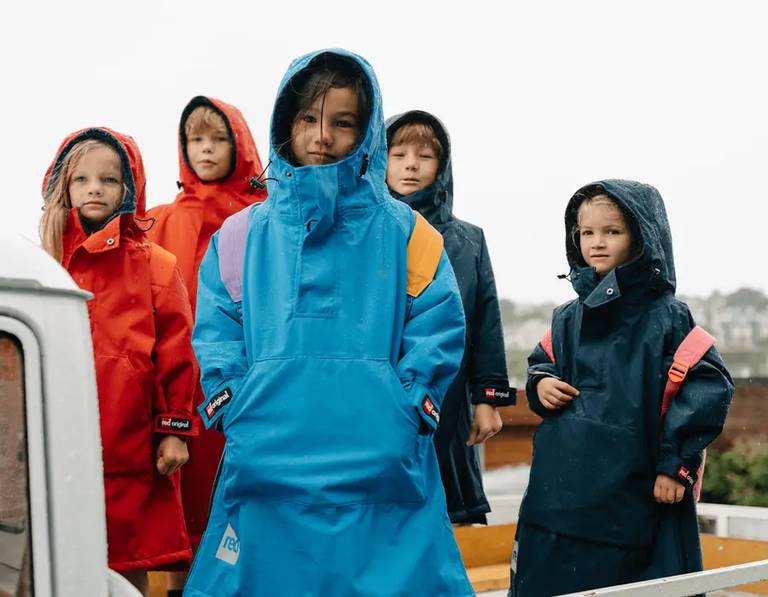 Technical Waterproofing
Warmth and waterproofing are two essential elements of any decent kids changing robe, and our dedicated design team have carefully combined both. Kid-proof, technical 8k/3k waterproof fabric coats the outer layer of the new Red kids waterproof poncho, coupled with a super soft and cosy lining that keeps them just as dry on the inside as on the outside. The technical outer layer of the Kids Dry Poncho is then enhanced with PFC-free DWR to guarantee instant water runoff, making this new innovation the perfect companion through even the soggiest trips out.


Sustainable Layers
As a B-Corp company, we are obliged to consider sustainability in everything we do. Recycled materials have long been a mainstay in many of our products, and after using 100% recycled fabrics for the inner and outer layers of our groundbreaking Revolution Parka, we decided it was only right to bring the same levels of sustainability to our kids range. The new kids waterproof poncho is responsibly produced with equivalent and 100% recycled inner and outer layers.


Reflective Details
When kids are on the go, it's also essential that they are easy to spot. Whether they're getting a taste of independence and packing away their own Red Paddleboard or simply playing with friends or siblings in the park, being able to spot your child at all times is welcome peace of mind. The new kids waterproof poncho is completed with neat but practical reflective hi-vis details that guarantee they will stand out on land, shore, and anywhere in between.
Want to find out even more about our new range of kids waterproof changing robes, including the amazing Kids Dry Poncho? Don't hesitate to get in touch with our friendly team!