10'6" Prone Rescue Inflatable Rescue Board
10'6" Prone Rescue Inflatable Rescue Board
Sale price

£829.95

Regular price

Out of Stock

Our retailers are getting frequent deliveries so please contact your local Red stockist as they'll be able to advise on delivery dates.
Tax included.
Shipping
calculated at checkout.
Translation missing: en-GB.products.product.in_stock
Translation missing: en-GB.products.product.out_of_stock

FREE Next Working Day Delivery - Orders Over £50
For any orders over £50 in value, you'll receive free next-working-day delivery.
If you place your order before 2pm Monday–Thursday, you can expect to receive your parcel the next day (excluding remote areas). Orders placed before 2 p.m. Friday will be delivered on Monday. Orders placed after 2pm on a Friday or over the weekend will be dispatched on Monday and delivered on Tuesday (assuming no bank holidays or remote areas).
Click here for full delivery information

Hassle Free Returns & Exchanges
Orders placed between 1st November and 31st December qualify for extended returns until the 31st January 2024.
Returns are free if the order total is over £75.
Exchanges can be processed through our returns portal with the exchanged product shipped when the original item is received back to us.
Equipment should be new and unused, with all original packaging and/or labelling still attached to the product. Items that don't have the label attached will incur a 10% reconditioning charge, which we will notify you of after inspection of your return. If we do not hear back from you within 4 days of contact, we will return the items to you.
All items are inspected before a refund is processed. Items deemed to be in poor condition will be returned to you. If any item returned breaches any of the terms outlined in this policy, we reserve the right to return the item back to you in the same condition it was received in.

We're Now A Certified B Corp
IT'S OFFICIAL, WE'RE NOW A CERTIFIED B CORP
Since day one, we've been committed to Taking Steps to be more responsible in everything we do, from product to people. As we enter our 15th year as a brand, we're proud to have taken the next big step on that journey and become a certified B Corp.

FREE Microfibre Towel With All Orders Over £100
Tis the season of goodwill and to celebrate we're giving away a FREE Microfibre Towel worth £24.95 with every order over £100.
Compact, lightweight and super absorbent, it's a small towel that packs real punch! Perfect for when space is tight and you need to dry quickly.
To claim our festive freebie, just add over £100 worth of Red products to your basket we'll automatically add the towel for FREE to your order.
For full term's and conditions click HERE
At Red Rescue We believe that riding an inflatable rescue board should deliver an authentic experience for lifesavers. It should be built to perform like a hard board but have all the added benefits of being inflatable. We never compromise on performance, safety or reliability.
Developed in partnership with the RNLI International team, this board sets a new precedent in lifesaving accessibility and transportability. Using Red Paddle Co's patented technologies to overcome maintenance, transport and storage issues that come with traditional rescue boards, this board was designed by lifeguards to deliver Performance Under Pressure.

Feature 01
FIN – 8 Inch Touring Fin (US Fin Box).
Feature 02
13 HANDLES – reinforced and strategically placed.
Feature 03
CASUALTY GLIDE AREA – for easy repositioning during rescue
Feature 04
GRIP – Long lasting and comfortable traction.
Feature 05
BATTENS - Patented stiffening system for 40% more rigidity.
Feature 06
ACCESSORIES – Nose mount for camera/radio.
Feature 07
D-RING – Integrated at tail for leash or towing.
Feature 08
INFLATION – Softened valve surround for comfort, combined with the world's best hand pump for quick and easy inflation.
MSL®TOUGH: Heavy Duty Durability for Lifesavers.
.
MSL®TOUGH is a heavy duty, super-durable material, designed to withstand the rigours of surf lifesaving and lifeguard use.
Stiffness: Reinforced coating for ultimate stiffness in heavy surf or challenging lifesaving conditions.
Durability: Bombproof design to withstand the intense demands of surf lifesaving environments.
Weight: Optimum control in the water to reduce the effects of wind and waves.
Packability: Easily stowed, carried, packed or transported for lifesaving anywhere.
More Information
Tec Air: Pioneering Paddle Board Design
.
Red Paddle Co is the only inflatable SUP brand that makes boards in its own private facility, using innovative materials and manufacturing methods to produce quality kit you won't find elsewhere. The Tec Air process is how we refine and develop our boards.
We've taken standard inflatable technology and reworked almost every aspect of it. By pinpointing key areas, we've identified improvements – from the precise bonding of layers to the application of optimum rocker curve, triple-taped reinforced rails to our exclusive MSL® drop-stitch material, no element is overlooked.
Before going into production our designs undergo rigorous research and testing. (We've even run tractors and a 22.5-tonne digger over them – they were fine!) Then manufacturing each board takes 72 hours: that's ten times the industry average. Unlike most other paddleboard companies, we never compromise on quality. It's this unique Tec Air process that sets us apart.
More Information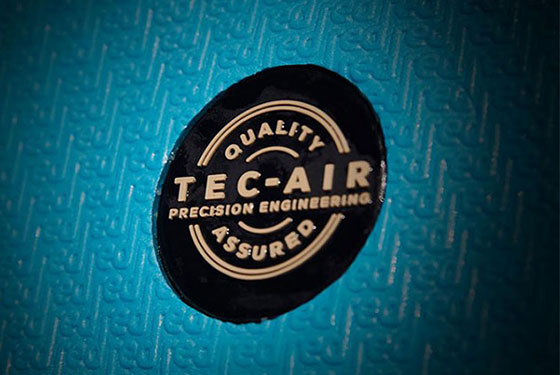 TITAN II: Less Time Pumping, More Time Paddling
.
As an inflatable paddleboard company, we've long realised how important it is to blow-up our boards as easily as possible. That's why we developed the original Titan pump – it was a real game-changer, halving the time it took to pump up...
Since then, our commitment to constant innovation has seen us push the boundaries of inflation technology. That's why we're so confident that our reimagined Titan II is the best pump on the market. Quite simply, it puts air into your board faster and reaches a higher pressure with less effort.
The double-chamber Titan II has a bayonet fitting at both ends of the hose, attached directly to the airbox to reduce leaks and so it doesn't thrash about in use. Folding feet and a removable quick-release handle reduce the size by 30% when you're finished, making it more packable and portable.
MORE INFORMATION