Return to blog
Lightweight & Compact, Meet The New Red Original 10L Dry Bag
Posted by Alex Clasper
For some adventures, you only need to bring the bare essentials. This is where our new 10L dry bag comes to the rescue. Lightweight and compact, this practical dry bag might be small in size, however is 100% waterproof and durable to be relied upon in any outdoor environment. Let's take a closer look at the key tech specs:
Convenient 10L Size With Internal Pocket
Don't be bogged down by a large bag when you don't need to. 10L is the perfect size for carrying the likes of valuables, snacks and a water bottle for smaller adventures, helping you stay fast and light when you're on the go. You may also be surprised to hear that this small dry bag even fits a Red Original Pro Change Robe. A large water resistant internal pocket helps you keep organised, and provides additional security for transporting valuables like phone and wallet. For larger loads, Red's 30L or 60L roll top dry bag backpack is the perfect choice.
Complete Waterproof Defence
Our dedicated design team have carefully chosen every material and construction technique used to make the 10L dry bag in order to ensure it is 100% waterproof, even if fully submerged. This is thanks to the choice of durable, puncture-resistant material that repels water and is easily wiped clean. The resilient choice of material is supported by wide welded seams and a secure roll top closure with an easy-to-use clip system. A reinforced base enhances durability in all environments.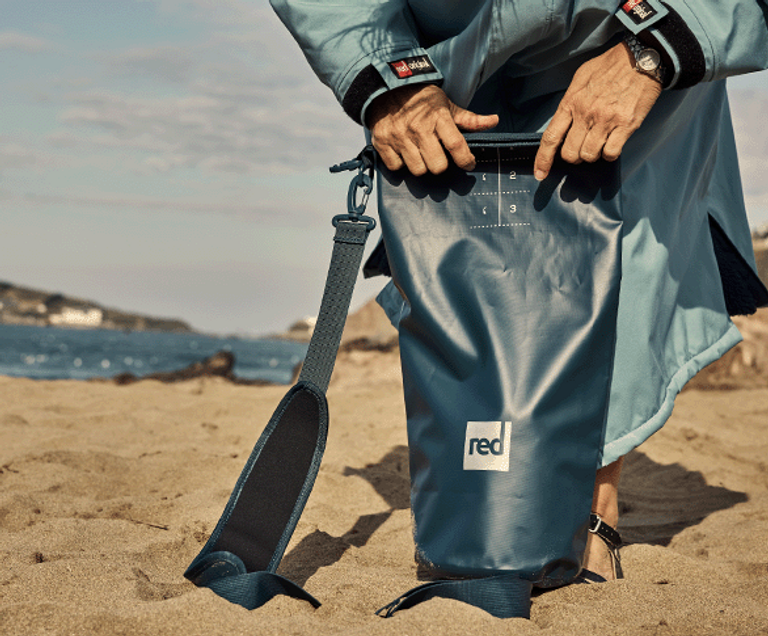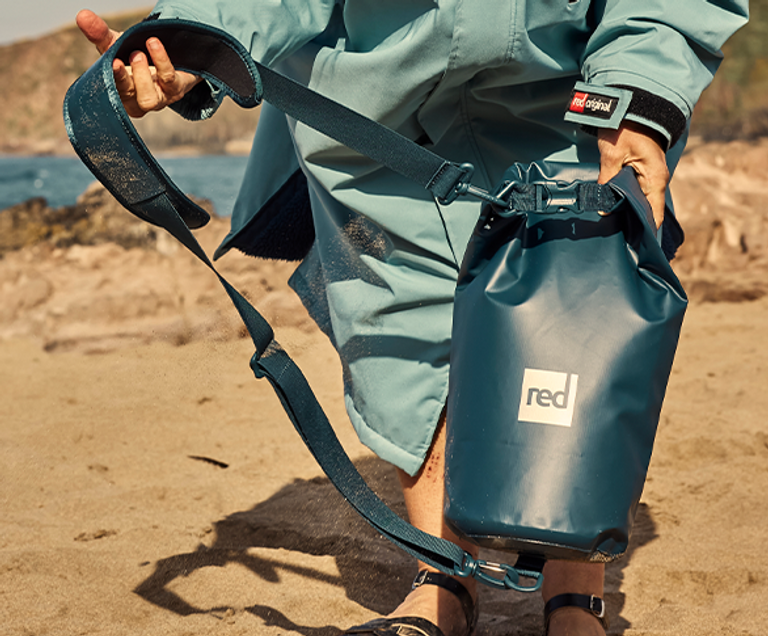 Colour Coordinates With Your Red Paddle Co Board
The 10L dry bag, like all other Red Original dry bags, has been designed to work in conjunction with the Red Paddle Co board range. Choose from a choice of ride blue, deep navy blue or venture purple to suit the rest of your Red gear. Sleek in size and appearance, the 10L dry bag will blend seamlessly into any setting, whether you're hitting the beach or enjoying a coffee in town after a fun session on the water. A reflective Red logo detail at the front of the bag helps to enhance visibility in low light conditions.
Effortless & Comfortable To Carry
Of course, the lightweight nature of the 10L dry bag makes it effortless to carry, however that's not the only benefit of opting for this small dry bag. The bag can be carried using the practical top handle or using the detachable shoulder strap. The shoulder strap is fully padded to enhance comfort and is simple to attach/remove using the easy-to-use clipping system. The detachable strap enables you to sling the bag over your shoulder, so that you can carry your other gear, like a paddle board, without hassle.
Practical & Versatile
The benefit of the 10L waterproof dry bag being so compact in size, is that it is suitable for a diverse range of outdoor activities. Whether it's a day at the beach, a fun paddle boarding session, time spent kayaking or sailing, or even a wet weather hike, this compact Red Original dry bag is effortless to take with you wherever you go. The multi-use D-ring attached to the base offers plenty of versatility for attaching to different watercraft, including but by no means limited to paddle boards.