Return to blog
Introducing the NEW Red Original 30 Litre Waterproof Backpack
Products
Red Original
Posted by Ross Montandon
Arriving in time for a 2020 pick-me-up, the Red Original waterproof backpack is designed for the everyday adventure lover and its slick design packs a punch when it comes to keeping your items dry and safe. Whether you're commuting or exploring your local trails, this 30 litre backpack comes with some key features allowing you to separate business from pleasure with ease.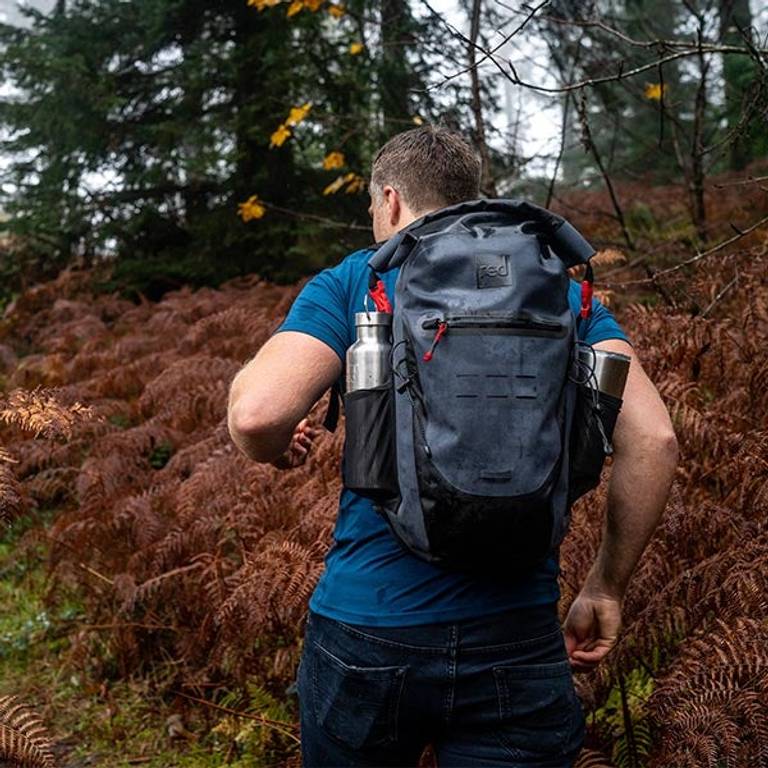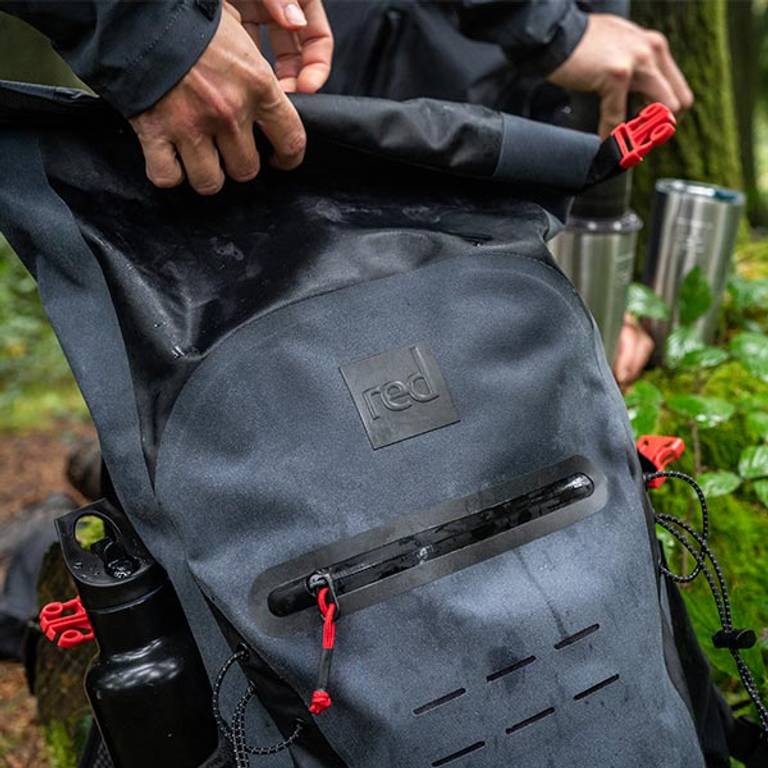 Why We Created A Waterproof Backpack
Here at Red Original, we recognise how valuable our time outdoors can be. We also appreciate that we're all juggling busy lives. From office to the gym, from the gym to our evening paddle boarding meet up with our friends. We wanted to create one bag that could handle the everyday adventure. A bag that could be thrown on a plane (when allowed) and protect your laptop, yet still handle being attached to your paddle board as well as being thrown over your shoulder on the way to work.
If you had one bag to go anywhere and put up with all the adventures you care to throw at it, then the 30 litre Waterproof Backpack is the perfect companion to have along…Oh, and did we mention it's mainly made out of 100% recycled plastic? Now that we have your attention let's take a closer look at the key features!
Key Features Of The Red Original 30 Litre Waterproof Backpack
Fully Waterproof
From the rain to the rivers, the technical waterproof fabric can keep out heavy rain for those pouring showers, or a Saturday morning SUP session. The simple tried and tested roll-top closure allows quick and easy access for those grab-and-go items. The removable laptop sleeve allows you to remove the business end of the bag and load up on adventure snacks and supplies.
Drinks Bottle Holders & Water Resistant Outer Pocket
We've added a large drinks bottle holder on either side of the bag for quick and easy access for your drinking on the go. Or if you're off to a wild swimming spot this is an ideal location to store your wet Microfibre towel and swimwear. For smaller items, we've added a water-resistant outer pocket for items that need to be kept dry yet still have easy access to.
Removable Padded Laptop Organiser & Hidden Internal Pocket
Our removable padded laptop organiser allows you to store your laptop (up to 10" wide) safely and securely. Allowing you to breeze into those meetings then off to the beach in one stride. Come the weekend the organiser can be completely removed to make room for towelling robes, towels and other key adventure items.
For the forever 'out-of-sight' items the internal secret pocket is the ideal home for your wallet and car keys. Long gone are the days of rummaging around in the bottom for the car keys after a day outdoors.
Airflow Foam Straps & Back Panel
Just like our customers, this 30-litre backpack likes to move! It's not designed to sit in a stuffy cupboard waiting for its time to shine. We spent many hours testing different variants to allow the user to stay cool whilst being active. It doesn't take much to build up a sweat these days, which is why we've designed our Quick Dry, Airflow foam strap and back panel system to allow optimal breathability while still maintaining a secure and safe fit whilst riding your bike or hiking.
Night Mode
At a glance, you may feel that this backpack has gone for a 'stealth-mode' colourway. It's clean lines and classic 'Red Original' look is certainly consistent with our pioneering bag designs such as the Deckbag and Cool bag. However when the dusk falls the bag reveals some hidden tricks with reflective detailing allowing you to be visible in low light conditions. The outer layer our waterproof bag has added spots for attaching a bike light or additional reflectors perfect for those early morning commutes or late night adventures.
Made From 100% Recycled Plastic Bottles
To top the Red Original backpack off, we've created the fabric of the bag which is made from CYCLEPET fabric. A process which involves cleaning, flaking and weaving the plastic pellets into a yarn which can then be used to make the fabric. We're pretty proud of this technology which both allows us to get the most out of our time in the outdoors as well as do our bit to protect and sustain the very area that gives us so much enjoyment.
In time for Christmas
We're giving you the chance to Pre-order one of our new bags to arrive with you for Christmas. We will be shipping our first supply of Red Original 30-Litre Waterproof Backpacks on the 27th November to arrive with you in time for Christmas! Don't forget, if you spend over £150 this Christmas you can receive a Free Drinks Bottle find out more on our Christmas Gift Guide.